With the world still grappling with the COVID-19 pandemic, it is no surprise that online shopping is more popular than ever. And when it comes to dominating this market, nobody does it better than Amazon.com. With record-breaking sales and an unwavering commitment to customer satisfaction, Amazon has repeatedly proven why it's a force to be reckoned with in the e-commerce industry. So if you're looking for an investment opportunity poised for success, now is the time to buy Amazon stock and cash in on the booming online shopping market using the monthly demand level that took control last November 2022 at $97 per share.
What is Amazon.com?
Amazon.com is an American electronic commerce and cloud computing company headquartered in Seattle, Washington. It is the largest Internet-based retailer in the United States and the world. As you probably know, Amazon.com started as an online bookstore but soon diversified, selling electronics, software, video games, apparel, furniture, food, toys, and jewellery. In 2015, Amazon surpassed Walmart as the most valuable retailer in the United States by market capitalization. Amazon is known for its innovation and technological advancements, such as its drone delivery program, Amazon Prime.
Amazon is also a Motion Picture Association (MPA) member, producing television shows and films through its in-house production arm, Amazon Studios. It is also a major provider of cloud infrastructure services (IaaS).
Why Should You Invest in Amazon.com Stock Now?
There are many reasons to invest in Amazon.com stock now, including the company's continued dominance in the online shopping market. However, that's not enough of a reason when using stock analysis and technical analysis. Amazon.com is expected to grow at an annual rate of 20%, let's see if 2023 is also such a year. This growth is significantly higher than the e-commerce growth rate of 11%. In addition, Amazon.com's Prime membership program continues to grow strongly, with over 100 million members worldwide. This provides a major competitive advantage for Amazon.com as customers are more likely to shop on the site for their needs due to the free shipping and other perks offered by Prime membership. Finally, Amazon.com's recent acquisition of Whole Foods Market gives it a significant presence in the high-growth organic food market. Considering all these factors, now is an excellent time to invest in Amazon.com stock and cash in on the booming online shopping market.
Add to all these factors the fact that there is a strong imbalance in the monthly timeframe that took control last November 2022 at $97 per share. See the technical supply and demand analysis for Amazon stock below. The chart is shown in the monthly timeframe. Each candlestick represents a month. There is a lot of room for Amazon stock to rally much higher.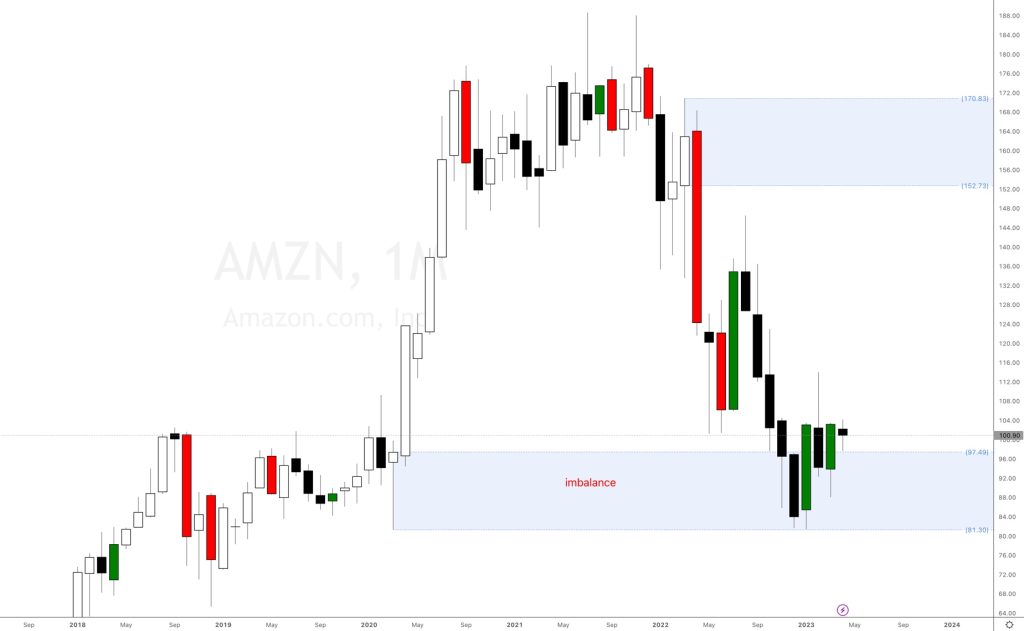 Benefits of Investing in Amazon.com Stock
When it comes to online shopping, Amazon.com is the undisputed king. The company has been growing incredibly for years, and there is no sign of slowing down. Amazon's stock price has reflected impressive growth, and investors have reaped the rewards.
Now is a great time to invest in Amazon.com stock because:
There is a monthly imbalance in control that could provide a new bullish leg up to $125 and $150 per share.
The online shopping market is booming, and Amazon is leading the charge.
Amazon's stock price is still relatively low when considering its growth potential.
The company is expanding into new areas like cloud computing and artificial intelligence, which could lead to even more growth in the future.
Amazon pays its shareholders a nice dividend, which makes owning the stock even more attractive.
The company has a strong track record of delivering shareholder value over the long term.