Is Liberty Media stock racing like a Formula 1 car? The stock is trying to react to a strong monthly imbalance, as explained in the supply and demand stock analysis shown in the attached image.
Liberty Media Corporation is an American mass media company. The company has three divisions, reflecting the company's ownership stakes in Formula One, SiriusXM, and the Atlanta Braves Major League Baseball team. The Formula One Group is a group of companies responsible for promoting the FIA Formula One World Championship and exercising the sport's commercial rights.
The stock has reached a strong imbalance on the monthly timeframe and is trying to react to it regardless of any news events happening in the Formula 1 world or the company itself. Sometimes a positive or negative earnings report will create strong volatility that will help prices react to certain price levels and imbalances.
Supply and demand imbalances are made of price action, and price action makes supply and demand. The monthly impulse in Liberty Media stock is quite strong, and the expectation for the stock is quite bullish. A great trade opportunity has just been triggered.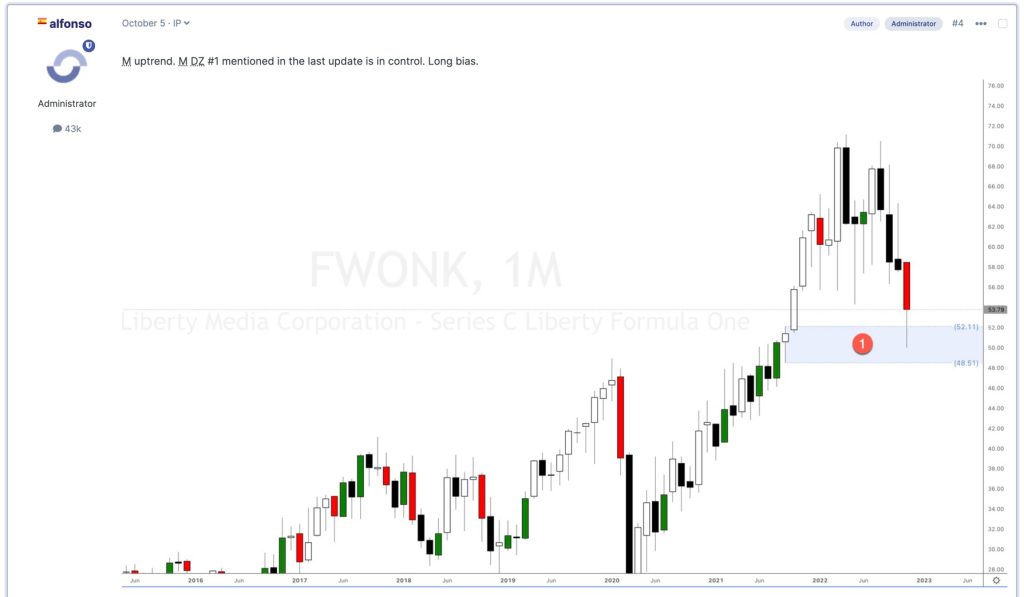 Liberty Media Corporation stock price today
As supply and demand traders, we do not need to pay attention to fundamental analysis. Unless you are doing very short-term trading and scalping, you should not worry about fundamentals for stocks and ETFs.
Trading is just waiting for the right trigger points and scenarios to present themselves, this game has a name, and it's called the waiting game. We must patiently wait for the correct scenarios and setups to happen and for the price to pull back or dip into the price levels we want to trade. These price levels are made of supply and demand imbalances in our case. You can use these imbalances to plan your trades in lower timeframes.
Join our supply and demand online trading academy If you want to learn how to trade stocks using our supply and demand trading strategy.