Learn to Trade the Markets Profitably
Have you ever wondered why a certain stock or Forex cross pair starts to reverse in what seems a chaotic movement and for no apparent reason? There are strong forces you are not aware of, that are responsible for these movements. Download our free supply and demand strategy eBook and begin to understand why the stock markets move the way they do.
Learn the skills to build a professional trader's mindset
You will get professional results only if you treat trading like professionals do. A gambling mindset will give you gambling results. One day your account will be up 20%, and the next day it will be down at -5%. No more roller-coasters! Learn to control your emotions with a strict, and systematic trading strategy and a set of rules that will provide you with surgical accuracy entries. Place your trades at high probability turning points, right where professional traders placer theirs, and against the herd. Reduce your subjectivity completely and unlock your potential to analyze price action like never before. Buy when everyone else is selling and sell when everyone else is buying. Enter your trades before the general population even gets a wind of it. You can't win and outwit the markets by doing what everyone else is doing. You need an edge, and we can provide you with one by teaching you how to use supply and demand imbalances to place your trades.
Stocks and trading methodology ideal for full-time jobs
Don't change a 9 to 5 job for another one that is a hundredfold more stressful! Spend as little time as possible in front of your trading platform. You won't move the price action with the power of your mind, no matter how hard you try. Learn the skills to have a new life to enjoy it with your beloved ones. Having a full-time job is not a handicap but a blessing, because it will help you with your monthly expenses as you build the skills to become a successful and profitable trader. Learn to auto-correct yourself by using a mechanical and non-discretionary approach in your trading. No more second-guessing. You will know why a trade didn't play out, and how to prevent that from happening the next time a similar scenario presents itself. You don't need to read dozens of books on price action or on how fundamental analysis can help you in planning your next trades. Making a trading decision does not require a PhD in economics; it's much simpler than that. You only need a raw chart without any indicators; price action is the only non-lagging indicator you will ever need together with the pockets of imbalances.
Understand market structure and context
The markets are in constant ebb and flow, never moving in a straight line.
Understanding market structure, how and why the markets move in each direction
is critical to your success as a trader. Trading successfully in the Stock and Forex markets is a skill-oriented endeavour, and among the critical elements that as a trader you must absolutely possess is the ability to read price action and market structure together with
picking low-risk entries
.

To accurately pick those levels of interest,
you must first find order within the chaos
, in other words, you must develop a blueprint to interpret what the charts are communicating, or you risk being lost in an ever ending unstructured mess when reading price action fluctuations. We will help you to gain this knowledge.
Learn how to read price action and understand market structure
the right way. You will start seeing the Matrix at the end of the process.
Become the exception. Become profitable
Most traders are not profitable. Depending on which source you consult, between 80% to 95% of traders are not consistently profitable. This aligns with my experience teaching thousands of traders we've worked with over the last years. Unfortunately, I've found that only a very small percentage approach trading correctly… and no surprise, it's these traders who can
become consistently profitable.We share with you the common behaviours, methods.

And traits that this small percentage possess.
Join our Stock and Forex trading course and become the exception.
Check the free basic supply and demand stock and Forex analysis in our
trading blog
, and you will see that most of the analyses have played out as expected. These analyses are only the tip of the iceberg. The online trading community will give you all you need to trade any market successfully by focusing on what really matters.
Focus on a single trading strategy!
Our unique approach to
Stocks and Forex trading
is designed to help you establish a solid foundation so you can achieve more profits by trading less. It only requires 30 minutes a day. Belonging to a like-minded traders community has a lot of benefits. We all
trade with the same set of rules
and help each other locate trading opportunities. You won't have your mind clouded with multiple trading strategies since we all trade the same supply and demand rules.

These rules and patterns can be spotted over and over again since the markets are governed by the universal forces of supply and demand.
Focus on learning how the market works
, it will change the way you look at it and eventually help you to see the Matrix.
Become a member of our Stpcls and Forex online trading community and learn how to trade any market
Gain exclusive access to the full trading course, lessons, hundreds of hours of archived webinars and weekly video analysis.
No hindsight or after the fact trading.
Learn about location and context No matter how good a price level is or how many times price has rebounded from a certain price level, you don't want to trade blindly without knowing where the new price action is being formed and the context in the bigger picture trend. Unfortunately, most traders trade blindfolded without paying close attention where price is in relationship to the bigger picture trend and the context in which the new trade possibilities are being created.



Location, location, location! Trading is all about location and context. Reading price action and the context in which is being created will help you to be on the right side of the trade most of the time. Don't lose sight of the forest for the frees. You must, by all means, avoid the trap of being short-sighted by only sticking to one chart analysis. Learn how to read multiple timeframes and trade Stocks and Forex with the right context and location. Join our online stock and Forex trading community.
Learn how to trade Stocks, Forex, Futures and Indexes
Have senior traders guide you through any market conditions and scenarios and help you identify potential trade setups as trades are planned throughout the week. There are more than a hundred of Forex channels and hundreds of stocks and futures channels where you will see updates on new imbalances and potential trade ideas in the making. If you are in doubt, ask, and you will have your analysis corrected.

Search and learn from past trades. Thousands of analysis and trades posted since 2013, an enormous pool and encyclopedia of supply and demand trade scenarios that will change the way you look at the markets. Browsing these older setups a few minutes every day will boost your understanding of the markets a thousandfold. Learn. Interact. Trade. Our live trading channels offers coaching, trade Ideas, and real-time market insights. You will save a lot of time by focusing on the strongest imbalances shared with you in the online trading community. We also provide fanatical and unparalleled support.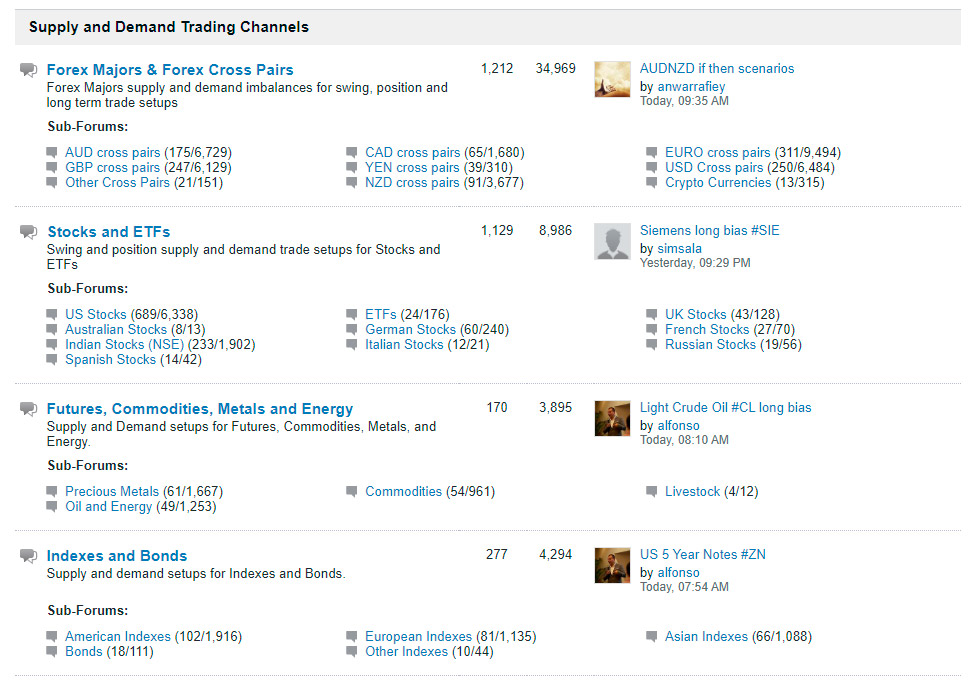 Trading Education
You will have access to what we believe to be the
best trading education on supply and demand
, whose imbalances are responsible for moving the markets. It includes webinars,
online trading course
, weekly and monthly video analysis, live events for members, challenges, homework and assignments, and so much more.

It is said that experience is the greatest teacher.
Not only will you learn from the creator of the strategy, you will also gain the experience you need to become the absolute best trader you can be. We will share with you new trade ideas, why a new trade opportunity has been invalidated, what to do and most importantly, what not to do.
Join our Stock and Forex trading course
and move on to the next level of your trading education.
Trading Excellence
Whether you are a beginner, intermediate, or a professional trader, you will love the one-stop-place you will have with the Set and Forget team of traders, community, and educational services that combine to
take your trading to the next level.
The internet has changed everything, and classical style investment has completely changed.

Our mission is to transform the classical investing ideology that has in the past benefited only a select few, and offer it to the everyday trader who is serious about success. Don't give your hard-earned money away, Set and Forget is here to hold your hand in the gauntlet of financial markets helping you make better-informed decisions, cutting through the noise of the markets, to
help you create the future you deserve.
Look at price action and charts from a completely different perspective
, the one you need to have a
real edge in the markets
.
Get our Stock and Forex course. Join our online trading community
We take stock trading education very seriously. If you do as well, you will be welcome to our stock trading community. We take into consideration the big picture trend and where the big boys are planning their trades using supply and demand imbalances. If you have made most of the mistakes every stock trader does on their trading journey, like trading with indicators, scalping the lower timeframes, using stock fundamentals, moving averages crossovers, or even blown a couple of accounts out, you will probably know what we are talking about. We can help you if you want to learn how to fish and not be fed with fishes.
STARTER
---
then 65€ per month
Access to core strategy for 3 months
Access to community support for 3 months
Forex, Indexes and Futures Weekly Video Analysis
Weekly updates with potential high probability trades
STANDARD
---
then 65€ per month
Everything from the starter membership for a 6 months period
+
Monthly webinars
Access to high odds stock watchlists
Years of video analysis and trade setups to learn how to trade in all kind of scenarios
Index and Futures channels
Free access to annual meetups
3:1 challenge support
Everything from the standard plan with lifetime access to the core strategy material and support.

One time payment. No recurrent monthly fees.
One one one personalized coaching plans.
Supercharge your trading with a private trading coach.
Effective and practical coaching with Alfonso Moreno himself.
Three hours every week that will boost your trading better than any book, or video. It will change your life!.
Stock and Forex analysis and forecast. Trade ideas
Find below the latest stock analysis and trade opportunities. We trade stocks, Forex, Futures and Indexes using our supply and demand trading strategy. These stocks analysis are shared with you before the actual movement happens, many weeks before price reaches the mentioned price levels.
5th March 2021
Both EURUSD and US Dollar Index #DXY had reached strong imbalances as explained in a previous analysis that you can read here shared with you last 12th January 2021. As expected, the EURO has dropped strongly from that strong imbalance on the monthly timeframe. The same is happening to the US Dollar Index but upside down, and
[…]