Are you on the hunt for a promising long-term stock investment opportunity? Look no further than Caesars Entertainment (NASDAQ: CZR), one of the most iconic gaming and hospitality industry names. Despite facing some setbacks due to COVID-19, this company is poised for a strong comeback – making its stock price an attractive option for savvy investors looking to make smart moves in today's market. This blog post will explore why Caesars Entertainment is a solid choice for those seeking sustainable growth potential and reliable returns over time. So buckle up and get ready to learn more about this exciting investment opportunity!
First, let's look at what makes Caesars Entertainment such an attractive option for investors. Founded in 1937, the company has been a mainstay in the gaming and hospitality industry with iconic brands like Harrah's, Horseshoe, and Planet Hollywood. With the acquisition of Eldorado Resorts in 2020, it now holds over 60 properties across 18 states – making it one of North America's largest gaming and entertainment companies. Beyond this impressive geographic reach, it also offers various activities and services ranging from traditional casino games to luxury resorts and hotels. Put simply; Caesars Entertainment provides its customers with a unique experience that can't be found elsewhere – making it a favourite among both consumers and investors alike.
Regardless of Caesars Entertainment's (NASDAQ: CZR) history. there is a strong demand imbalance that took control in 2022. This is a long-term trading opportunity for stock investors that rely on supply and demand imbalances to add positions to their stock portfolios. There is room for the stock to reach the $100 price level in a few months. The profit margin for this trade opportunity is quite high.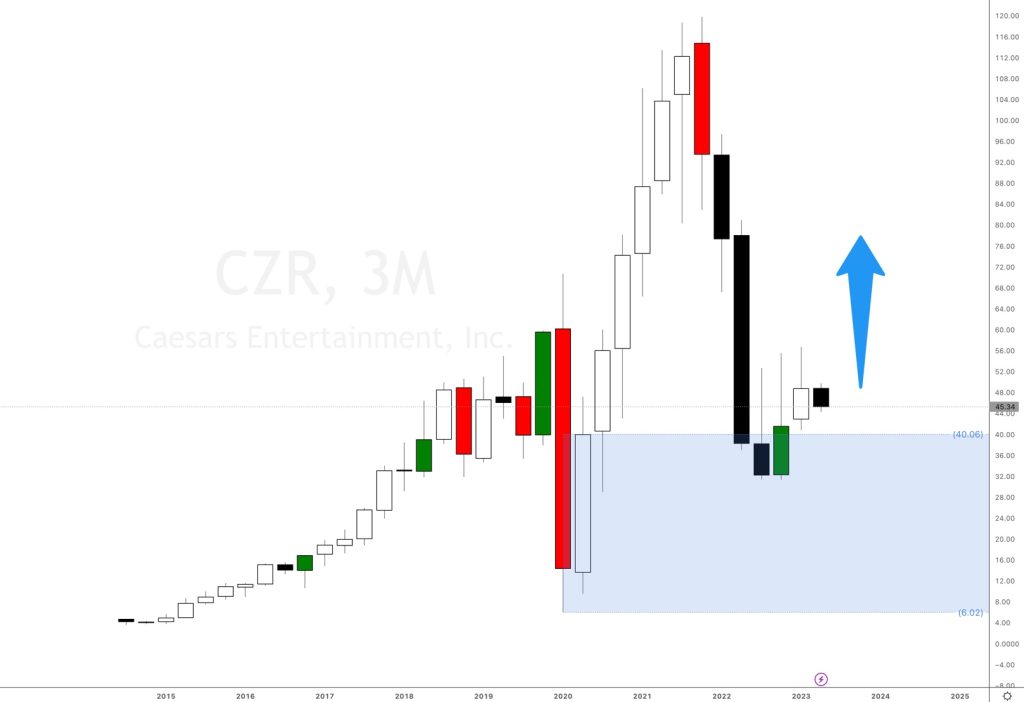 Caesars Entertainment Inc. stock price today
Caesars Entertainment is a company worth watching, from its strategic acquisitions to innovative marketing techniques. In this blog post, we'll dive into why this stock presents a unique long-term trade opportunity for investors looking to make sound financial decisions. So sit back, relax, and learn why Caesars Entertainment should be a top investment choice on your radar.
In addition to its established brand recognition and diverse offerings, Caesars Entertainment also benefits from various strategic partnerships and collaborations with other major players in the industry. Through these relationships, it can leverage its resources for greater growth – creating even more opportunities for shareholders over the long term. Finally, its strong financials assure that its stock price will remain stable even during market volatility or economic downturns.
As supply and demand traders, we need not consider fundamental analysis. Unless you are doing very short-term trading and scalping, you should not worry about fundamentals for stocks and ETFs.
Trading is just waiting for the right trigger points and scenarios to present themselves, this game has a name, and it's called the waiting game. We must patiently wait for the correct scenarios and setups to happen and for the price to pull back or dip into the price levels we want to trade. These price levels are made of supply and demand imbalances in our case. You can use these imbalances to plan your trades in lower timeframes.
Join our supply and demand online trading academy to learn how to trade stocks using our supply and demand trading strategy.