Lufthansa Geman airline's stock is reacting to a solid long-term monthly demand level at €5.31 per share. The imbalance has been tested a couple of times, but there is much profit for margin for the major German airlines stock.
Deutsche Lufthansa AG, commonly shortened to Lufthansa, is the flag carrier of Germany. Combined with its subsidiaries, it is the second-largest airline in Europe in terms of passengers carried. Lufthansa is one of the five founding members of Star Alliance, the world's largest airline alliance composed of many other airlines, formed in 1997.
Lufthansa stock price forecast
As supply and demand traders, we must understand what an imbalance is and why it's been created. Price action can tell us much about Lufthansa Geman airline stock and why we expect a strong reaction from that monthly imbalance, regardless of post-COVID-19 pandemic restrictions. See below the monthly timeframe candlestick chart where the monthly imbalance and forecast are clearly explained.
The year 2022 has been good for the airline business, and Lufthansa is no exception. The German airline has recently raised its earnings outlook for 2022 on strong demand for air travel and said its earnings performance in October and November had exceeded expectations. We do not need to consider fundamental stock analysis when trading long-term German stock imbalances. Smart money is already positioned in this stock; the demand level is just proof of that. The reports also said that Lufthansa's cargo division, Lufthansa Cargo and its maintenance business Lufthansa Technik are also expected to achieve record results in 2022.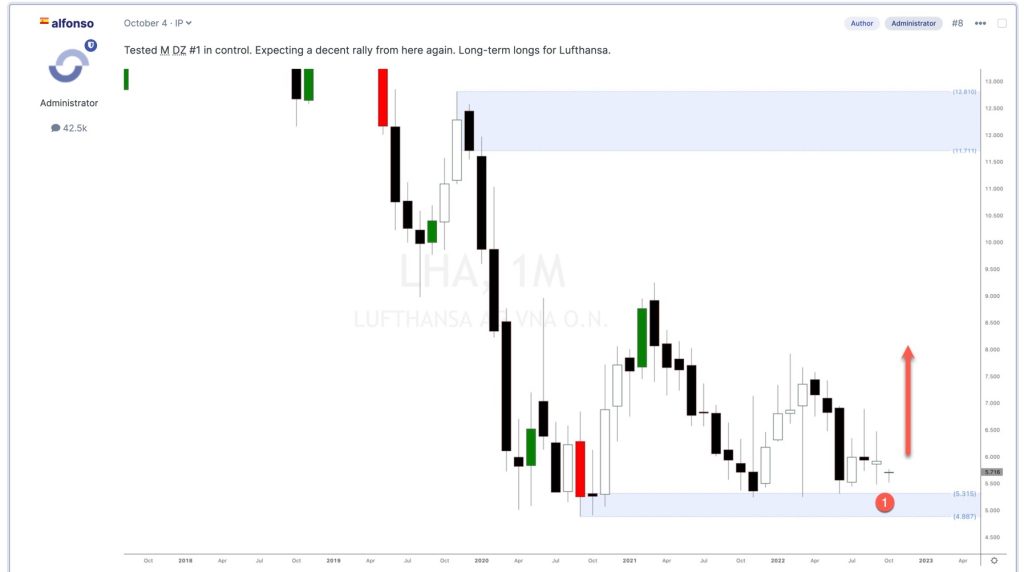 Lufthansa German stock price today
As supply and demand traders, we do not need to pay attention to fundamental analysis. Unless you are doing very short-term trading and scalping, you should not worry about fundamentals for stocks and ETFs.
Trading is just waiting for the right trigger points and scenarios to present themselves, this game has a name, and it's called the waiting game. We must patiently wait for the correct scenarios and setups to happen and for the price to pull back or dip into the price levels we want to trade. These price levels are made of supply and demand imbalances in our case. You can use these imbalances to plan your trades in lower timeframes.
Join our supply and demand online trading academy If you want to learn how to trade stocks using our supply and demand trading strategy.