Lenzing Aktiengesellschaft German stock provides a great long-term buy opportunity at a very strong monthly imbalance, trading at 47 euros per share. We've been tracking this German for a few months expecting it to reach the strong imbalance you can see in the supply and demand analysis attached below.
The Lenzing Group is an international group with headquarters in Lenzing, Austria, and production sites in all major markets. The company has lost more than 60% of its value since the beginning of 2022. The stock dump has played out as expected, and now the German stock has reached the price level we are interested in buying. Will the German stock start to rally from here? Hopefully, supply and demand traders do not need any fundamental stock analysis to place a trade; we need supply and demand imbalances.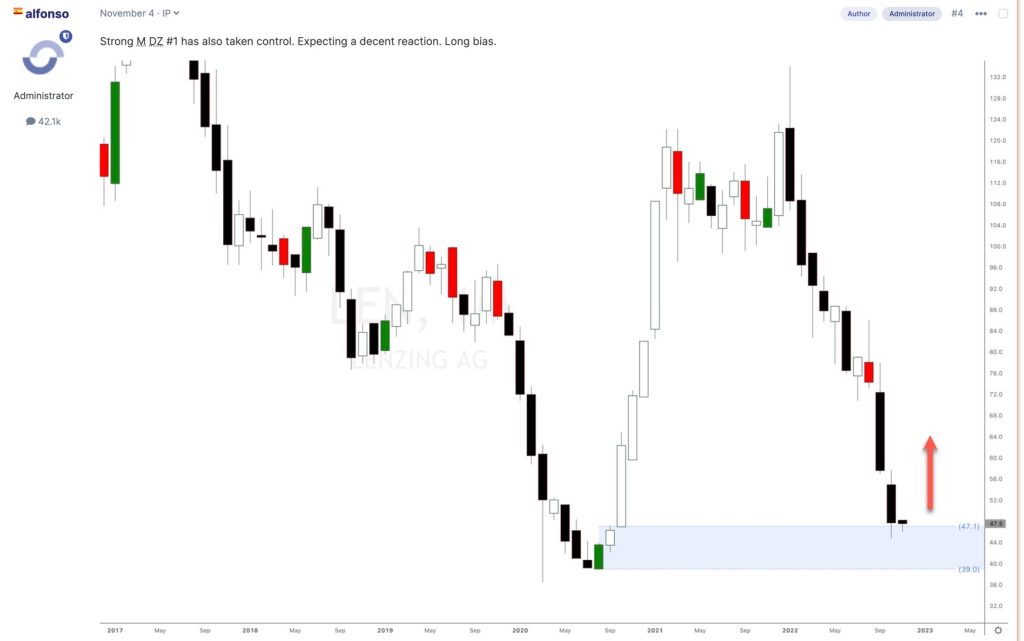 German stock market supply and demand technical analysis
As supply and demand traders, we do not need to pay attention to fundamental analysis. Unless you are doing very short-term trading and scalping, you should not worry about fundamentals for stocks and ETFs.
Trading is just waiting for the right trigger points and scenarios to present themselves, this game has a name, and it's called the waiting game. We must patiently wait for the correct scenarios and setups to happen and for the price to pull back or dip into the price levels we want to trade. These price levels are made of supply and demand imbalances in our case. You can use these imbalances to plan your trades in lower timeframes.
Join our supply and demand online trading academy If you want to learn how to trade stocks using our supply and demand trading strategy.