Alibaba Hong Kong stock arises among the ashes. Alibaba (NYSE: BABA) is a Chinese multinational technology company specializing in e-commerce, retail, Internet, and technology. The Chinese (Hong Kong) stock analysis is one of the hundreds of shared stock analyses in Set and Forget's stock channels. The stock has again reached a monthly demand level at $64 per share. This is the type of trade idea shared with members of the online trading academy for Chinese stocks and hundreds of American stocks, and other stocks trading in many other world exchanges.
Alibaba stock price (NYSE: BABA)
What is the expectation for Alibaba Group stock? There is a lot of margin for profit after the strong sell-off the company suffered for so many months. The monthly imbalance has gained control a second time, so we expect a decent reaction in the following weeks.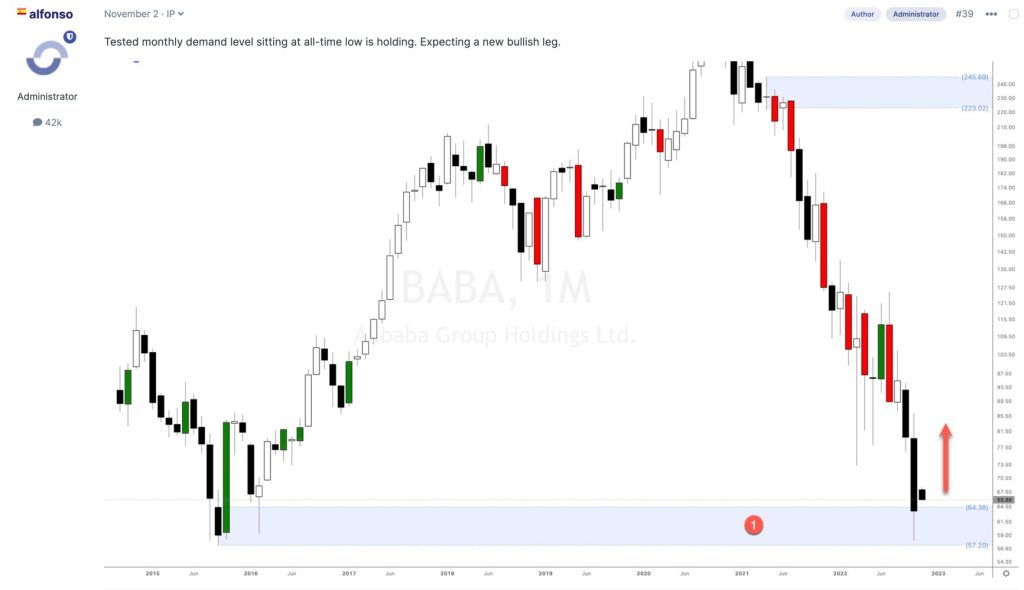 Alibaba BABA stock price today
As supply and demand traders, we do not need to pay attention to fundamental analysis. Unless you are doing very short-term trading and scalping, you should not worry about fundamentals for stocks and ETFs.
Trading is just waiting for the right trigger points and scenarios to present themselves, this game has a name, and it's called the waiting game. We must patiently wait for the correct scenarios and setups to happen and for the price to pull back or dip into the price levels we want to trade. These price levels are made of supply and demand imbalances in our case. You can use these imbalances to plan your trades in lower timeframes.
Join our supply and demand online trading academy If you want to learn how to trade stocks using our supply and demand trading strategy.