Xiaomi stock price analysis. Xiaomi Corporation (/ˈʃaʊmiː/; Chinese: 小米), commonly known as Xiaomi, is a Chinese designer and manufacturer of consumer electronics and related software, home appliances, and household items.
The stock has been dropping since last January 2021, losing almost 80% of its value. The Chinese stock company is well known in Europe after introducing powerful smartphones at very reasonable prices a few years ago. Recent data week showed China's second-largest economy slowed unexpectedly in the last months as it struggled to shake off COVID restrictions, prompting a central bank rate cut. As you probably know, we disregard fundamental analysis completely as supply and demand traders.
When we look at Xiaomi's stock price using the monthly timeframe, we can see a monthly demand level sitting around 8 that recently took control. What does it mean? It usually means we will see a new bullish leg printed for Xiaomi stock price in the following months, and it could be an opportunity to buy shares of this Chinese stock. We expect a decent bullish leg on Xiaomi stock in the next weeks; there is room to reach at least the supply imbalance overhead sitting at 12.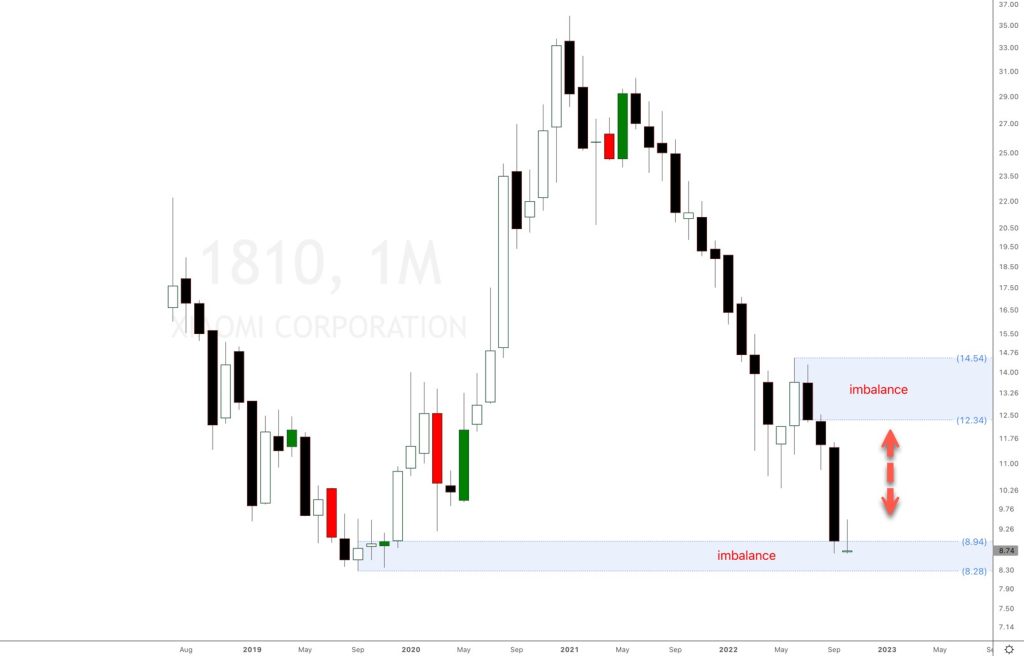 Xiaomi Stock Price Today. Should I buy shares of this Chinese stock?
As supply and demand traders, we do not need to pay attention to fundamental analysis. Unless you are doing very short-term trading and scalping, you should not worry about fundamentals for stocks and ETFs.
Trading is just waiting for the right trigger points and scenarios to present themselves, this game has a name, and it's called the waiting game. We must patiently wait for the correct scenarios and setups to happen and for the price to pull back or dip into the price levels we want to trade. These price levels are made of supply and demand imbalances in our case. You can use these imbalances to plan your trades in lower timeframes.
Join our supply and demand online trading academy If you want to learn how to trade stocks using our supply and demand trading strategy.