GBPMXN forex cross pair reached a strong imbalance on the monthly timeframe last May 2022. British Pound vs Mexican Peso 2022 forecast. The imbalance tells us there are a lot of potential buyers that could increase the exchange of the British Pound versus the Mexican peso in the following months. GBPMXN forex cross pair imbalance is located around 25.
Forex trading can be difficult unless you have an edge like supply and demand. We expect a decent reaction from this price level per supply and demand technical analysis. There is room to reach 27 and even more. Suppose you are using smaller timeframes to trade Forex. In that case, you can use this longer-term forex analysis for GBPMXN to open positions with fewer lots and bigger profit potential.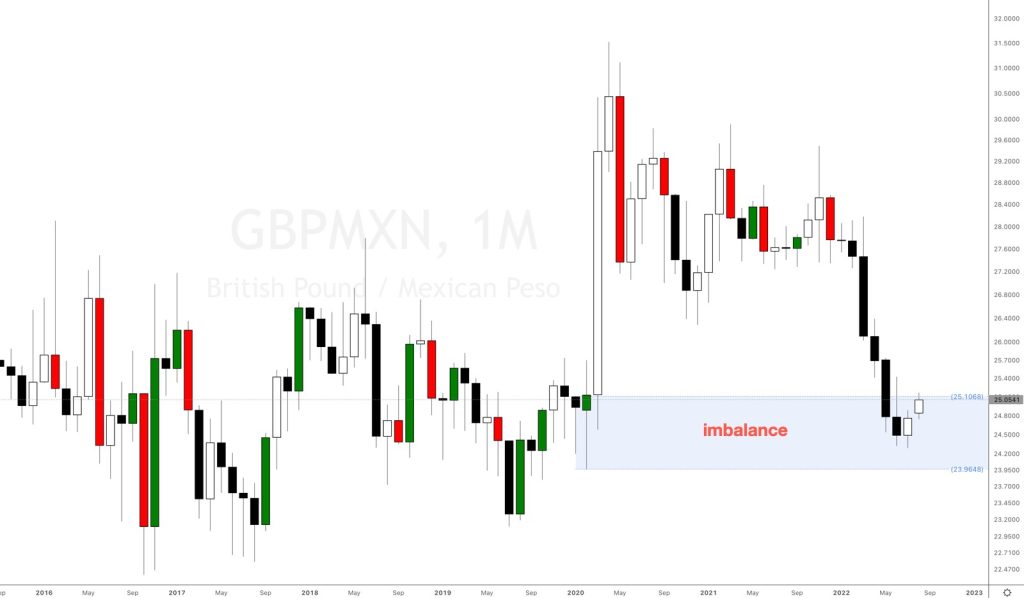 GBPMXN forex pair supply and demand analysis
As supply and demand traders, we do not need to pay attention to the news or fundamental analysis. Once a big timeframe imbalance has gained control, fundamental analysis and news do just the opposite and react strongly to those imbalances. You are probably missing the fact that there are big imbalances gaining control.
Unless you are doing very short-term trading and scalping, you should not worry about fundamental analysis for Forex cross pairs like GBPMXN.
Trading is just waiting for the right trigger points and scenarios to present themselves, this game has a name, and it's called the waiting game. We must patiently wait for the correct scenarios and setups to happen and for the price to pull back or dip into the price levels we want to trade. These price levels are made of supply and demand imbalances in our case. You can use these imbalances to plan your trades in lower timeframes.
Join our supply and demand online trading academy If you want to learn how to trade using our supply and demand Forex trading strategy.