Welcome to the age of freelance marketing! As we become more technologically advanced, working from anywhere in the world has never been easier. The rise of digital nomads and freelancers has revolutionised the world's workforce. Fiverr, an online platform for freelance services, has taken this global phenomenon to new heights by providing innovative ways for businesses and freelancers worldwide to connect with each other. In this supply and demand stock analysis, we'll explore how Fiverr's online platform has transformed how freelancers do business globally and changed lives. So buckle up as we delve into why Freelance Marketing Goes Global: How Fiverr is Revolutionizing the Freelance Industry Worldwide!
Introduction to Freelance Marketing
As the internet becomes increasingly globalized, so too does the freelance industry. Fiverr, an online platform that connects businesses with freelancers, has played a large role in this globalization. Based in Israel, Fiverr was founded in 2010 and has since become one of the most popular freelance marketplaces in the world. On Fiverr, businesses can find freelancers for various marketing services, from social media management to content creation. Fiverr's international reach means that businesses can find talent from all over the world. And with Fiverr Pro, businesses can access a curated selection of top-rated freelancers.
Whether you're a business looking to outsource marketing tasks or a freelancer seeking new clients, Fiverr is worth considering. In this article, we'll introduce you to using Fiverr for marketing purposes.
Impact of Freelancing on the Global Market
In recent years, freelancing has become an increasingly popular way to make a living. In fact, it's estimated that there are now 57 million freelancers in the United States alone. And as the freelance economy continues to grow, so does its impact on the global market.
There are several reasons why freelancing is on the rise. For one, technology has made it easier than ever for people to connect and work with clients worldwide. Additionally, more and more companies are embracing the gig economy and hiring freelancers to get projects done quickly and efficiently.
As a result of this growth, the freelance industry is having a major impact on the global economy. Here are just a few ways that freelancing is reshaping the world:
It's creating new opportunities for entrepreneurs. Freelancing is opening up new opportunities for entrepreneurs around the world. With platforms like Fiverr, it's easy to start your own freelance business and reach clients from all over the globe. This has created a whole new class of entrepreneurs making a living by offering online services.
It's fuelling economic growth in developing countries.
The growth of freelancing is also having a positive impact on developing countries. By connecting businesses with talented freelancers in these regions, platforms like Fiverr are helping to drive economic growth and create new jobs. This is particularly beneficial for young people who often struggle to find employment. I've personally used Fiverr's online service a few times, and I am very happy with the results so far.
Fiverr's Growth Potential: An Investment Opportunity for Stock Investors
Fiverr's IPO in 2019 was a major milestone for the company, and it has since grown rapidly. In 2020, Fiverr expanded its operations into new markets like Australia and Brazil. This growth trajectory is expected to continue in the coming years, and Fiverr is well-positioned to capitalize on the burgeoning global freelance market. Given its strong fundamentals and favourable growth prospects, Fiverr International stock is an attractive long-term investment. Here are a few reasons why:
Fiverr's growth potential is impressive. The company has a providing a much-needed service to businesses and individuals around the world. Fiverr is an online platform that allows businesses to find and hire freelancers for marketing tasks such as content creation, social media management, and graphic design. The global freelance market is growing rapidly, and Fiverr is well-positioned to capitalize on this trend. The company has a strong brand presence and is trusted by thousands of businesses. In addition, Fiverr's fees are very competitive, which makes it an attractive option for companies looking to save on marketing costs.
Fiverr's growth potential makes it an attractive investment opportunity for stock investors. The company is still in its early stages of growth and has significant upside potential. I believe that Fiverr will continue to grow rapidly and generate significant returns for shareholders over the long term.
There is a strong monthly imbalance sitting at $31 per share. We expect a decent reaction and rally for Fiverr stock in the following months.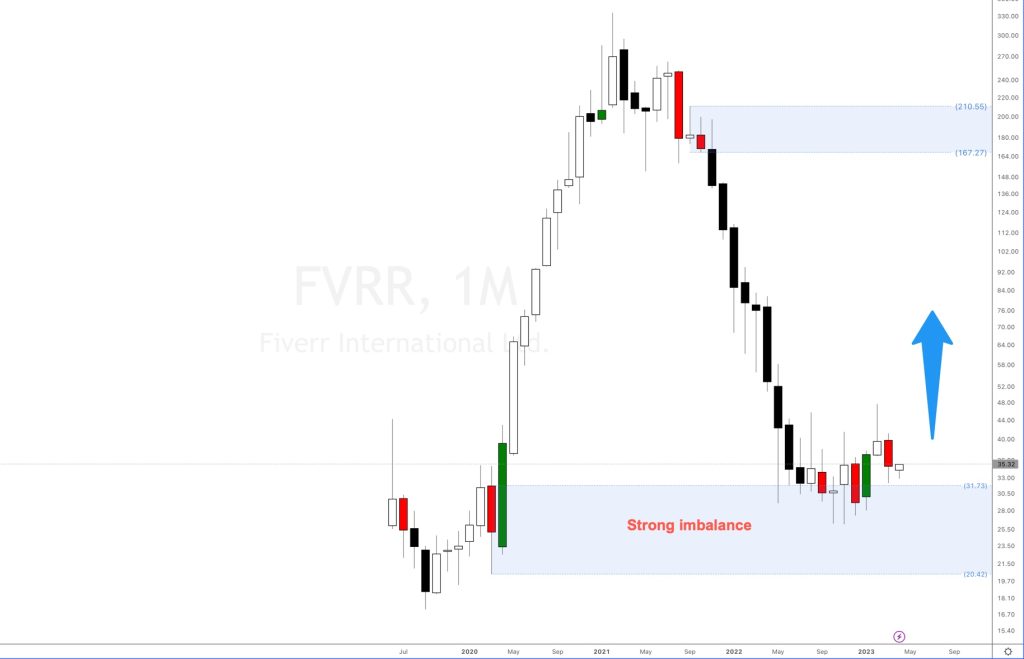 Fiverr International stock price today
In the past decade, we've witnessed a dramatic shift in how businesses and individuals source freelance talent. With Fiverr's online platform at the forefront of this revolution, freelancers can now work with clients worldwide without ever leaving their homes. This has created unprecedented flexibility for both parties, allowing small businesses to access top-tier talent and providing freelancers with endless growth opportunities. In this blog post, we'll explore how Fiverr is changing the face of freelance marketing on a global scale and what it means for today's workforce.
As supply and demand traders, we need not consider fundamental analysis. Unless you are doing very short-term trading and scalping, you should not worry about fundamentals for stocks and ETFs.
Trading is just waiting for the right trigger points and scenarios to present themselves, this game has a name, and it's called the waiting game. We must patiently wait for the correct scenarios and setups to happen and for the price to pull back or dip into the price levels we want to trade. These price levels are made of supply and demand imbalances in our case. You can use these imbalances to plan your trades in lower timeframes.
Join our supply and demand online trading academy to learn how to trade stocks using our supply and demand trading strategy.