Are you looking to invest in the travel industry but don't know where to start? Look no further than Expedia Group! This hidden gem of a stock is an excellent opportunity for investors interested in the growing and ever-evolving world of travel. With its impressive history, innovative technology, and strategic partnerships, Expedia Group has cemented itself as a leader in the industry. So why not join the journey? In this blog post, we'll explore why investing in Expedia Group can be a smart move for your portfolio. Get ready to pack your bags and come along for the ride because there is a new and strong imbalance created at $89 per share. This is going to be a long ride, hopefully.
Introduction to Expedia Group Stock
Expedia Group is a publicly-traded company with a leading online travel platform with a strong global presence. The company's stock has been on a tear in recent years, outperforming the overall market by a wide margin. But the COVID-19 pandemic has not been of great help to the company, hence the strong sell-off during the pandemic.
Expedia Group's platform enables travellers to easy research, plan, and book travel arrangements. The company offers various travel products and services, including flights, hotels, rental cars, cruises, and vacation packages. Expedia Group also owns several well-known travel brands, such as Expedia.com, Hotels.com, and Travelocity. Investors looking to enter the travel market should consider buying shares of Expedia Group. The company's stock is attractive, and its business is poised for continued growth.
What is the Online Travel Industry?
The online travel industry has come a long way since the early days of the Internet. From booking flights and hotels to renting cars and planning activities, travellers can now do everything online, myself included. And with mobile devices making it even easier to book travel on the go, the online travel industry will only continue to grow.
Expedia Group is one of the largest players in the online travel space, and its stock is a great way for investors to get exposure to this growing industry. Expedia Group operates several well-known travel websites, including Expedia.com, Hotels.com, and Trivago. The company also owns several other brands that cater to specific types of travellers, such as Vrbo for vacation rentals and Egencia for business travel. With its vast array of websites and strong brand recognition, Expedia Group is well-positioned to capitalize on the growth of the online travel industry. And with shares trading at just over $100, Expedia Group stock is a relative bargain compared to other stocks in the space.
Investing in Expedia Group Stock: Pros and Cons
There are many reasons to consider investing in Expedia Group stock. For one, the company is a leader in the online travel market, together with Booking.com and other secondary companies in the travel industry. This means it has a strong foothold in an industry with much growth potential. Additionally, Expedia Group is a well-run company with a solid financial foundation. Finally, the stock is currently undervalued after a strong sell-off of more than 50%, making it a great long-term investment.
However, some risks are also to consider before investing in Expedia Group stock. First, the company is heavily reliant on advertising revenue. This means that if spending on travel decreases, Expedia Group will be impacted negatively. Additionally, the company faces stiff competition from other online travel booking sites such as Priceline and Kayak. Finally, Expedia Group's stock price is volatile and can fluctuate greatly based on news and events related to the travel industry.
See the strong imbalance that has almost taken control of Expedia Group stock. There is room to generate 10 times the investment and more.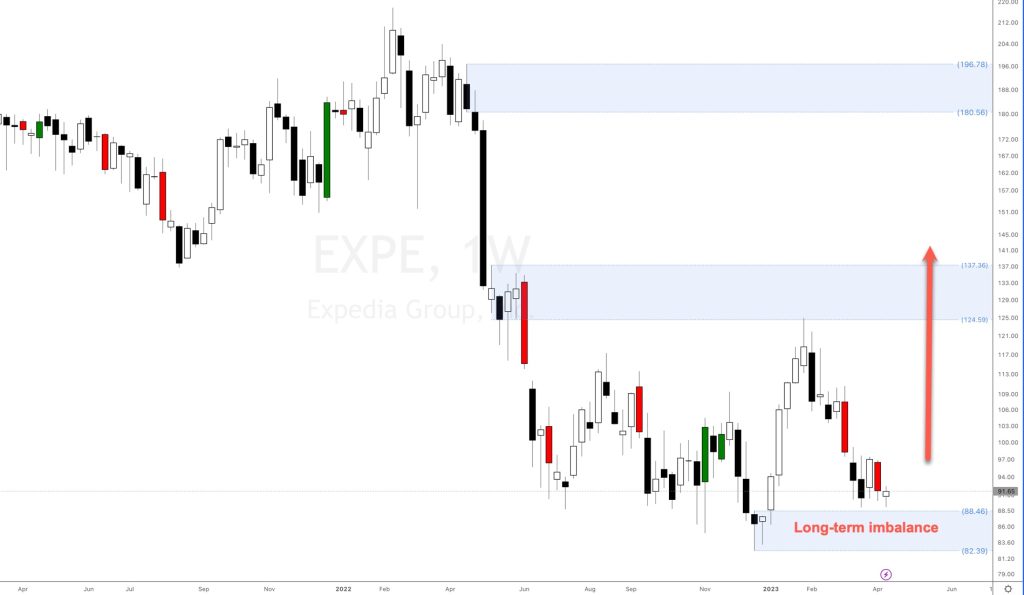 Strategies for Investing in Expedia Group Stock
Investing in Expedia Group stock is smart for investors looking to enter the travel market. The company has a strong brand and a loyal customer base. In addition, Expedia Group is well-positioned to capitalize on the growing trend of travellers booking their travel arrangements online.
Here are some strategies for investing in Expedia Group stock:
Buy shares at $90 per share. The weekly imbalance has almost been reached. This is excellent timing for purchasing shares of the stock.
Hold the position for the long term. Expedia Group is a strong company with a bright future. If you can stomach the volatility, holding your shares, long-term will likely pay off.