Nio Inc. is a Chinese stock sometimes called the Tesla (TSLA) of China. NIO is a pioneer in building smart electric cars, providing premium services, and creating innovative charging solutions. Like Tesla, Nio makes luxury electric vehicles. Unlike Tesla, Nio does not make its own EVs, instead partnering with a state-owned auto manufacturer.
Nio's stock IPO was in 2018. Since then, the stock has rallied more than 300%, reaching its highest high in January 2021. Since then, the Chinese car manufacturer has lost more than 80% of its value. Will Nio stock tank further? That's the expectation for the next weeks and even months. There is still room left for Nio to drop further until the monthly demand imbalance is around $4 per share. Once that imbalance is reached, we can start thinking of buying shares of Nio.
Can I buy shares of Nio Stock today?
Buying shares of the Chinese car manufacturer is not a good idea right now. Nio's stock price is not bullish according to the supply and demand laws.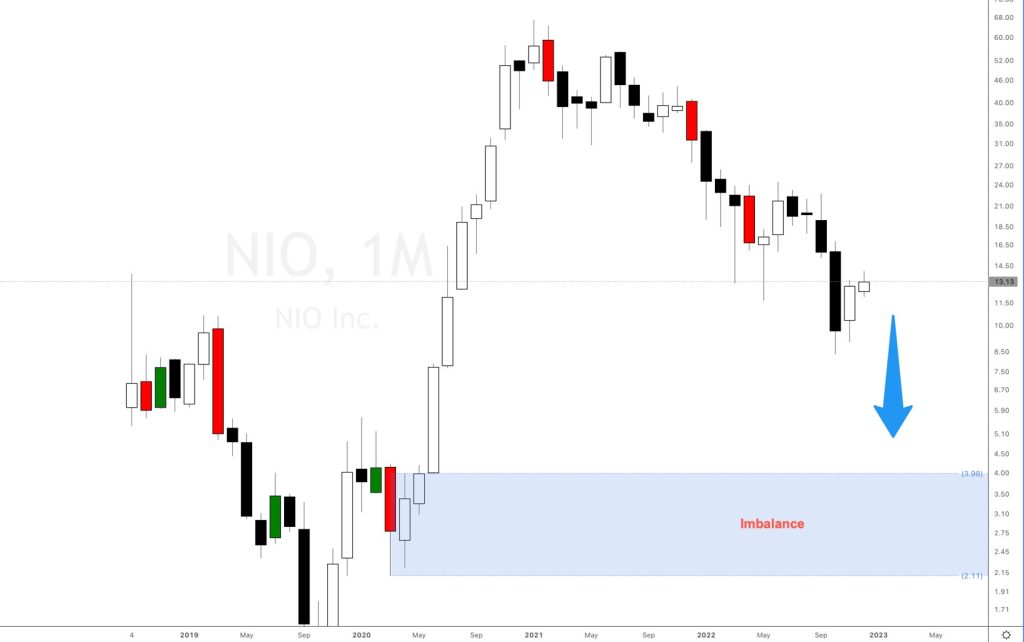 Nio stock price today
As supply and demand traders, we do not need to pay attention to fundamental analysis. Unless you are doing very short-term trading and scalping, you should not worry about fundamentals for stocks and ETFs.
Trading is just waiting for the right trigger points and scenarios to present themselves, this game has a name, and it's called the waiting game. We must patiently wait for the correct scenarios and setups to happen and for the price to pull back or dip into the price levels we want to trade. These price levels are made of supply and demand imbalances in our case. You can use these imbalances to plan your trades in lower timeframes.
Join our supply and demand online trading academy If you want to learn how to trade stocks using our supply and demand trading strategy.