Expedia Group, Inc. travel services operate as an online travel company in the United States and internationally. The company operates through Retail, B2B, and Trivago segments. Its brand portfolio includes Brand Expedia, a full-service online travel brand with localized websites; Hotels.com for marketing and distributing lodging accommodations; Vrbo, an online marketplace for alternative accommodations; Orbitz, Travelocity, and CheapTickets travel websites; ebookers, an online EMEA travel agent for travellers an array of travel options. Expedia Group stock has broken an all-time high recently.
We've been tracking this stock at Set and Forget only trading academy for a while. It was recently, last 28th December 2021, that we found an excellent trading opportunity on the daily timeframe for Expedia Group stock.
Anyone can create a trading strategy and a methodology and show off when the trade has made a good profit.
At the Set and Forget trading community, we call the trades days, weeks and even months before they happen. The hots trade ideas are shared publicly before the price levels are reached. 100% transparent. No secrets. Anyone can see them.
Let me start with the stock. Let's look at a recent trade called at Set and Forget.  On the 29th of December 2021, I shared a trade idea for Expedia Group #EXPE. Expedia Group, Inc. is an American online travel shopping company for consumer and small business travel. There was a strong imbalance in the daily timeframe, around $161.
See a screenshot of the trade idea shared that day.
Expedia stock price
Expedia stock price was around $182 per share when the stock trade opportunity was shared on the Set and Forget American stock trading channel. Below is a screenshot of the Expedia stock forecast shared with all members.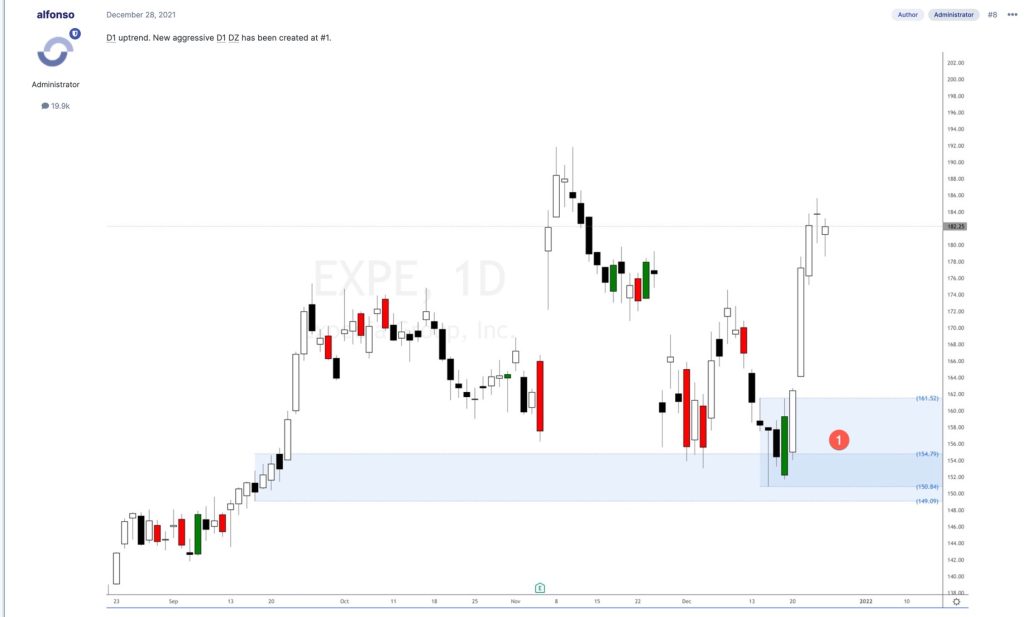 A few days later, last Tuesday, 1st of February 2022, Expedia stock price pulled back to our entry. Expedia stock price has moved to higher grounds as expected. This is one of the many stock trading opportunities we share weekly in Set and Forget's online trading academy. Take a look at Expedia stock price chart below to see what happened with the stock.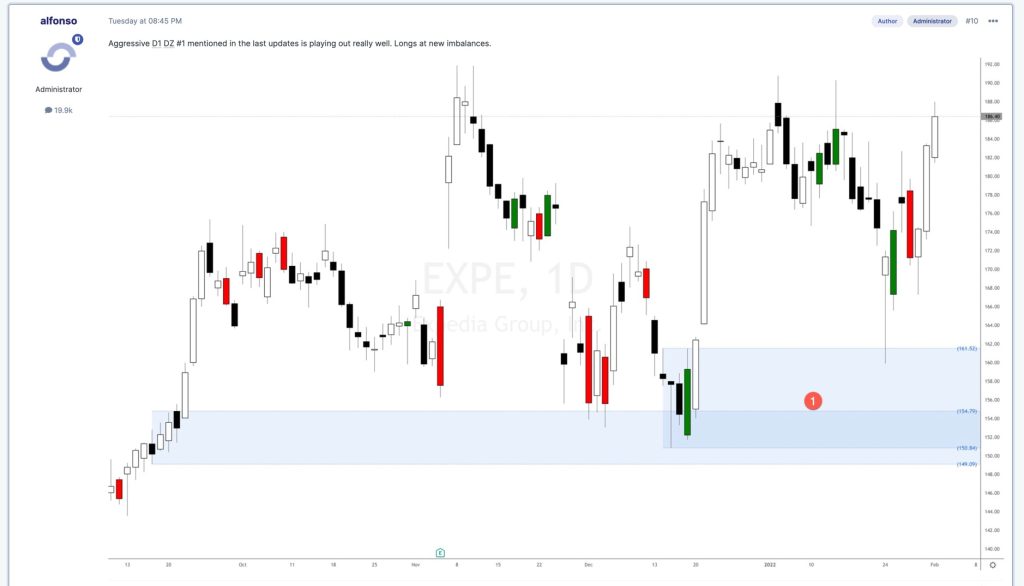 The stock kept on rallying as we expected. This is the kind of setup we shared in Set and Forgot's trading academy.
On the 1st of February 2022, we shared the trade again.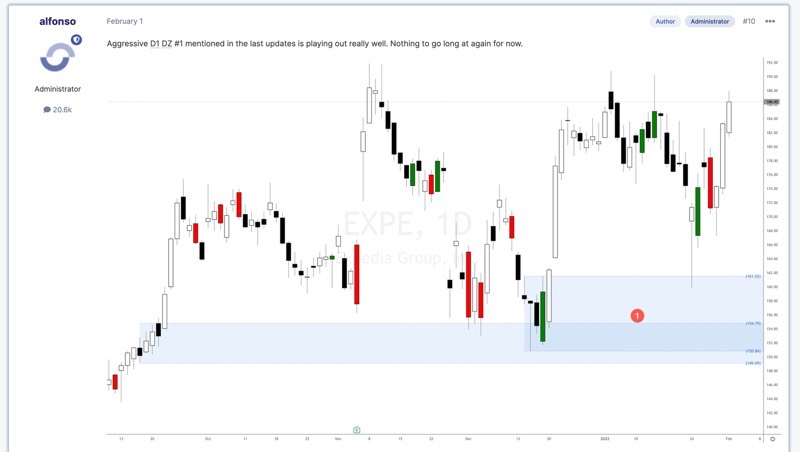 This is only one of the hundreds of trades called before the fact. We trade all the markets, so you will see hot trading ideas for stocks, cryptocurrencies, Forex, ETFs, and commodities.
Expedia Stock price
As supply and demand traders, we do not need to pay attention to the news or fundamental analysis. Once a big timeframe imbalance has gained control, earnings do just the opposite and react strongly to those imbalances. Why do you see positive earnings, the underlying stock drops like a rock or a negative earnings announcement, and the stock rallies like a rocket out of control? You are probably missing the fact that there are big imbalances in gaining control.
Unless you are doing very short-term trading and scalping, you should not worry about fundamentals or earnings announcements on Expedia stock.
Trading is just waiting for the right trigger points and scenarios to present themselves, this game has a name, and it's called the waiting game. We need to patiently wait for the correct scenarios and setups to happen and wait for the price to pull back or dip into the price levels we want to trade. These price levels are made of supply and demand imbalances in our case. You can use these imbalances to plan your trades in lower timeframes.
Join our supply and demand stock trading course to learn how to use our supply and demand trading strategy.