Why the Canadian Dollar is Getting Stronger and How it Impacts CADSEK Forex Trading? As the world's ninth-largest economy, Canada has always been a crucial player in the global financial markets. But with the Canadian dollar gaining strength over recent years, there's renewed interest in how this trend will impact forex traders worldwide. In this supply and demand forex trading analysis, we'll explore why the Canadian dollar is getting stronger and what it means for CADSEK forex trading and for us supply and demand traders.
From trade deals to energy exports, we don't need to examine any factors driving this trend to help you understand what it could mean for your portfolio. So buckle up and get ready to dive into one of the most exciting currency trends of 2021! It's all about supply and demand imbalances.
A strong monthly demand level took control of CADSEK last December 2022. The imbalance has been tested a couple of times. Price action shows a lot of strength, as you can see in CADSEK's monthly technical analysis posted below and the Forex analysis at the end of this Forex analysis.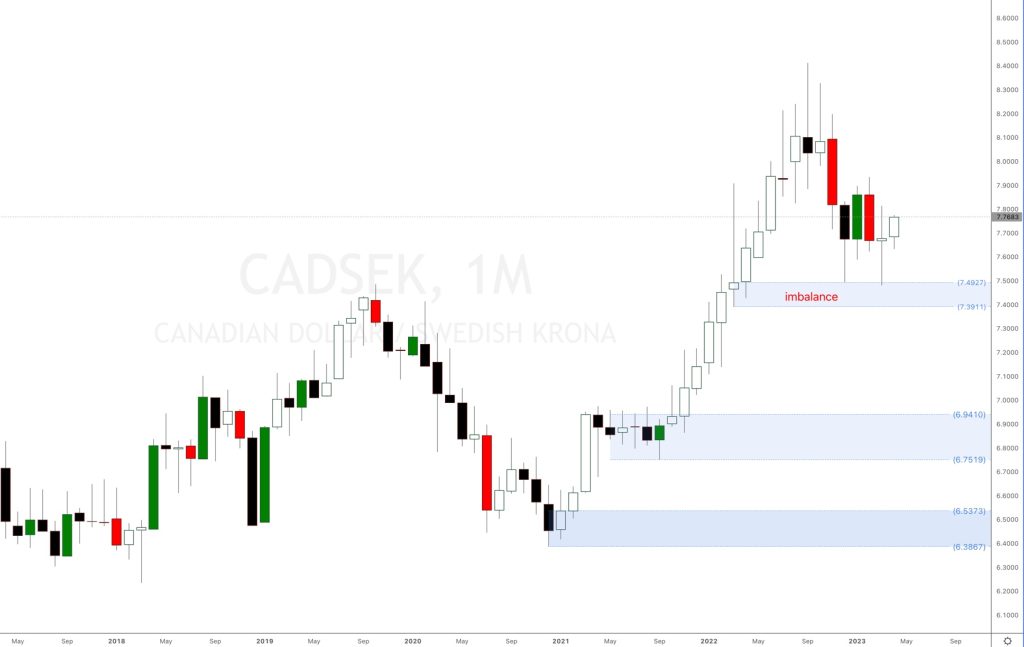 CADSEK Forex Trading. Supply and demand trading strategy
Are you wondering why the Canadian dollar is rising and how it affects your forex trading? Well, look no further! The CADSEK pairing has been making waves in the currency market lately, and understanding what's driving this trend could make all the difference in your Forex trading strategy.
In the case of the Canadian dollar (CAD), a few key factors have contributed to its recent strength against the Swedish krona (SEK). First, Canada's economy has been relatively strong compared to other developed nations in recent years. This has helped support the value of the CAD as investors seek out stable and growing economies in to park their money in.
Introduction to CADSEK Forex Trading
The Canadian dollar is one of the most important currencies for forex trading. It is used in many different pairs, including CAD/SEK. In this article, we will look at why the Canadian dollar is growing and how this impacts CAD/SEK forex trading. The Canadian economy is currently in a good position. The country has been able to avoid many problems plaguing other developed economies in recent years. This has helped to create confidence in the Canadian dollar and made it stronger against other currencies.
One of the main reasons for the strength of the Canadian dollar is the country's strong economic performance. The economy has been growing steadily for several years, and this looks set to continue. This has led to increased demand for the currency, which has helped push its value.
Another factor that has contributed to the strength of the Canadian dollar is the country's high-interest rates. These have made it an attractive destination for investors looking to get good returns on their money. As a result, more money has been flowing into Canada, which has helped drive up its currency's value. So, what does all this mean for CAD/SEK forex trading? It means that if you are considering buying or selling this pair, you need to be aware of these factors. They can have a big impact on the price movement of CAD.
As supply and demand traders, we do not need to pay attention to any of the above; no need for fundamentals or earnings reports. Once a big timeframe imbalance has gained control, earnings do just the opposite and react strongly to those imbalances. Why do you see positive earnings, the underlying Forex cross-pair drops like a rock, or a negative earnings announcement and the cross-pair rallies like a rocket out of control? You are probably missing the fact that there are big imbalances in gaining control.
Unless you do very short-term trading and scalping, you should not worry about fundamentals or earnings announcements on CADSEK Forex cross-pair (Canadian Dollar versus Swedish Krona)
You can use these imbalances to plan your trades in lower timeframes. Trading is just waiting for the right trigger points and scenarios to present themselves, this game has got a name, and it's called the waiting game. We must patiently wait for the correct scenarios and setups to happen and wait for the price to pull back or dip into the price levels we want to trade; in our case, these price levels are made of supply and demand imbalances.