Today, we have a new Forex trade idea and analysis for all you traders, focusing on one Forex cross pair that has recently been making waves: USD/CNH. Whether you're a seasoned trader or just dipping your toes into the vast ocean of Forex trading, you can navigate these Forex trade ideas and uncover profitable opportunities with our comprehensive supply and demand Forex analysis. Get ready to catch that perfect wave and ride it towards financial success!
The USD/CNH cross-pair is currently trading at 7.33, creating a strong demand imbalance in the daily timeframe. We're waiting for the dip on the daily chart to buy the US dollar. The US dollar could continue to rally to higher grounds without returning to the imbalance at 7.244. The Chinese Yuan is weakening against the US dollar, and that's great for this Forex trade. The only thing we can do is wait for the pullback since the 4-hour timeframe is trading up, and after a strong bullish impulse, Forex cross pairs tend to correct to the origin of the impulse, which in this case is also a demand imbalance.
The USDCNH Forex chart attached below was posted in Set and Forget's online trading academy on the 17th of August, 2023, together with many other Forex trade ideas and updates.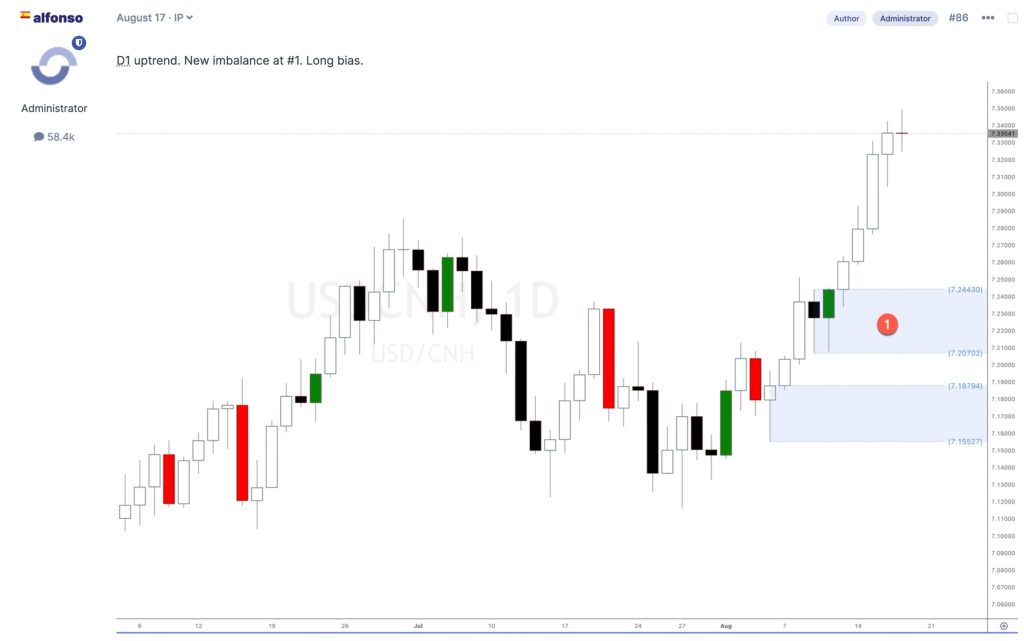 Trading the USD/CNH Forex cross-pair can be lucrative if done correctly. While there are no guarantees when it comes to trading, understanding key supply and demand imbalance levels, potential trade entry and exit points, and risk management strategies can all help increase your chances of success in this volatile market. With patience, discipline, and an open mind, you may be riding the wave to increased profits!
You can use these Forex imbalances to plan your trades in lower timeframes. Trading is just waiting for the right trigger points and scenarios to present themselves. This game has got a name, and it's called the waiting game. We must patiently wait for the correct scenarios and setups to happen and wait for the price to pull back or dip into the price levels we want to trade; in our case, these price levels are made of supply and demand imbalances.
Join Set and Forget's online trading academy or subscribe to your Forex Trade Ideas to start making money using the forces of supply and demand.