The Euro has been on a roll lately, gaining strength against many major currencies, including the New Zealand Dollar. But what does this mean for traders? Is it time to buy or sell? In this blog post and supply and demand Forex analysis, we'll explore the factors behind the Euro's rise and give you all the information you need to make informed trading decisions. So buckle up, and let's dive in!
If you're a trader looking to make sense of the latest market movements, you must pay attention to what's happening with the euro and the New Zealand dollar. Recently, we've seen some significant shifts in their exchange rate, with the euro strengthening against NZD. But what does this mean for your Forex trading strategy?
EURNZD has created a strong daily demand imbalance at 1.71, but it has not reached it. As supply and demand Forex traders, we expect the elimination of the daily supply level currently in control. You can use smaller timeframes to go long and buy the euro versus the New Zealand dollar.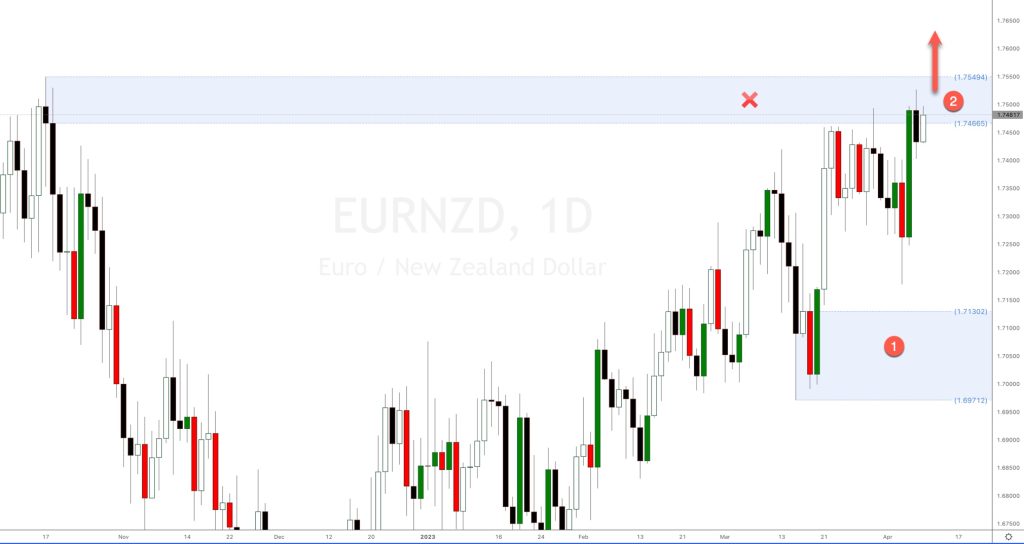 EURNZD video Forex analysis and forecast
As supply and demand traders, we do not need to pay attention to the news, fundamentals or earnings reports. Once a big timeframe imbalance has gained control, earnings do just the opposite and react strongly to those imbalances. Why do you see positive earnings, the underlying Forex cross-pair drops like a rock, or a negative earnings announcement and the cross-pair rallies like a rocket out of control? You are probably missing the fact that there are big imbalances in gaining control.
Unless you do very short-term trading and scalping, you should not worry about fundamentals or earnings announcements on EURNZD Forex cross-pair.
You can use these imbalances to plan your trades in lower timeframes. Trading is just waiting for the right trigger points and scenarios to present themselves, this game has got a name, and it's called the waiting game. We must patiently wait for the correct scenarios and setups to happen and wait for the price to pull back or dip into the price levels we want to trade; in our case, these price levels are made of supply and demand imbalances.