The pandemic hit the airline industry hard, with many companies filing for bankruptcy or struggling to stay afloat. However, one company that has managed to weather the storm is American Airlines. Despite facing unprecedented challenges, American Airlines (NASDAQ: AAL) has survived and emerged stronger than ever before. So if you're looking for a smart investment opportunity in these uncertain times, read on to discover why investing in American Airlines could pay off big time!
Introduction to American Airlines Group Stock
The global pandemic has devastated the airline industry, with American Airlines stock feeling the brunt of the blow. The airline was forced to furlough 19,000 employees and cut capacity by 60%. However, American Airlines is one of the few airlines that has managed to weather the storm and is now positioned for a strong recovery.
Here's a look at how the pandemic affected American Airlines and why you should consider investing in the airline. All the reasons listed below are irrelevant when it comes to analyzing American Airlines' stock using supply and demand imbalances.
The Pandemic Devastated Travel Demand
There's no sugarcoating it – the pandemic decimated travel demand. American Airlines saw passenger traffic fall by 70% in April 2020 compared to 2019 levels. This severely impacted revenues, with American Airlines reporting a $2.7 billion loss in the second quarter of 2020.
Government Assistance Helped Keep American Airlines Afloat
While many airlines have gone bankrupt during the pandemic, American Airlines has stayed thanks to government assistance afloat. In March 2020, Congress approved $25 billion in payroll support for US airlines. This allowed American Airlines to keep paying its employees and avoid mass layoffs.
Capacity Cuts Helped American Airlines Save Money
In response to the drop in travel demand, American Airlines made significant cuts to its capacity. The airline reduced its flying schedule by 60% in April 2020 compared to 2019 levels. This helped American Airlines save money on fuel and other operating costs.
As the pandemic brought the world to a standstill, airlines were among the hardest hit. American Airlines was no exception, with plummeting passenger numbers and significant financial losses. However, American Airlines has shown remarkable resilience and adaptation despite these challenges.
Long-Term Benefits of Investing in American Airlines Group
When most people think about investing in American Airlines Group (AAL), they focus on the short-term benefits. However, there are also many long-term benefits to consider. For example, American Airlines has a very strong brand that is recognized around the world. This can be a major asset in attracting new customers and expanding into new markets. Additionally, American Airlines has a large and loyal customer base, which provides a solid foundation for future growth. American Airlines has a strong financial position, low debt levels and high cash reserves. This gives the company flexibility to weather tough times and invests in growth opportunities.
A new and strong weekly demand imbalance trading at $12.85 per share took control last week, in April 2023. The strength of the impulse is important. This is a long-term investment opportunity for American Airlines (NASDAQ: AAL) stock.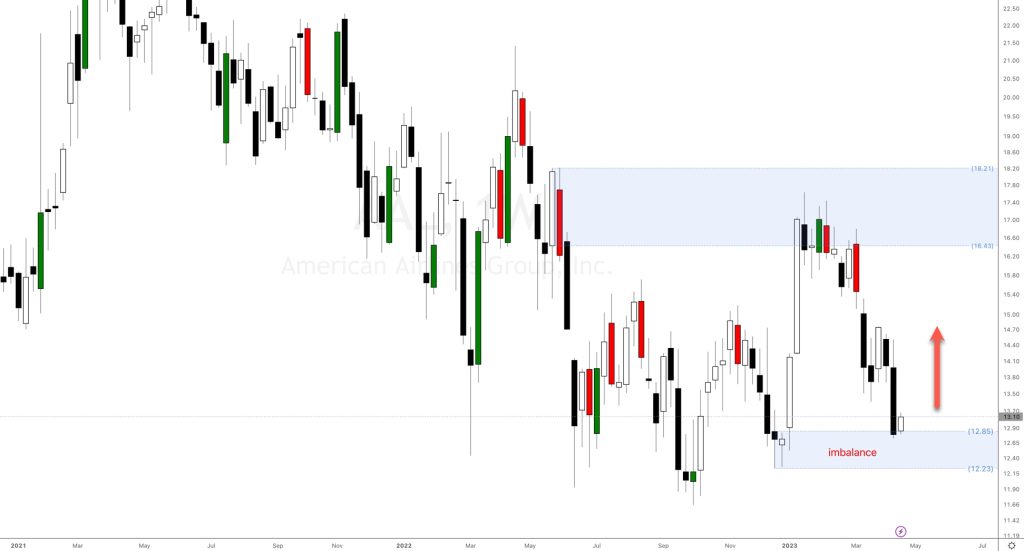 How Fuel Costs Impact Profits for American Airlines Group
The American Airlines Group is one of the world's largest airlines. It is also one of the most fuel-efficient, thanks to its modern fleet of aircraft. However, fuel costs still account for a significant portion of the company's operating expenses.
In 2019, American Airlines spent $8.1 billion on fuel or about 13% of its total operating expenses. Jet fuel prices have fallen sharply since then due to the global pandemic. As a result, American Airlines' fuel costs are expected to decline by about $2 billion in 2020.
This will have a positive impact on the company's bottom line. American Airlines is projected to report a profit of $4.3 billion in 2020, compared to a loss of $2.7 billion in 2019. This turnaround is primarily due to the lower cost of fuel.
Investors should keep an eye on American Airlines' fuel costs in the future. If jet fuel prices rise sharply, it could eat into the company's profits once again. However, as of March 2023, the strong weekly demand level trading at $12.85 took control, and a decent correction is expected from it.
The COVID-19 pandemic has devastated the airline industry, but American Airlines Group (NASDAQ: AAL) has emerged as one of the strongest survivors. The company has taken aggressive steps to slash costs and raise cash to weather the storm, and its share price has rallied sharply in recent months as investors bet on a recovery in air travel demand.
While American Airlines is clearly a risky investment at this juncture, there are strategies that investors can use to minimize the risk. One is to focus on the company's strengths, which include its large domestic network and strong loyalty program. Another is to buy shares at a discount to the company's book value, which provides a margin of safety. Investors should keep a close eye on America's liquidity position and make sure that it has enough cash on hand to survive a prolonged downturn in air travel demand.