Canadian Natural Resources Limited explores for, develops, produces, and markets crude oil, natural gas, and natural gas liquids (NGLs). The company offers synthetic crude oil (SCO), light and medium crude oil, bitumen (thermal oil), primary heavy crude oil, and Pelican Lake heavy crude oil.
We do not need fundamental stock analysis when we use supply and demand imbalances to make a trading decision. However, a few things happening in the oil and gas industry and Canadian Natural Resources stock could help it move to higher prices.
For instance, Canadian Natural Resources is set up to deliver increasing dividends over the next twelve months. The yield could reach for than 3%. An investor can get more money back in dividends over time without deploying more capital into the company. The whole energy trade appears to do well. Oil stocks are doing well, and Canadian Natural Resources is no exception. Coal, natural gas, uranium, and even some fossil fuels directly compete as fuel sources. CNQ stock has a market cap of more than 85 billion Canadian dollars. It's a solid market capitalization, and by doing a supply and demand top-down analysis of the stock, Canadian Natural Resources will do well in the medium term. Hopefully, the strong demand levels in control will play out.
Canadian Natural Resources stock analysis
The oil and gas stock has reached a strong imbalance on the daily timeframe, trading at $54.40 per share. This imbalance was mentioned a few days ago and has just taken control. We expect a decent reaction from this demand imbalance with the help of crude oil analysis and bullish expectations. The outlook for fossil fuels has been very bullish since the summer. Crude Oil was reaching a strong monthly demand level, which helped the fossil fuels keep on rallying.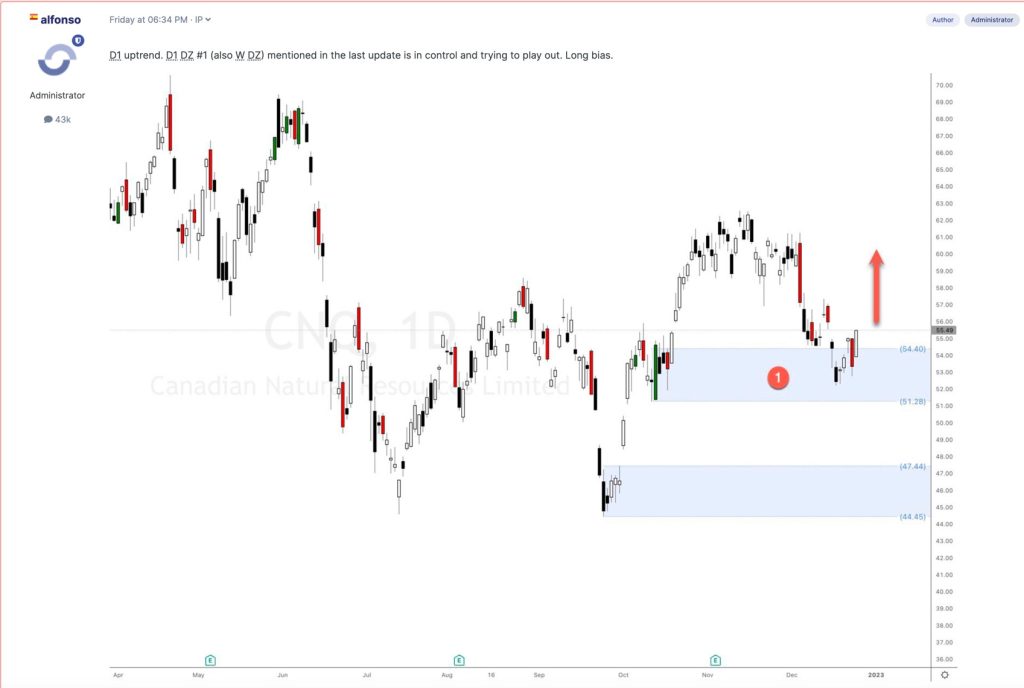 Canadian Natural Resources stock price today
As supply and demand traders, we do not need to pay attention to fundamental analysis. Unless you are doing very short-term trading and scalping, you should not worry about fundamentals for stocks and ETFs.
Trading is just waiting for the right trigger points and scenarios to present themselves, this game has a name, and it's called the waiting game. We must patiently wait for the correct scenarios and setups to happen and for the price to pull back or dip into the price levels we want to trade. These price levels are made of supply and demand imbalances in our case. You can use these imbalances to plan your trades in lower timeframes.
Join our supply and demand online trading academy If you want to learn how to trade stocks using our supply and demand trading strategy.