Pirelli is an Italian multinational tyre manufacturer based in Milan, Italy. The famous and well-known auto parts company has been listed on the Milan Stock Exchange since 1922. The stock is the 6th-largest tyre manufacturer in the world, together with Bridgestone, Hancock, and the French Michelin. Pirelli focuses on the consumer production of tyres for cars, motorcycles and bicycles.
Pirelli's business model focuses on high-value tyres and their capacity to respond quickly to critical issues. With the turmoil caused by Ukraine's war, many companies have been affected. Pirelli's Russian sales in the first half of 2022 accounted for around 3% of its global sales, so that shouldn't affect the stock much.
There is a long-term bullish bias for Pirelli, regardless of what the fundamental stock analysis and Pirelli's CEO say about the company and the tyre manufacturing industry. Fundamental analysis aside, Pirelli has reached a very strong imbalance on the bigger timeframes. The chart below shows a screenshot of Pirelli's forecast mentioned last October 17th 2022. The weekly timeframe is still trending down. However, we expect the elimination of the poor imbalance at €3.7 per share.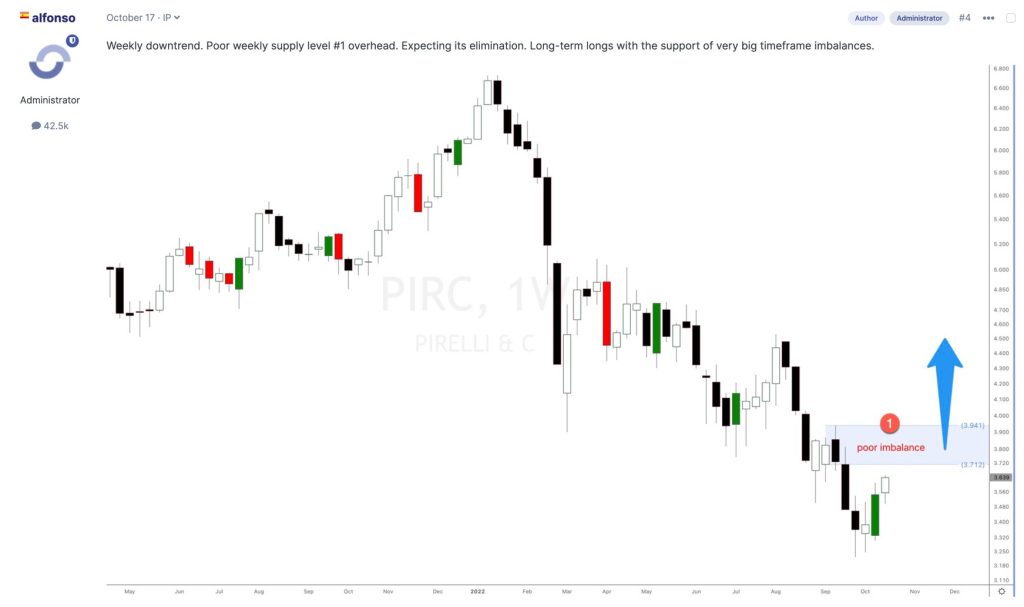 Pirelli tyre manufacturer stock price today
As supply and demand traders, we do not need to pay attention to fundamental analysis. Unless you are doing very short-term trading and scalping, you should not worry about fundamentals for stocks and ETFs.
Trading is just waiting for the right trigger points and scenarios to present themselves, this game has a name, and it's called the waiting game. We must patiently wait for the correct scenarios and setups to happen and for the price to pull back or dip into the price levels we want to trade. These price levels are made of supply and demand imbalances in our case. You can use these imbalances to plan your trades in lower timeframes.
Join our supply and demand online trading academy If you want to learn how to trade stocks using our supply and demand trading strategy.