Is Nike stock a buy right now? After falling sharply this year, Nike stock now seems to be on the rebound. The company also hiked its dividend by 11%, so stock analysts expect that Nike's earnings should improve as inventory levels decrease. That's at least what you can read if you google the famous stock and look some news up.
Shares of Nike stock (NYSE: NKE) gained last month as the sportswear giant benefited from good news out of China. At least, that's what you can read in the media. However, as supply and demand traders, the buying opportunity happened at much lower prices with the help of a bigger timeframe imbalance.
Nike's stock price reached a new weekly supply level. When an imbalance like this takes control, we should not think of buying shares of the stock. Instead, we should be thinking of managing our bullish positions. Buying into supply is not a good idea, even if we expect its elimination.
Nike stock price analysis
The chart below shows a solid weekly supply level (sell area) between $105 and $115. Buying shares of the stock against it is never a good idea. A long-term buy opportunity is playing out on Nike stock right now, as explained at Set and Forget's online trading academy. If you consider fundamental stock analysis, you will probably read that the stock market has fallen largely this year because of high inflation. The increased fears of a recession have likely weighed on consumer stocks like Nike. This has prompted the Federal Reserve to raise interest rates to bring them under control aggressively.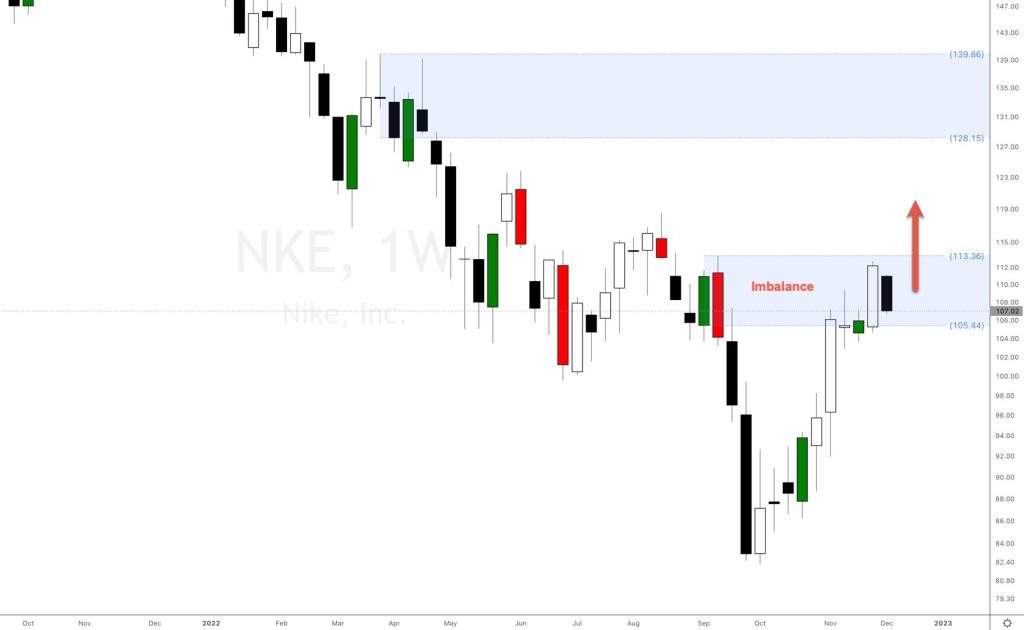 Nike stock price Today
As supply and demand traders, we do not need to pay attention to fundamental analysis. Unless you are doing very short-term trading and scalping, you should not worry about fundamentals for stocks and ETFs.
Trading is just waiting for the right trigger points and scenarios to present themselves, this game has a name, and it's called the waiting game. We must patiently wait for the correct scenarios and setups to happen and for the price to pull back or dip into the price levels we want to trade. These price levels are made of supply and demand imbalances in our case. You can use these imbalances to plan your trades in lower timeframes.
Join our supply and demand online trading academy If you want to learn how to trade stocks using our supply and demand trading strategy.