Is Amazon stock selling off for the right reasons in 2022? Despite Amazon'scontinued, yet slower, revenue growth, Amazon's stock price (NASDAQ: AMZN) keeps on selling off strongly.
I read somewhere that the appeal of Amazon stock is gradually improving, but it still feels a little too early to get involved. And there is a reason to say that for Amazon. Amazon's stock price keeps tanking despite the last quarter's positive earnings. We do not need to consider earnings or fundamental analysis as supply and demand trading stocks. Price action and supply and demand are enough to make a trading decision. We do not need more layers of complexity to cloud our minds and prevent us from making wrong decisions using intraday and short-term charts.
Shares of Amazon.com cannot seem to catch a break, trading near their weekly lows even though the market has seen a decent bullish rebound in the last weeks.
The weekly timeframe keeps trending down, and new weekly supply levels are being created and respected. A new strong weekly imbalance was created at around $110 per share but Amazon's stock price didn't reach it yet.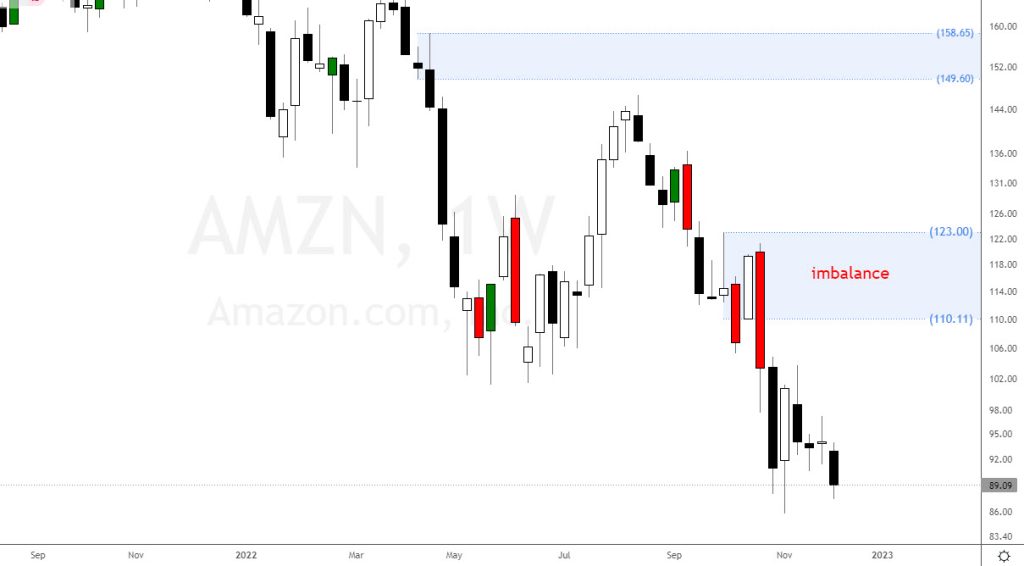 Amazon stock price today
As supply and demand traders, we do not need to pay attention to fundamental analysis. Unless you are doing very short-term trading and scalping, you should not worry about fundamentals for stocks and ETFs.
Trading is just waiting for the right trigger points and scenarios to present themselves, this game has a name, and it's called the waiting game. We must patiently wait for the correct scenarios and setups to happen and for the price to pull back or dip into the price levels we want to trade. These price levels are made of supply and demand imbalances in our case. You can use these imbalances to plan your trades in lower timeframes.
Join our supply and demand online trading academy If you want to learn how to trade stocks using our supply and demand trading strategy.