European Airbus stock is a very well-known European multinational aerospace corporation. Airbus designs, manufactures and sells civil and military aerospace products worldwide and manufactures aircraft in Europe and various countries outside Europe.
Airbus is Boeing's biggest competitor in the aircraft manufacturing business. The competition between Airbus and Boeing has been characterised as a duopoly in the large jet airliner market since the 1990s. 
In 2019, European Airbus stock displaced Boeing stock as the largest aerospace company by revenue due to the Boeing 737 MAX groundings that ended the lives of hundreds of people.
Last October 2022, almost at the end of 2022 and in the post-COVID-19 pandemic, Airbus stock price surged 25%, creating a strong demand imbalance in the weekly timeframe sitting around €94 per share. Let's see if the Airbus stock price drops down there in the following weeks.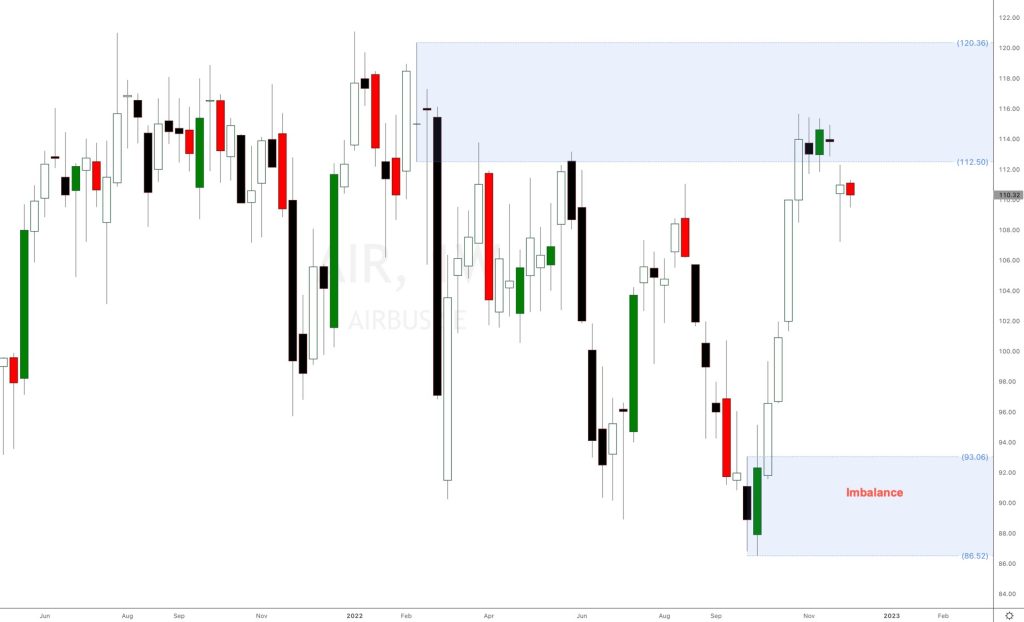 Airbus Stock Price Today. Buy Airbus now?
As supply and demand traders, we do not need to pay attention to fundamental analysis. Unless you are doing very short-term trading and scalping, you should not worry about fundamentals for stocks and ETFs.
Trading is just waiting for the right trigger points and scenarios to present themselves, this game has a name, and it's called the waiting game. We must patiently wait for the correct scenarios and setups to happen and for the price to pull back or dip into the price levels we want to trade. These price levels are made of supply and demand imbalances in our case. You can use these imbalances to plan your trades in lower timeframes.
Join our supply and demand online trading academy If you want to learn how to trade stocks using our supply and demand trading strategy.