When trading supply and demand imbalances we don't really need any indicator or add-on tools to tell us how and when to place a trade. Let's take a look at Walt Disney Company stock #DIS using a supply and demand stock trading strategy.
How to trade stock market Disney using a supply and demand strategy
Walt Disney #DIS american stock did not retrace previous demand level around $111 and continued to rally breaking all time highs again creating another strong imbalance around $132 per share. See Walt Disney stock weekly timeframe and imbalances below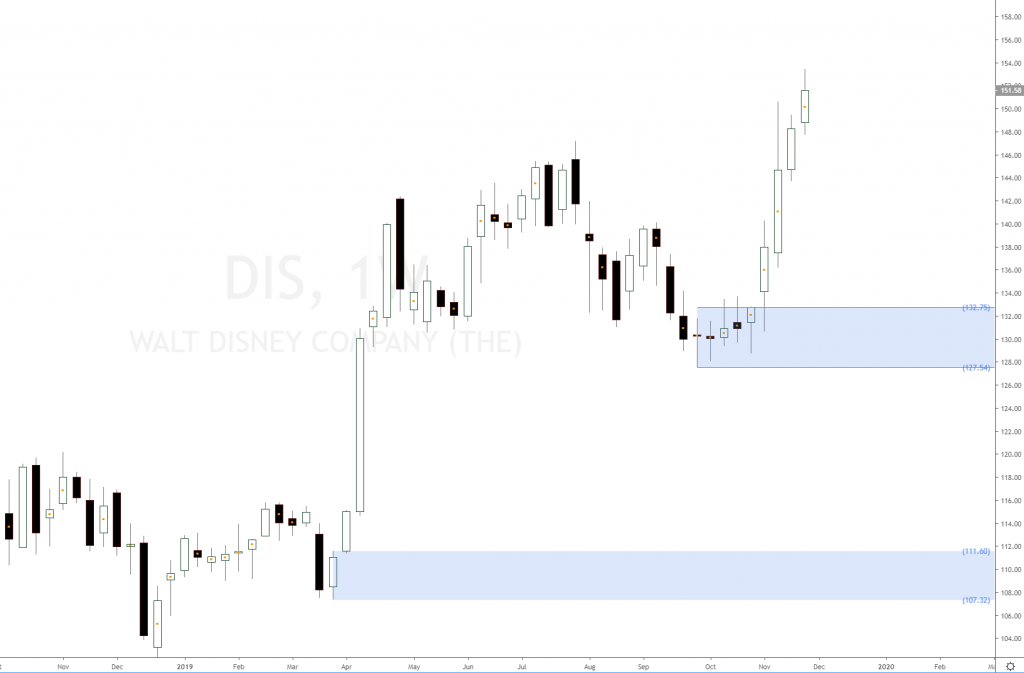 Disney company has broken all time highs again, a very strong impulse has been created which is being in the process of create a new demand imbalance. The big picture trend is bullish, Walt Disney company is in a clear uptrend, only longs at new demand imbalances are allowed. Why should we need to add all kind of indicators like Bollinger Bands, CCI, RSI, MACD and exponential moving averages to make a trading decision when price action is telling us that all we can do is go long. But where can we go long, a new demand levels. This attached chart for Walt Disney Company stock represents a weekly chart, each candlestick is a week of time. It's pretty clear that the whole move started around $132 per share, that's where we would be interested to trade if the trend is still bullish by the time price revisits the impulse.
This is a very simple way of how to trade stocks, we must wait for the imbalance to be created and then wait again for price to pullback to the origin of the move.