Virgin Galactic is an American spaceflight company within the Virgin Group. It is developing commercial spacecraft and aims to provide suborbital spaceflights to space tourists and suborbital launches for space science missions.
The idea of space travel sounds like science fiction to me and probably to you as well. Virgin Galactic #SPCE is not the only company that aims to provide space flights to influential and wealthy citizens. The "big three" U.S. aerospace companies are Boeing. Lockheed Martin, and. Northrop Grumman (which acquired Orbital ATK as of June 6, 2018). Amazon and Tesla are also planning to launch their own space crafts.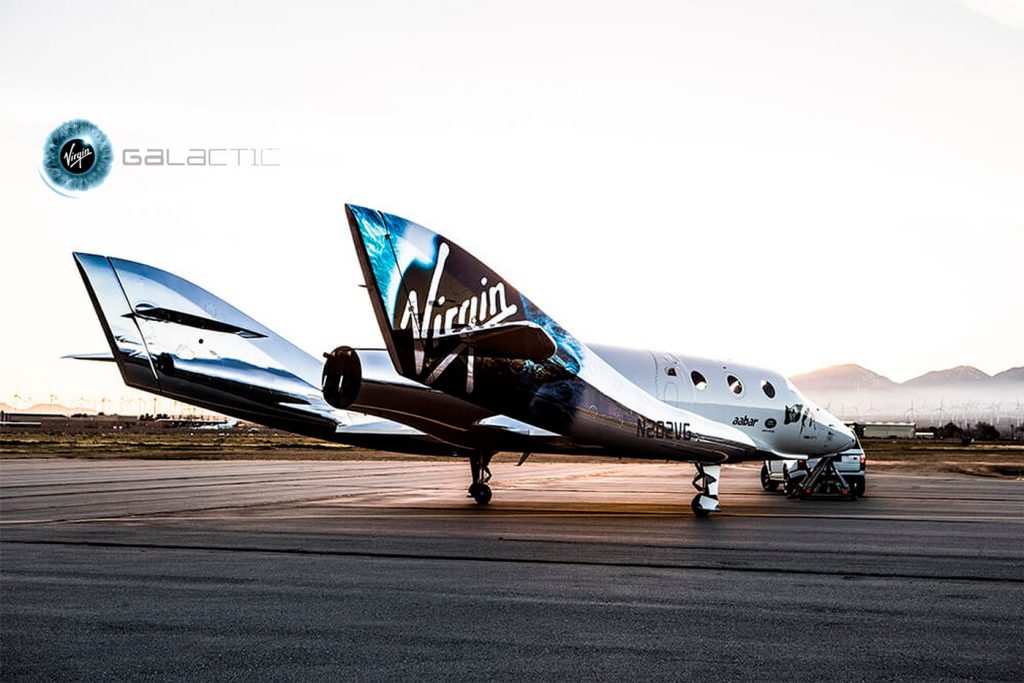 SpaceX (NASA) is the largest private space company in the world, and the only private space company capable of returning a spacecraft from low-orbit Earth. NASA is the biggest national space organization in the world.
No matter how big or small these companies are, it seems that planet Earth is getting smaller and smaller for them.
Why is Virgin Galactic rallying now and not two weeks ago?
Well, as supply and demand traders, it should be obvious. Look at the monthly timeframe below for Virgin Galactic. There is a new monthly demand imbalance that has taken control around $28 per share. A similar imbalance was created in the beginning of the year 2020 around $10.35 per share and played out as expected and quite nicely. Will this new imbalance play out as well? Hopefully, it will. For now, shares of Virgin Galactic Holdings (NYSE:SPCE) stock rocketed again last Wednesday 11th March 2021, rising more than 10% before quickly running out of gas.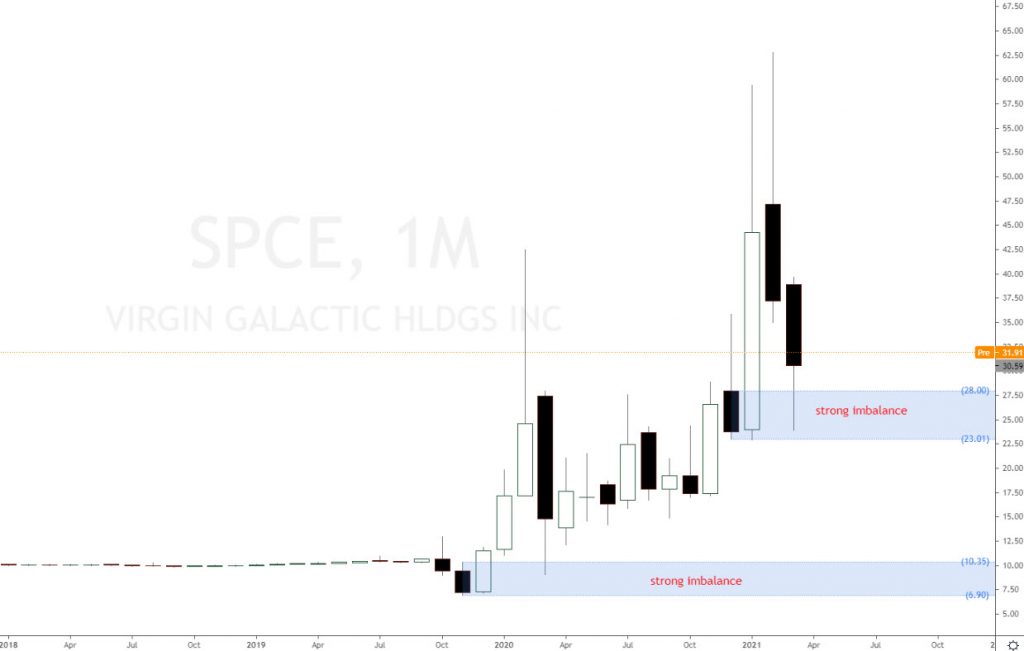 What turbocharged Virgin Galactic stock early on the day and the days before, and why is the stock flagging as the day drags on? The answer should be pretty obvious when you look at the charts wearing supply and demand glasses on.
There might be a lot of news about Virgin on the wires. I've been searching for some news on Virgin Galactic stock before writing this blog post, and I've found more or less the same thing. In fact, the most significant announcement I've found actually appeared on the Twitter count belonging to Virgin Galactic subsidiary The Spaceship Company (officially known as "TSC, LLC" according to S&P Global Market Intelligence) yesterday.
The company is in the pursuit of higher profits. But it doesn't change the fact that Virgin Galactic still has no profits, essentially no revenue, and no chance of getting either of the above until it starts launching paying passengers into space. Still, the underlying price is efficiently reacting to new imbalances, so who cares about space travel being profitable for this company or not? The only trading decision that can be made is investing on the company by buying shares of the stock. Will this new imbalance provide us with nice profits like the first one when the stock was an IPO? We don't know and we should not care.
Should you invest $1,000 in Virgin Galactic Holdings, Inc. right now?
You must know what you are doing and how these imbalances work and are traded. This is the kind of price action technical analysis you will learn in our trading community. You will learn how to locate new supply and demand imbalances and trade without using any indicators, no news, no fundamental analysis, no earnings announcements, no volume or VSA analysis. Just supply and demand imbalances.
Trading supply and demand imbalances are ideal for beginners and those with a full or half time job, you won't need to stay in front of the computer all day long trying to move price action with your mind.
As supply and demand traders, we do not need to pay attention to the news, fundamentals or any earnings reports. Once a big timeframe imbalance has gained control, earnings do just the opposite and react strongly to those imbalances. Why is it that you see positive earnings and then the underlying stock drops like a rock? Or a negative earnings announcement and the stock rallies like a rocket out of control? You are probably missing the fact that there are big imbalances gaining control.
Unless you are doing very short term trading and scalping, you should not worry about fundamentals or earnings announcements.
You can use these imbalances to plan your trades in lower timeframes. Trading is just waiting for the right trigger points and scenarios to present themselves. This game has got a name and it's called the waiting game. We need to patiently wait for the correct scenarios and setups to happen. And wait for the price to pull back or dip into the price levels we want to trade, in our case. These price levels are made of supply and demand imbalances.
If you want to learn how to trade using our supply and demand trading strategy, join our supply and demand stock trading course.
There are several ways of buying stocks and futures. When trading stocks, you can buy shares of the underlying stock. You can also use stock options strategies to go long or short at these specific supply and demand levels. Long calls or long puts or spreads. You can even buy CFD (contracts for difference) if you are in a country where it's allowed.