Read below a Tata Motors Indian Stock Exchange NSE technical analysis and forecast. Tata Motors Limited, formerly Tata Engineering and Locomotive Company, is an Indian multinational automotive manufacturing company headquartered in Mumbai, Maharashtra, India. It is a part of Tata Group, an Indian conglomerate.
Tata Motors Ltd has been dropping for months now creating new monthly supply imbalances on the way down since the first supply level was created around 569. Tata Motors Indian NSE stock has been dropping ever since that super strong bearish impulse that ended up creating a monthly supply price at the very top.
On the way down as price continued to remove all bullish obstacles and demand levels, Tata Motors Indian NSE stock has created two more supply imbalances on the monthly chart, the last two were are 327 and 242. Price has fallen short of retracing to the latest supply imbalance around 242 by a few ticks. It's a pity, because Tata Motors stock supply and demand technical analysis has a clear bearish bias and only shorts are allowed. There is still a lot of room for price to keep on dropping on Tata Motors Indian NSE Stock.
Tata Motors Indian Stock Exchange NSE monthly timeframe technical analysis and forecast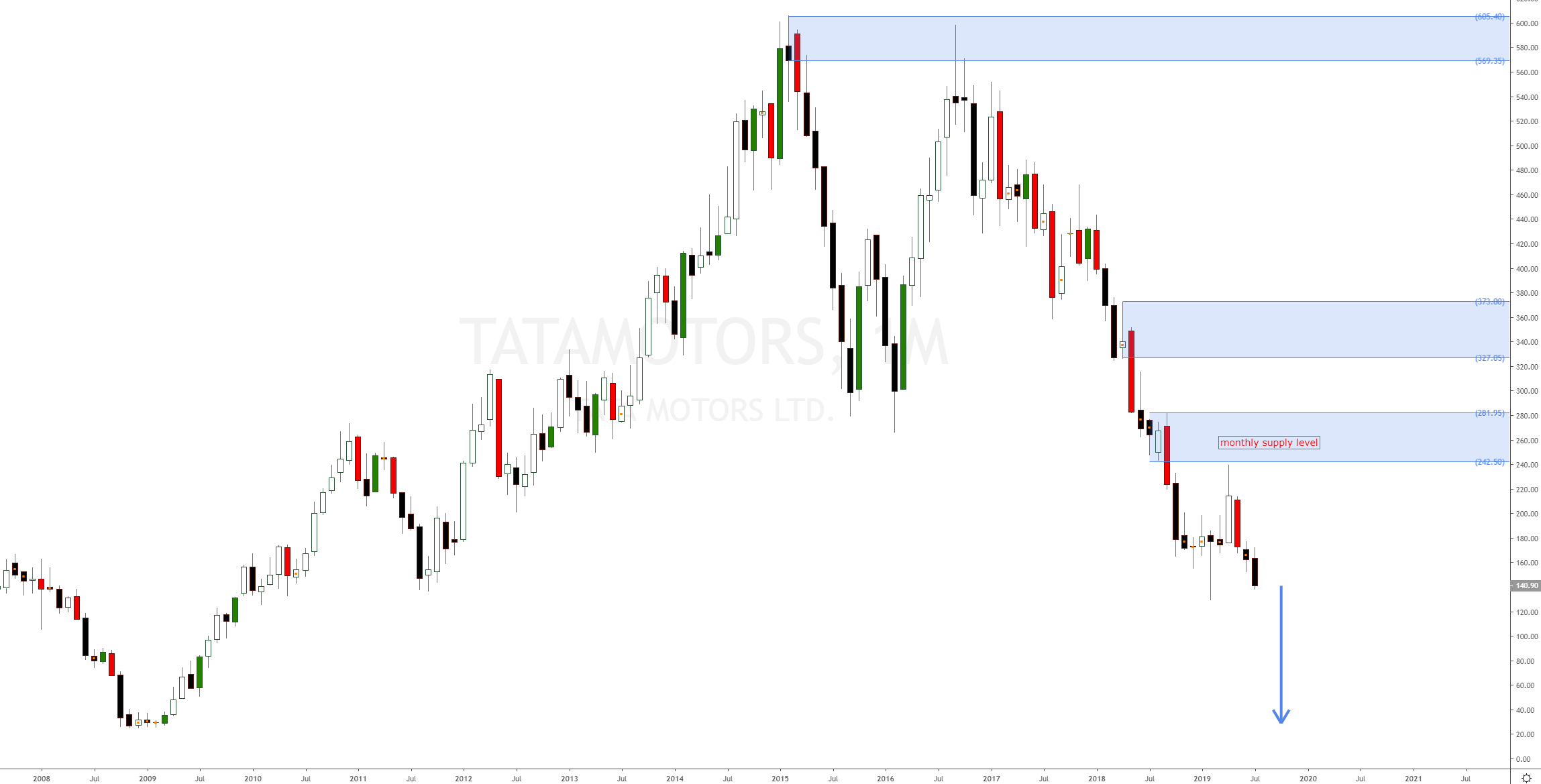 Only selling short is allowed on Tata Motors Indian NSE Stock since the monthly timeframe technical analysis tells us there is a clear downtrend, in a downtrend supply levels are created and respected, so only shorts are allowed in Tata Motors stock.
Watch a short supply and demand technical video analysis below for Tata Motors Ltd Indian stock
This is the kind of price action technical analysis you will learn in our trading community. You will learn how to locate new supply and demand imbalances and trade without using any indicators, no news, no fundamental analysis, no earnings announcements, no volume or VSA analysis. Just supply and demand imbalances.
Trading supply and demand imbalances is ideal for beginners and those with a full or half time job, you won't need to stay in front of the computer all day long trying to move price action with your mind.
As supply and demand traders, we do not need to pay attention to the news, fundamentals or any earnings reports. Once a big timeframe imbalance has gained control, earnings do just the opposite and reacts strongly to those imbalances. Why is it that you see positive earnings and then the underlying stock drops like a rock, or a negative earnings announcement and the stock rallies like a rocket out of control? You are probably missing the fact that there are big imbalances gaining control.
Unless you are doing very short term trading and scalping, you should not worry about fundamentals or earnings announcements.
Join our Stocks trading course if you want to learn how to trade supply and demand imbalances.