Short opportunities are being created on Snap Chat SNAP american stock.
SNAP CHAT stock supply and demand technical analysis and forecast
New weekly supply is being created on Snap Chat on the weekly timeframe around $16 per share. The stock has been doing nothing for a few weeks and it's now dropping strongly creating new weekly supply imbalance and lower timeframe imbalances. No longs are allowed.
Price action and supply and demand
Weekly price action analysis is telling us than bearish impulses are stronger than bullish impulse so it would be suicidal to open long positions on Snap Chat stop. As per the supply and demand analysis, only shorts are possible, that is, selling the stock or use stock options to trade all the way down as there is a lot of room for price to drop with no important obstacles.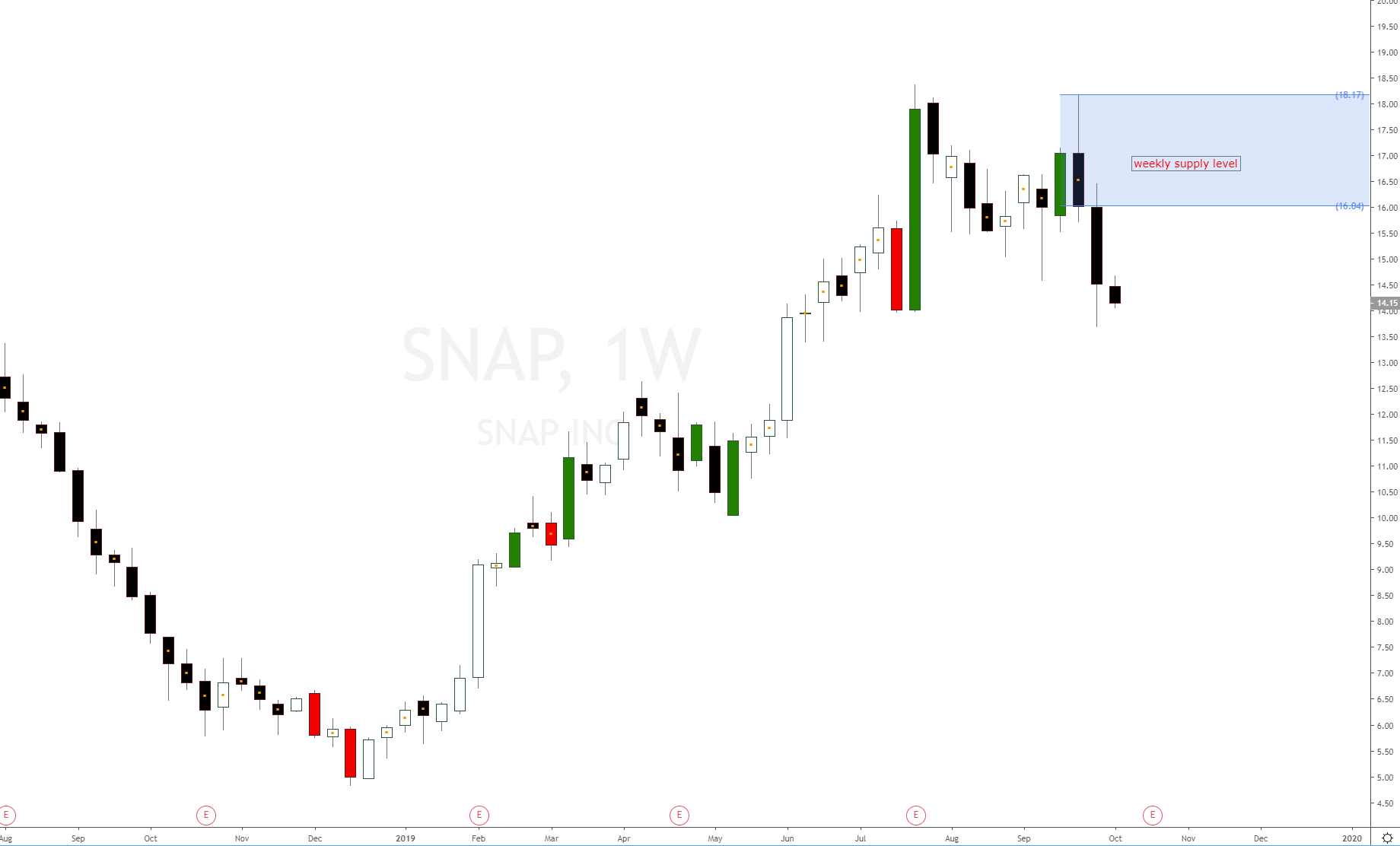 Some Information about Snap Chat stock
Snap Inc. operates as a camera company in the United States and internationally. The company offers Snapchat, a camera application that helps people to communicate through short videos and images. It also provides Camera, a tool to personalize and add context to Snaps; Friends Page that allows creating and watching stories, chatting with groups, making voice and video calls, and communicating through a range of contextual stickers and Bitmojis;
---
Stock price action analysis using supply and demand technical analysis
This is the kind of price action technical analysis you will learn in our trading community. You will learn how to locate new supply and demand imbalances and trade without using any indicators, no news, no fundamental analysis, no earnings announcements, no volume or VSA analysis. Just supply and demand imbalances.
Trading supply and demand imbalances is ideal for beginners and those with a full or half time job, you won't need to stay in front of the computer all day long trying to move price action with your mind.
As supply and demand traders, we do not need to pay attention to the news, fundamentals or any earnings reports. Once a big timeframe imbalance has gained control, earnings do just the opposite and reacts strongly to those imbalances. Why is it that you see positive earnings and then the underlying stock drops like a rock, or a negative earnings announcement and the stock rallies like a rocket out of control? You are probably missing the fact that there are big imbalances gaining control.