When trading supply and demand imbalances we don't really need any indicator or add-on tools to tell us how and when to place a trade. Let's take a look at Intel Corp stock #INTC using supply and demand imbalances for technical analysis without a single indicator dragged on the chart, just price action and impulses.
How to trade and locate supply and demand imbalances on stocks
See below a monthly chart for Intel Corp stock #INTC trading in Nasdaq Exchange. Intel Corp is dropping sharply after breaking all time highs around $60 per share two months ago, a very strong bearish impulse has been created which has created new strong supply imbalances. The big picture trend is bullish, however Intel Corp is now downtrending on the weekly chart so no longs are allowed at demand imbalances. Why should we need to add all kind of indicators like Bollinger Bands, CCI, RSI, MACD and exponential moving averages to make a trading decision when price action when everything is pointing down? The attached chart for Intel Corp stock represents a weekly chart, each candlestick is a week of time. It's pretty clear that the whole move started around $60 per share, that's where we would be interested to trade if the trend is still down by the time price revisits the impulse.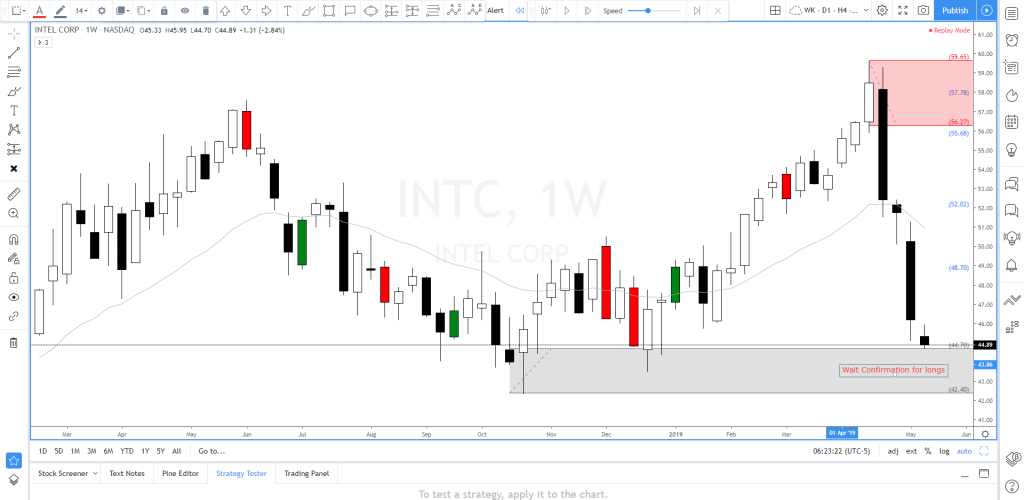 This is a very simple way of how to trade stocks, we must wait for the imbalance to be created and then wait again for price to pullback to the origin of the move.
Watch Intel Corp INTC supply and demand video analysis
A bit on information about Intel Corp company. Intel Corporation offers computing, networking, data storage, and communication solutions worldwide. It operates through Client Computing Group, Data Center Group, Internet of Things Group, Non-Volatile Memory Solutions Group, Programmable Solutions Group, and All Other segments. The company offers microprocessors, and system-on-chip and multichip packaging products. It also provides NAND flash memory products primarily used in solid-state drives; and programmable semiconductors and related products for communications, data center, industrial, and military markets. In addition, the company develops computer vision and machine learning, data analysis, localization, and mapping for advanced driver assistance systems and autonomous driving.
Trading supply and demand imbalances is ideal for beginners and those with a full or half time job, you won't need to stay in front of the computer all day long trying to move price action with your mind.
As supply and demand traders, we do not need to pay attention to the news, fundamentals or any earnings reports. Once a big timeframe imbalance has gained control, earnings do just the opposite and reacts strongly to those imbalances. Why is it that you see positive earnings and then the underlying stock drops like a rock, or a negative earnings announcement and the stock rallies like a rocket out of control? You are probably missing the fact that there are big imbalances gaining control.
Unless you are doing very short term trading and scalping, you should not worry about fundamentals or earnings announcements.
You can use these imbalances to plan your trades in lower timeframes. Trading is just waiting for the right trigger points and scenarios to present themselves, this game has got a name and it's called the waiting game. We need to patiently wait for the correct scenarios and setups to happen and wait for price to pullback or dip into the price levels we want to trade, in our case these price levels are made of supply and demand imbalances.
There are several ways of buying stocks. When trading stocks, you can buy shares of the underlying stock or use options strategies to go long or short at these specific supply and demand levels, long calls or long puts or spreads. You can even buy a CFD (contracts for difference) if you are in a country where it's allowed.