Facebook FB american stock buy opportunities at new demand levels. After a big retracement price usually snaps back to the origin of the move. Facebook FB american stock has been doing exactly that, new weekly demand zones have been created at [1] and [2]. In a uptrend, new demand levels are created and respected and that's precisely what is happening on Facebook stock.
FB stock forecast and analysis
There are also some great demand levels on the daily chart being created, the lower one at [4] has the strongest impulse with a huge bullish gap that has not yet been filled. The upper daily demand zone at [3] has lower probability. We are interested in buying Facebook stocks around $164 per share if price retraces to weekly demand at [2]
Clear long bias a new demand imbalances on Facebook american stock.
Facebook supply and demand analysis on weekly and daily timeframes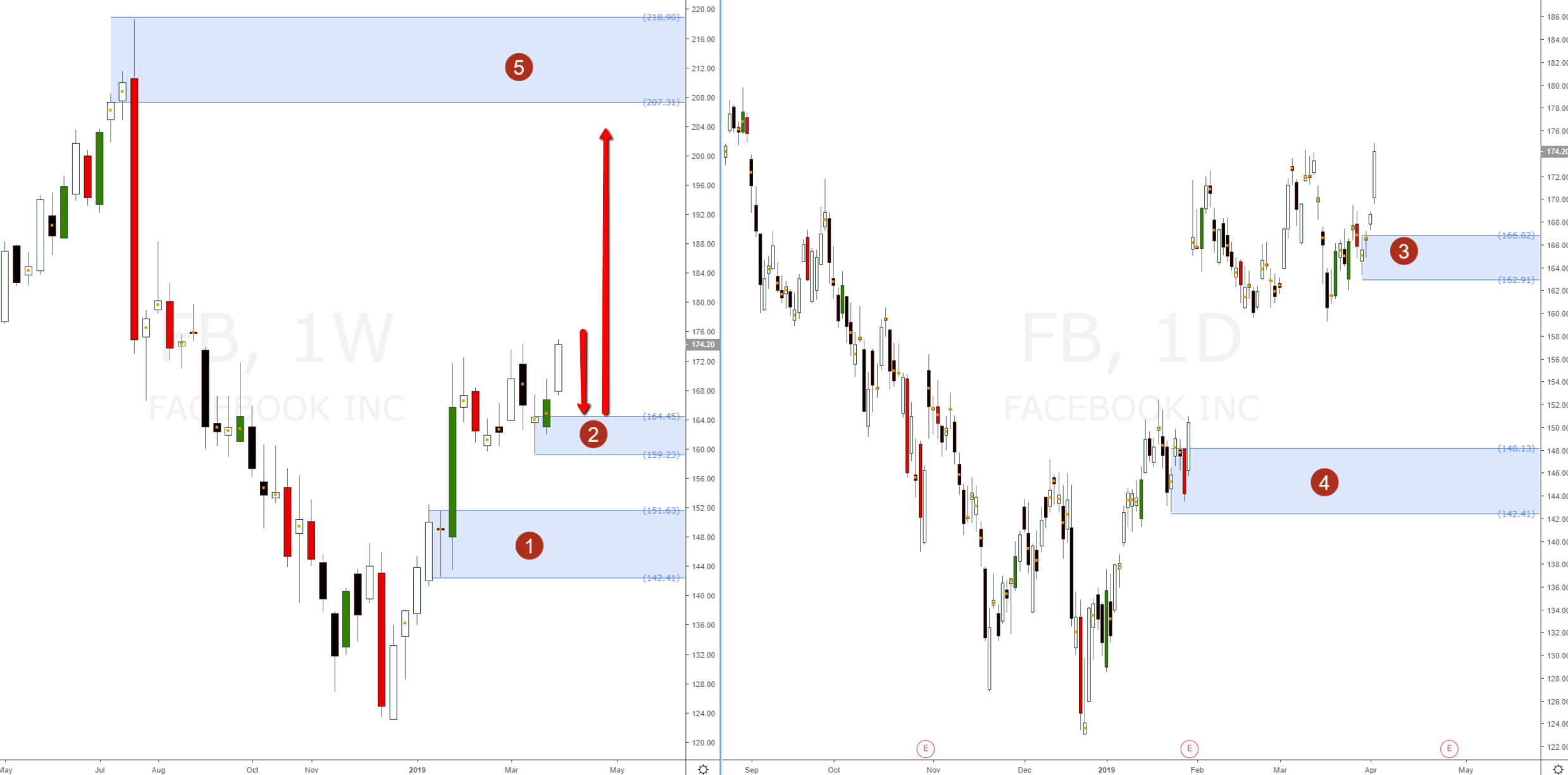 How to trade stocks? As supply and demand traders, we do not need to pay attention to the news, fundamentals or any earnings reports. Once a big timeframe imbalance has gained control, earnings do just the opposite and reacts strongly to those imbalances. Why is it that you see positive earnings and then the underlying stock drops like a rock, or a negative earnings announcement and the stock rallies like a rocket out of control? You are probably missing the fact that there are big imbalances gaining control.
Unless you are doing very short term trading and scalping, you should not worry about fundamentals or earnings announcements.
You can use these imbalances to plan your trades in lower timeframes. There are several ways of buying stocks. When trading stocks, you can buy shares of the underlying stock or use options strategies to go long or short at these specific supply and demand levels, long calls or long puts or spreads.