CVS Health Corporation is american stock pharmacy operator offering nice sell opportunities at new supply imbalances created on both the weekly and the monthly timeframes with everything pointing down in a clear downtrend with new supply levels being created and demand levels being eliminated. Strong imbalances created on the way down.
CVS Health Corporation stock analysis and forecast
Two new supply levels have been created on the monthly and weekly charts. Monthly supply imbalances is located around $64 per share and weekly supply imbalance is around $65 per share.
How to trade stocks without using fundamental analysis
As supply and demand traders, we do not need to pay attention to the news, fundamentals or any earnings reports. Once a big timeframe imbalance has gained control, earnings do just the opposite and reacts strongly to those imbalances. Why is it that you see positive earnings and then the underlying stock drops like a rock, or a negative earnings announcement and the stock rallies like a rocket out of control? You are probably missing the fact that there are big imbalances gaining control.
Unless you are doing very short term trading and scalping, you should not worry about fundamentals or earnings announcements.
You can use these imbalances to plan your trades in lower timeframes. Trading is just waiting for the right trigger points and scenarios to present themselves, this game has got a name and it's called the waiting game. We need to patiently wait for the correct scenarios and setups to happen and wait for price to pullback or dip into the price levels we want to trade, in our case supply and demand imbalances.
There are several ways of buying stocks. When trading stocks, you can buy shares of the underlying stock or use options strategies to go long or short at these specific supply and demand levels, long calls or long puts or spreads. You can even buy a CFD (contracts for difference) if you are in a country where it's allowed.
Strong supply imbalances created on CVS Health Corporation stock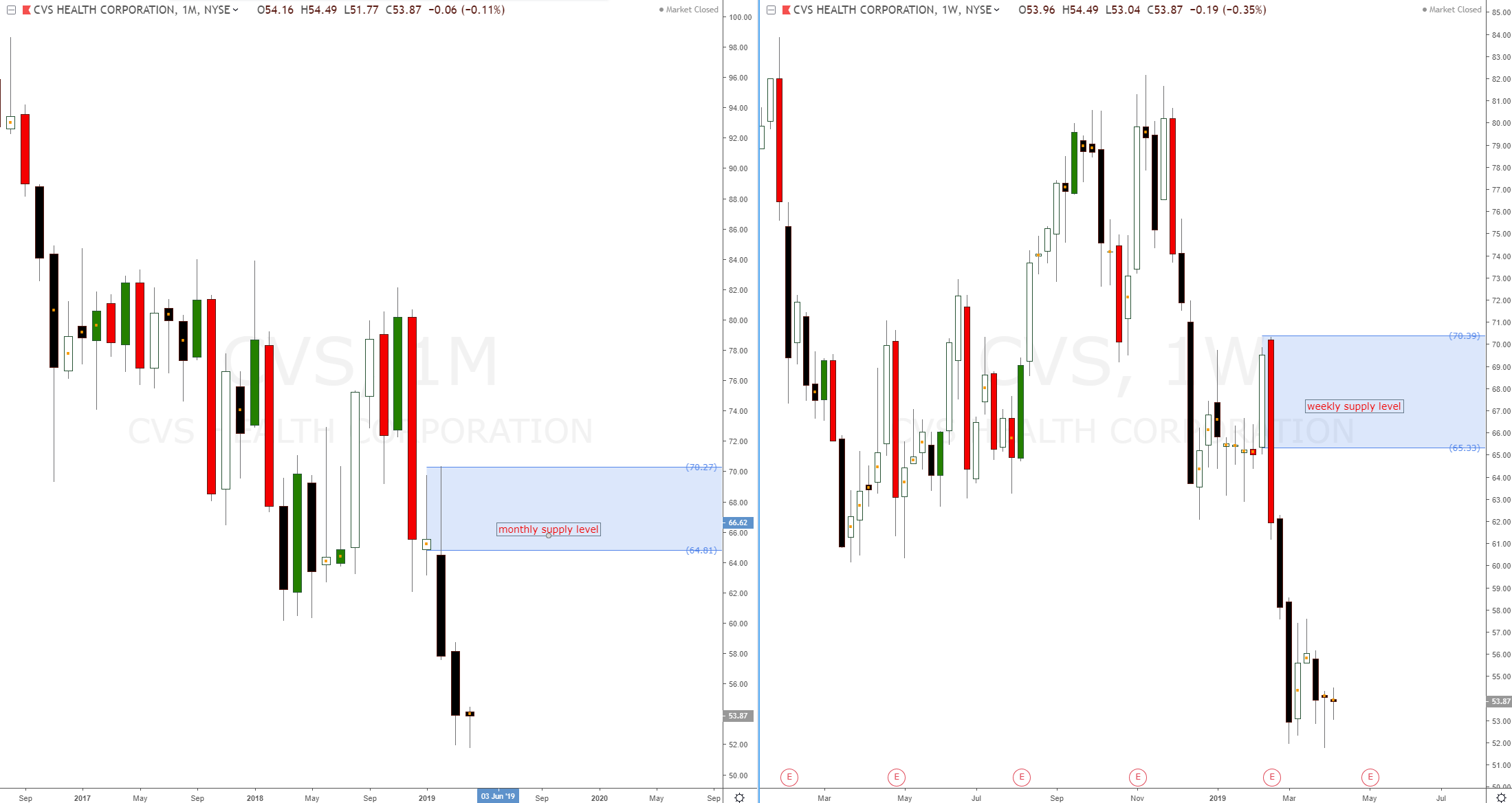 If you still want to take earnings into account, it has not been good for CVS Health Corporation lately, read below some of this fundamental analysis…
In a note to investors previewing the healthcare services sector's first quarter, analyst David MacDonald said he expects a challenging year for the Woonsocket, Rhode Island-based company, but pointed to "a unique collection of assets." He said he expected CVS's first-quarter results to reflect a handful of challenges, including reimbursement pressure, fewer generics, lower brand inflation.

"While 2019 is expected to be difficult," MacDonald wrote, "we remain positive on CVS' underlying value proposition tied to its integrated pharmacy/medical benefits, unique set of assets, meaningful patient touch points, and strong clinical programs, and view the company as well positioned to bend the cost curve over time.
Can you really make sense out of those statements? I just can't. That's a very thick layer of complexity you would be adding to your trading plan. We have to make easier and faster decisions that don't lean on suppositions or forecasts based on X and Y fundamentals data. Everything is pointing down, so short bias.
Some information about CVS Health Corporation
CVS Health Corporation provides health services and plans in the United States. Its Pharmacy Services segment offers pharmacy benefit management solutions, such as plan design and administration, formulary management, retail pharmacy network management, mail order pharmacy, specialty pharmacy and infusion, Medicare Part D, clinical, disease management, and medical spend management services. The company's Retail/LTC segment sells prescription drugs and general merchandise, such as over-the-counter drugs, beauty products, cosmetics, and personal care products, as well as provides health care services through its MinuteClinic walk-in medical clinics. Its Health Care Benefits segment offers traditional, voluntary, and consumer-directed health insurance products and related services, including medical, pharmacy, dental, behavioral health, medical management, Medicare plans, PDPs, Medicaid health care management services, workers' compensation administrative services, and health information technology products and services.