Cirrus Logic is a semiconductor company that provides products for the world's top smartphones, tablets, digital headsets, wearables and emerging smart home applications. Its products span the entire audio signal chain, and is known for producing high-performance, low-power ICs for audio and voice signal processing applications.
Cirrus Logic Inc CRUS analysis using supply and demand imbalances
Cirrus Logic Inc is reacting to a very strong monthly demand level located around $36.21. Supply and demand core concepts do not allow us to go short or buy long put options against a huge monthly demand imbalance in control.
Cirrus Logic has been reacting to that monthly demand level strongly for over two months creating new weekly demand level around $33.22 where longs are possible if price retraces to that level of demand.
CRUS stock fundamental analysis
Shorts on Cirrus Logic american stock are not allowed. We do not take into consideration any fundamental analysis to trade futures, no earnings announcements or volume, we do not need any of that to make a trading decision based on supply and demand imbalances. We just need to know where those imbalances are located and what is the bigger picture trend on the stock.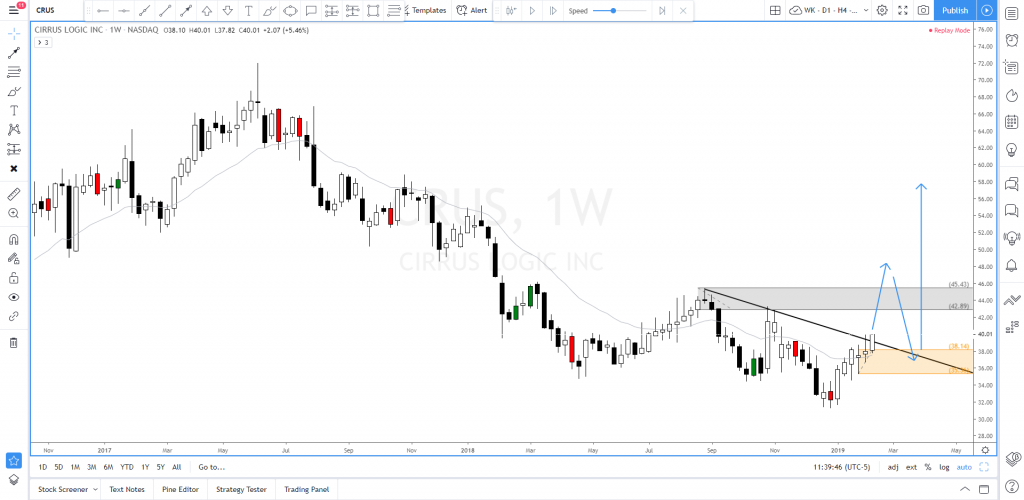 If you still want to learn about the fundamentals on Cirrus Logic Inc american stock, let us tell you that Cirrus' third quarter, earnings and revenues did beat the Zacks Consensus Estimate, but both fell significantly year-over-year (declines of 42.8% and 32.8%, respectively).
The biggest concern for Cirrus is Apple and the decline in demand for iPhones. The company generated 83% of its revenue last quarter from the tech giant, who is its largest customer.
If the demand for iPhones don't pick back up—and it's not looking like that will happen any time soon—then Cirrus will have a difficult time finding that growth again.
Cirrus did end Q3 with $444 million in cash, which was up from $396 record.
Can you make sense out of these earnings and fundamentals? Probably not too clear. To us supply and demand traders it is clear that we are only allowed to buy Cirrus Logic stocks, buy bullish spread options, longs calls or whatever option strategy you want to use to buy a stock.