Is Bilibili Inc. stock China's YouTube? Is it a stock to buy? The company provides online entertainment services for the young generations in the People's Republic of China. BiliBili Inc. [NASDAQ: BILI) offers a platform that covers a range of genres and media formats, including videos, live broadcasting, and mobile games. The company has a strategic collaboration agreement with Tencent Holdings Limited for sharing and operating existing and additional anime and games on its platform in China.
YouTube and Netflix have been big beneficiaries of the rise of online video consumption and so has been BiliBili stock. Bilibili, often referred to as China's closest answer to YouTube, has several growth drivers including e-commerce.
Online video consumption has been growing steadily worldwide and the story is not very different in China where most internet users watch streaming videos and movies, or downloaded video content very often.
While we always think of Douyin, the Chinese version of TikTok, when talking about China's video-sharing platforms, Bilibili stock a rising star, and is often overlooked. The company is growing very fast as evidenced by its huge number of growing users, with more than 150 million users.
BiliBili stock forecast
BiliBili stock's IPO was last March 2018. Since it went live, it has not stopped rallying and breaking all-time highs month after month. On its way up, stock it has created two strong imbalances. The two imbalances are located around $48 and $40 per share. I am sure many stock traders have purchased shares of this Chinese stock. The monthly timeframe is clearing trending up and we should only think of buying shares of BiliBili stock. I am watching hundreds of stocks trading in the Nasdaq exchange; I am just patiently waiting for the stock to pull back to one of the imbalances, expecting that when it does the trend will still be intact for BiliBili stock China.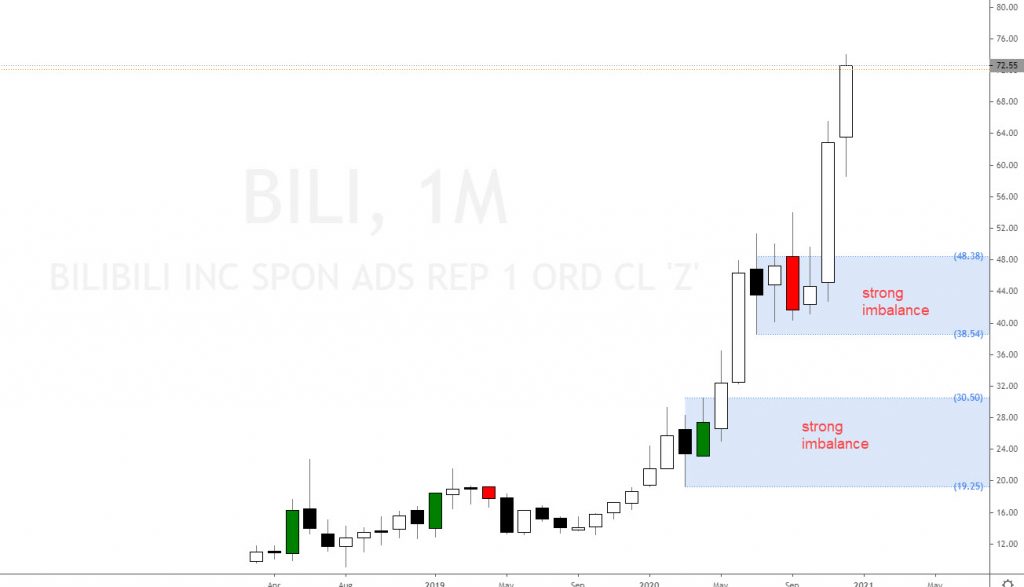 You can use these BiliBili stock imbalances to plan your trades in lower timeframes. Trading is just waiting for the right trigger points and scenarios to present themselves. This game has got a name and it's called the waiting game. We need to patiently wait for the correct scenarios and setups to happen. And wait for the price to pull back or dip into the price levels we want to trade, in our case. These price levels are made of supply and demand imbalances.
If you want to learn how to trade using our supply and demand trading strategy, join our supply and demand stock trading course.
There are several ways of buying stocks and futures. When trading stocks, you can buy shares of the underlying stock. You can also use stock options strategies to go long or short at these specific supply and demand levels. Long calls or long puts or spreads. You can even buy BiliBili CFD (contracts for difference) if you are in a country where it's allowed.