It's been a rough year for cannabis stocks and even though Aurora Cannabis (NYSE: ACB) is one of the most notable companies in the Cannabis sector, it had its fair share of struggles in year 2019.
Aurora Cannabis Inc high odds for longs
The stock has been dropping strongly for many months since April 2019. Following that yearlong downtrend, here are a few reasons to consider buying Aurora's stock in 2020 based. Remember we only trade supply and demand imbalances, we are not interested in fundamentals for this particular cannabis stock.
We don't care if the company could bring in a new CEO to negotiate a deal to bring consumer packaged goods to the company and bring greater financial discipline to the company. We could start adding fundamental analysis and why Aurora Cannabis hasn't done very well last year.
Who cares about all that? What we should care is about the super strong monthly demand imbalance that price has reaches after months of continuous devaluation of the stock. As supply and demand traders we should only be interested in trading strong imbalances, price levels where the underlying asset is out of balance.
See Aurora Cannabis ACB stock monthly timeframe supply and demand analysis underneath. We can see a very strong monthly demand level around $2.15 per share. It's a very strong impulse that provides us with a lot margin for price if price reacts to that imbalance as expected.
Aurora Cannabis chart analysis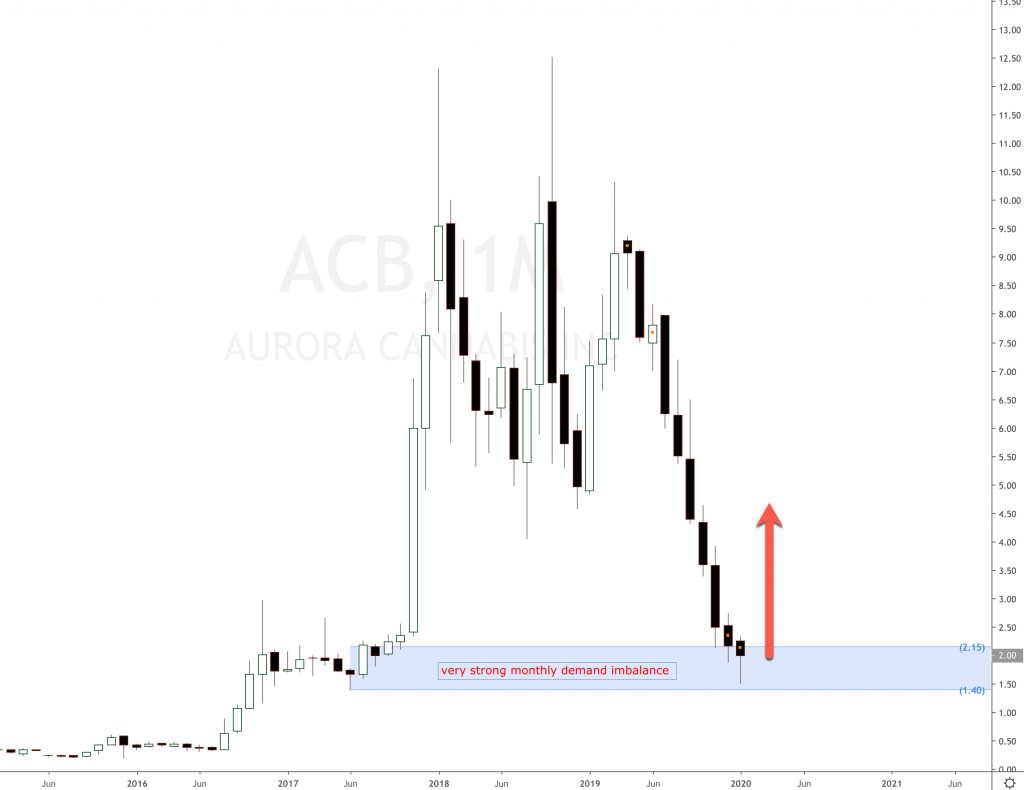 If you love fundamental analysis, I've read that Management has reconfirmed December quarter guidance and is confident of a sales ramp-up, bringing down capital expenditures, and estimating the company will deliver positive EBITDA by the June quarter.
Will that happen? We don't know and we do not really care. What we do care is the strong monthly demand imbalance price is trading at around $2.15. Not only that, this stock is very cheap right now, a 100 shares of this stock would cost about $200, it's a bargain willing to buy and hold for many months until a decent profit has been obtained.
More about Aurora Cannabis ACB stock
Aurora Cannabis Inc. is a Canadian licensed cannabis producer, headquartered in Edmonton. It trades on the Toronto Stock Exchange and New York Stock Exchange as ACB. As of late September 2018, Aurora Cannabis had eight licensed production facilities, five sales licences, and operations in 25 countries.