Should we buy Apple Inc stock at $320 per share as of January 2020? Apple #APPL stock supply and demand technical analysis is telling us that we have a an uptrend, all time highs have been broken and very strong impulses have been created after all time highs were broken.
Apple Inc #AAPL supply and demand analysis for 2020
However, having a bullish stock does not mean we should jump and buy hundreds of shares straight away. That would be a very emotional behavior, which usually happens in losing money. Take a look at Apple Inc #AAPL monthly timeframe technical analysis below. We have a clear uptrend and a very strong bullish impulse that originated at the monthly demand imbalance around $218, five consecutive months rallying and not looking back.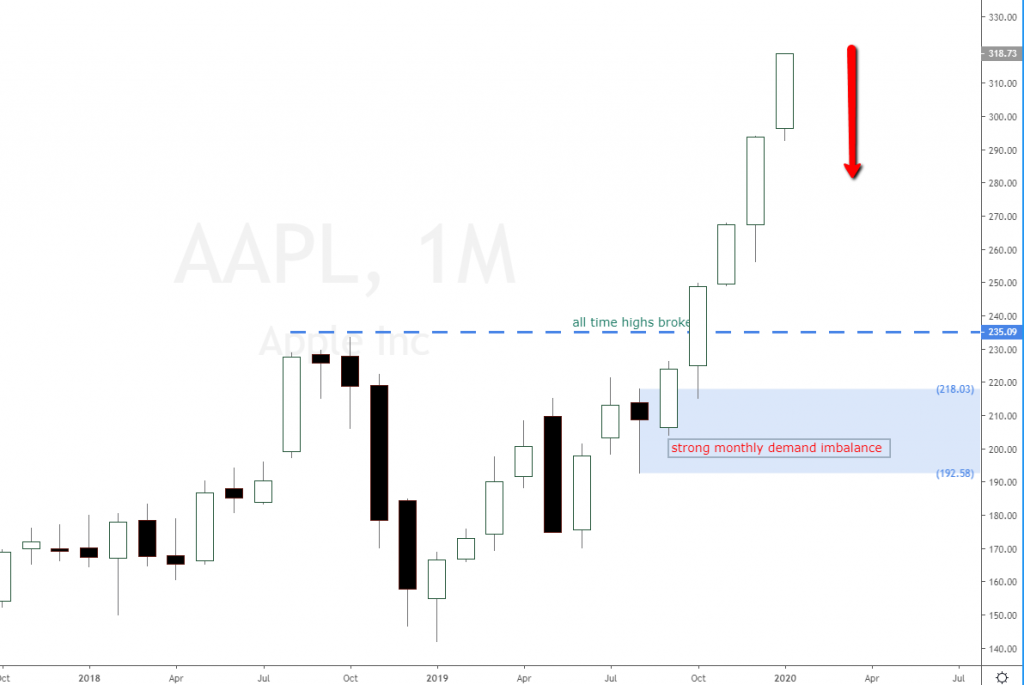 Apple Inc. stock is now very expensive, if you were long from lower, it might start to retrace any time soon because of the supply and demand core rules. Too much demand, too expensive of a product, taking profits is what usually happens. You buck in profit, sell orders are executed, Apple Inc starts dropping because there are no more long term buyers interested.
Remember this is a longer term analysis for Apple Inc #AAPL, short term analysis and intraday trading on Apple is another story. However you should pay attention to the bigger picture because you could be caught in the middle of a long term bearish correction.
This long term supply and demand analysis is just explaining the bigger picture trend and pointing out the potential bearish correction that could start happening soon and the strength of the imbalance created on the monthly timeframe. It could take a few weeks, or even a couple more months before we start seeing price stalling and losing steam, getting ready for a bigger corrections.
APPLE INC MARKET STOCK SUPPLY AND DEMAND ANALYSIS FORECAST
Ignoring or being unaware of these imbalances will cause you a lot of headache trying to wonder why you are losing your long positions on Apple Inc stock. It has nothing to do with unpredictable Donald Trump's personal battle with China and the billion dollars that is costing both parties, it's as simple as having a very strong supply imbalance created in the monthly chart.
Doing this kind longer term supply and demand technical analysis on Apple Inc stock can also help you if you are intraday or short term trader. As a day trader, if you are away of these bigger timeframe imbalances, you could start looking to sell short Apple stock using short term stock strategies and even long put options and spreads.
You can use these imbalances to plan your trades in lower timeframes. Trading is just waiting for the right trigger points and scenarios to present themselves, this game has got a name and it's called the waiting game. We need to patiently wait for the correct scenarios and setups to happen and wait for price to pullback or dip into the price levels we want to trade, in our case these price levels are made of supply and demand imbalances.
If you want to learn how to trade using our supply and demand trading strategy, join our supply and demand trading course.