Anglogold Ashanti LTD Gold stock is creating new buy opportunities at new weekly demand imbalance created around $12.35 per share. This gold related american stock is highly correlated to Gold XAUUSD, since Gold has been rallying lately creating new bigger timeframe demand levels, many gold related stocks are rallying together with Gold creating new demand level to trade from if price retraces to them.
Anglogold Ashanti LTD Gold stock buy opportunities at new demand imbalance
It can take some time for price to retrace to Anglogold Ashanti weekly demand level but that's what supply and demand traders must do, look for the footprints of big investors and wait for price to retrace to these new strong impulses and imbalances. The supply and demand strategy requires waiting for price to visit the origin of the move.
How to trade supply and demand imbalances on Anglogold Ashanti stock
The attached chart represents the weekly timeframe, a longer term timeframe. Similar price action and imbalances will be created on lower timeframes for those doing shorter term trading using supply and demand imbalances and trading gold.
Anglogold Ashanti Ltd stock has a bullish bias with weekly timeframe in an uptrend creating new demand levels, no shorts are allowed right now. We just have to be patient enough and wait for the pullback and retracement. In the meantime we can trade other stocks and assets or trade lower timeframe imbalances on a different account. But it's clear that the strongest imbalance and impulse is down there around $12.35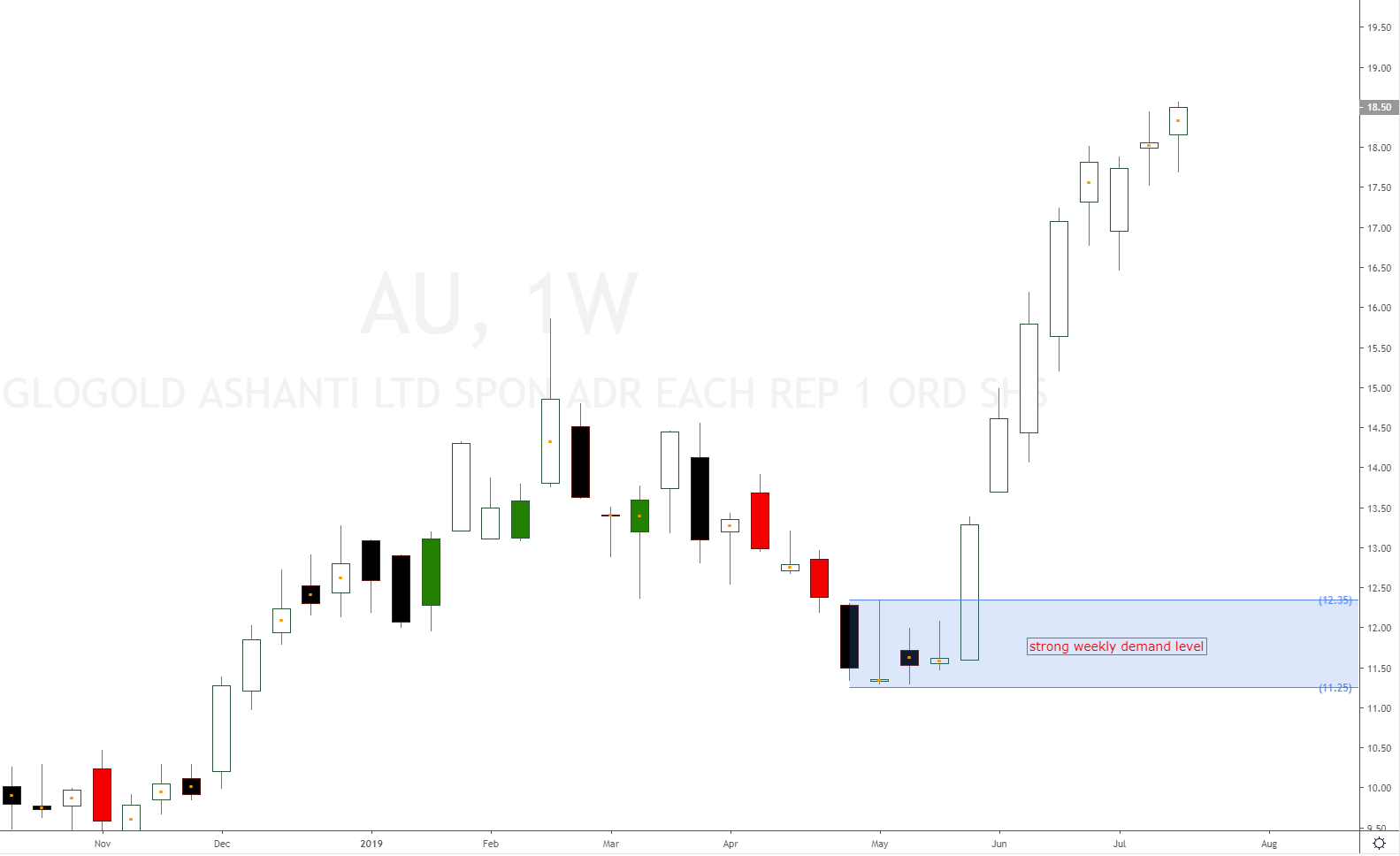 This is the kind of technical analysis you will learn in our trading community. You will learn how to locate new supply and demand imbalances and trade without using any indicators, no news, no fundamental analysis, no earnings announcements, no volume or VSA analysis. Just supply and demand imbalances.
Trading supply and demand imbalances is ideal for beginners and those with a full or half time job, you won't need to stay in front of the computer all day long trying to move price action with your mind.
As supply and demand traders, we do not need to pay attention to the news, fundamentals or any earnings reports. Once a big timeframe imbalance has gained control, earnings do just the opposite and reacts strongly to those imbalances. Why is it that you see positive earnings and then the underlying stock drops like a rock, or a negative earnings announcement and the stock rallies like a rocket out of control? You are probably missing the fact that there are big imbalances gaining control.