Locating new supply and demand imbalances is not as difficult of a task as you might think, much less if you are loaded with tools and rules to locate them following very strict criteria over and over again preventing subjectivity and emotions from rolling in and taking control of your rational and technical analysis.
AIG stock new demand imbalance
A clear example of a strong imbalance can be seen on long term monthly timeframe on American International Group AIG stock. There is a very strong monthly demand imbalance created around $45 per share where we are interested in going long. Remember this is a long term analysis, short term and intraday stock trading is a different story but this can help you decide which bias you can trade on your stock trading strategy.
Strong demand imbalance on American International Group AIG stock
When American International Group AIG stock us analysed with the glasses of a supply and demand strategy, we can see that strong impulses and created providing new demand to lean on for long term longs.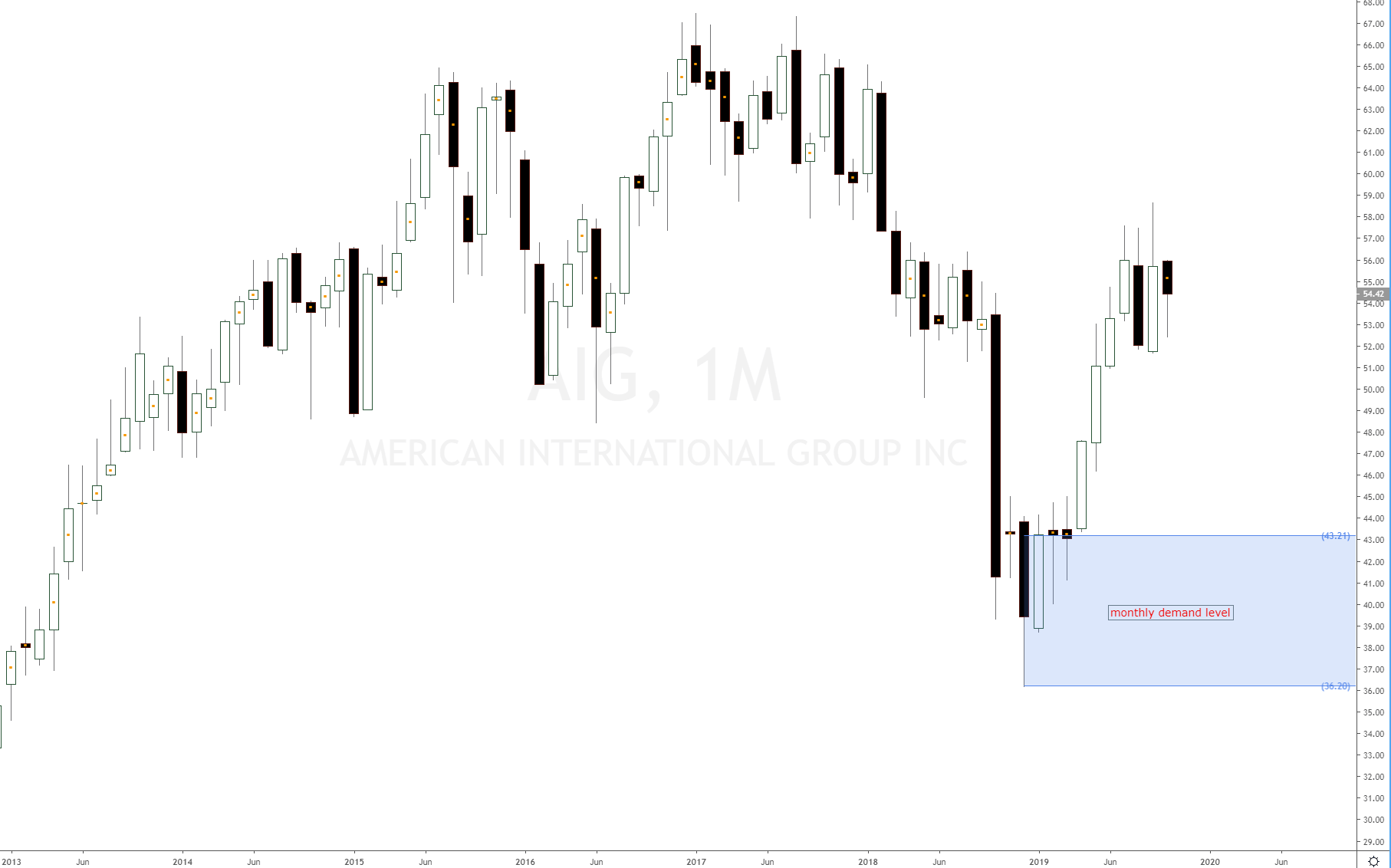 Watch video recording below on AIG American International Group AIG explaining more details about the bias and forecast for this stock.
---
American International Group, Inc
American International Group, Inc. provides insurance products for commercial, institutional, and individual customers in North America and internationally. The company's General Insurance segment offers general liability, environmental, commercial automobile liability, workers' compensation, excess casualty, and crisis management insurance products, as well as various risk-sharing and other customized structured programs; commercial, industrial, and energy-related property insurance; and aerospace, political risk, trade credit, portfolio solutions, surety, crop, and marine insurance. It also provides professional liability insurance products for a range of businesses and risks, including directors and officer's liability, mergers and acquisitions, fidelity, employment practices, fiduciary liability, cyber risk, kidnap and ransom, and errors and omissions insurance. In addition, this segment offers personal auto and property insurance, voluntary and sponsor-paid personal accident, and supplemental health products; extended warranty insurance products; and travel insurance products.