Roblox Corporation is an American stock that develops and operates an online entertainment platform. The company offers Roblox Studio, a free toolset that allows developers and creators to build, publish, and use 3D experiences and other content.
Roblox captures a diverse audience by making itself available on practically everything. It can be played on tablets, smartphones, and even the XBOX. It also offers multiple ways to get online and play, even if you don't have a PC. And children love it! Roblox has millions of daily active users worldwide. Roblox has even more players than the popular Minecraft and Fortnite.
Let's look at Roblox's stock price on the monthly timeframe. The stock has been dumped since last January 2022, losing almost 85% of its value. Per supply and demand stock analysis, we expect Roblox's stock price to reach the supply imbalance of around $103 per share, where we should realise profits if we purchase shares of the stock. There is a medium-term bias with a lot of margin for profit on Roblox stock, with a potential rise of more than 100% in the following months. The supply and demand stock technical analysis attached does not say that Roblox will rally to the strong imbalance overhead without first pulling back. Stocks do not move in straight lines; be patient!
Investors should remember Roblox continues to reinvest in its platform, which is masking its full potential to generate profits.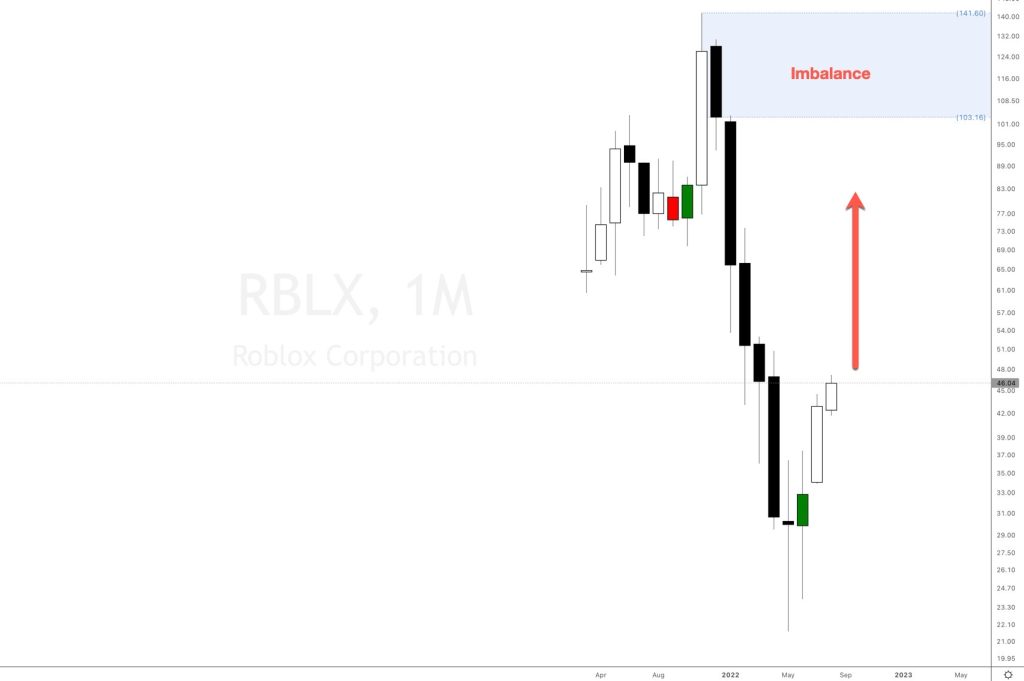 Roblox stock analysis using supply and demand strategy
This is the kind of price action technical analysis you will learn in our trading community. You will learn how to locate new supply and demand imbalances and trade without any indicators, no news, no fundamental analysis, no earnings announcements, and no volume or VSA analysis. Just supply and demand imbalances for Roblox Corporation (NYSE: RBLX) stock.
Trading Roblox Corporation (NYSE: RBLX) stock supply and demand imbalances are ideal for beginners and those with a full or half-time job. You won't need to stay in front of the computer all day long trying to move price action with your mind. 
As supply and demand traders, we do not need to pay attention to the news, fundamentals or any earnings reports. Once a big timeframe imbalance has gained control, earnings do the opposite and react strongly to those imbalances. Why do you see positive earnings and the underlying stock drops like a rock or a negative earnings announcement and the stock rallies like a rocket out of control? You are probably missing the fact that there are big imbalances gaining control.
You should not worry about fundamentals or earnings announcements unless you do very short-term trading and scalping.
You can use these imbalances to plan your trades in lower timeframes. Trading is just waiting for the right trigger points and scenarios to present themselves. This game has a name and is called the waiting game. We must patiently wait for the correct scenarios and setups to happen and for the price to pull back or dip into the price levels we want to trade. In our case, these price levels are made of supply and demand imbalances.
If you want to learn how to trade using our supply and demand trading strategy, join our supply and demand stock trading academy.
There are several ways of buying stocks and futures. When trading stocks, you can buy shares of the underlying stock or use options strategies to go long or short at these specific supply and demand levels, long calls or long puts or spreads. You can even buy a CFD (contracts for difference) for Roblox Corporation (NYSE: RBLX) stock if you are in a country where it's allowed.