Peloton Interactive stock analysis. Peloton Interactive, Inc. operates an at-home fitness platform for live and on-demand indoor cycling classes. The company pioneered connected technology-enabled fitness and the streaming of immersive, instructor-led boutique classes for its members.
The past year has been challenging for Peloton (PTON) from a business standpoint. The stock has tanked more than 140% since January 2021. This sell-off was expected and mentioned in the Set and Forget trading academy by locating and assessing the strength of the imbalances.
Should you invest $1,000 in Peloton Interactive, Inc. right now?
You see the Peloton Interactive stock chart over the past year, and it's not an excellent chart, not the best for buying shares of Peloton Interactive, isn't it? Revenue was up, earnings-per-share, they're still negative—a significant loss versus the profit last quarter or year-over-year. But we don't consider earnings and fundamental analysis at Set and Forget at $29 per share, a considerable discount of around 140% since January 2021.
The stock has reached a strong imbalance, located at around $30. That's what we've been waiting for for a few months, and Peloton Interactive is already there. However, this wait may take a while. There are no signs of new buyers, so we must wait for Peloton Interactive to show us some strength. Nothing is available for now.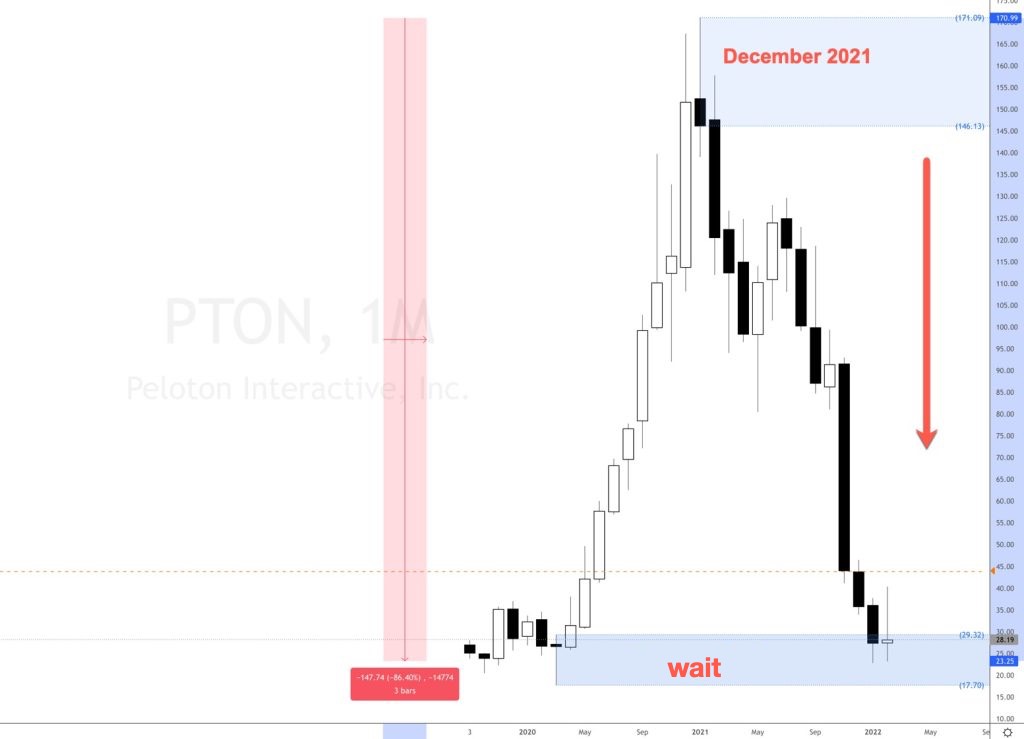 Peloton Interactive Stock price
Watch Peloton Interactive Stock video analysis below.
As supply and demand traders, we do not need to pay attention to the news or fundamental analysis. Once a big timeframe imbalance has gained control, earnings do just the opposite and react strongly to those imbalances. Why do you see positive earnings and the underlying stock drops like a rock or a negative earnings announcement, and the stock rallies like a rocket out of control? You are probably missing the fact that there are big imbalances gaining control.
Unless you are doing very short term trading and scalping, you should not worry about fundamentals or earnings announcements on Peloton Interactive stock.
Trading is just waiting for the right trigger points and scenarios to present themselves, this game has a name, and it's called the waiting game. We need to patiently wait for the correct scenarios and setups to happen and wait for the price to pull back or dip into the price levels we want to trade. These price levels are made of supply and demand imbalances in our case. You can use these imbalances to plan your trades in lower timeframes.
Join our supply and demand online trading academy If you want to learn how to trade using our supply and demand trading strategy.