Palantir Technologies stock analysis. Palantir Technologies stock Inc. builds and deploys software platforms for the intelligence community in the United States to assist in counterterrorism investigations and operations. The company provides Palantir Gotham, a software platform for government operatives in the defence and intelligence sectors, which enables users to identify patterns hidden deep within datasets, ranging from signals intelligence sources to reports from confidential informants.
The past year has been challenging for Palantir Technologies (PLTR) from a business standpoint. The stock has tanked more than 140% since January 2021. This sell-off was expected and mentioned in the Set and Forget trading academy by locating and assessing the strength of the imbalances.
Should you invest $1,000 in Palantir Technologies, Inc. right now?
You see the Palantir Technologies stock chart over the past year. It's not an excellent chart, not the best for buying shares of Palantir Technologies, isn't it? Despite a day of gains for the broader market, Palantir Technologies (PLTR) stock is falling again in the smaller timeframes.
I've read that an executive from Palantir Technologies has been selling stock. Selling Palantir stock doesn't necessarily mean that the underlying company is in trouble. Still, Palantir shareholders have had a multitude of bearish catalysts to weigh recently.
This is happening when Palantir has reached a demand imbalance on the monthly timeframe of around $11 per share. Will Palantir start to rally from this price level? Hopefully, Palantir's stock price is at a bargain, 78% cheaper than a year ago. That's an excellent price to buy some shares, but we must wait now until we see new buyers.
Waiting…. Waiting….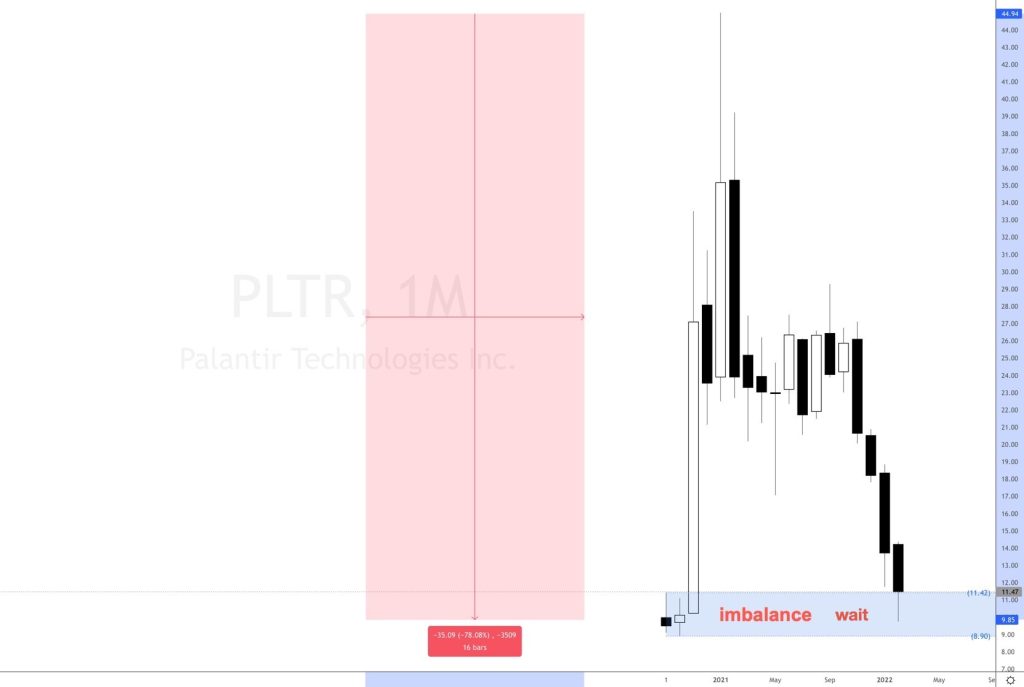 Palantir Technologies Stock price
As supply and demand traders, we do not need to pay attention to the news or fundamental analysis. Once a big timeframe imbalance has gained control, earnings do just the opposite and react strongly to those imbalances. Why do you see positive earnings and the underlying stock drops like a rock or a negative earnings announcement, and the stock rallies like a rocket out of control? You are probably missing the fact that there are big imbalances gaining control.
Unless you are doing very short term trading and scalping, you should not worry about fundamentals or earnings announcements on Palantir Technologies stock.
Trading is just waiting for the right trigger points and scenarios to present themselves, this game has a name, and it's called the waiting game. We need to patiently wait for the correct scenarios and setups to happen and wait for the price to pull back or dip into the price levels we want to trade. These price levels are made of supply and demand imbalances in our case. You can use these imbalances to plan your trades in lower timeframes.
Join our supply and demand online trading academy If you want to learn how to trade using our supply and demand trading strategy.