Trading community designed to boost your understanding of the markets
We make it easy for you to be on the safe side of the market.
Focus on what matters most and leave the rest to us.
Content Apps
Trading Forums Discussions
Each asset has its forum where potential trades are discussed before the opportunities are reached.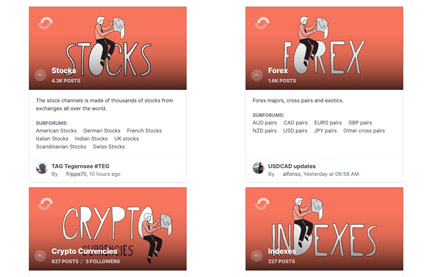 Question & Answers
Ask any questions about a trade or the market and have them answered by senior members.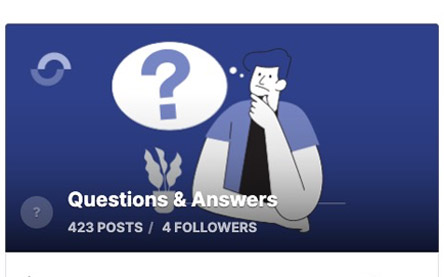 Downloads and Files
We share documents, resources and watchlists to make your trading easier.
Reading List
Add topics that you find informative or interesting. Keep track of your favourite stocks and cryptos and find them a lot faster.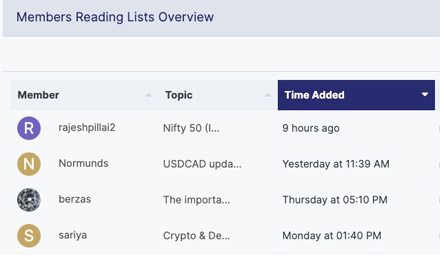 Watchlists
The universe of stocks, ETFs and Cryptocurrencies is huge. Access to watchlists that offer the highest liquidity and market cap.
Follow Assets
Follow the assets that are presenting the highest probability setups, get notifications and don't miss a trade.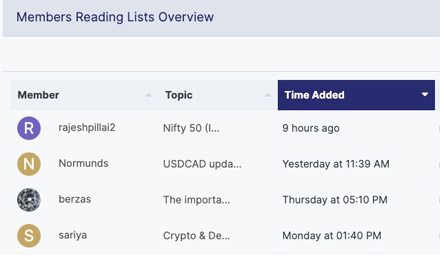 Weekly Video Analysis
Take advantage of video analyses posted once a week going over potential trading opportunities for the next week.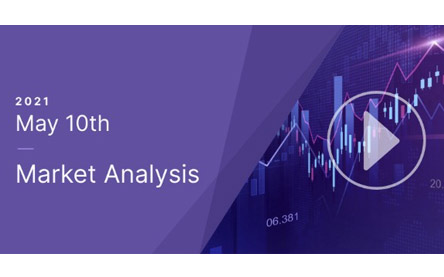 Activity Streams
See the content you're interested in with customizable activity streams packed with filter options. See the latest trading ideas or specific industries and markets.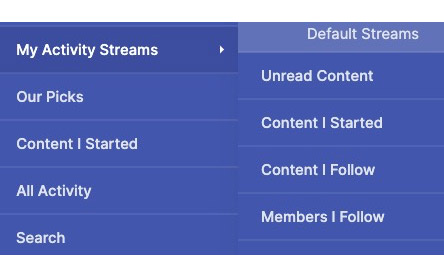 Learning
Core Trading Strategy
Access the core strategy that explains the forces that govern and move the markets. Your view of the financial markets will change after that.
In-depth market analysis
In-depth analysis of sectors and industries. We point out their correlations and why you should or should not be trading them.
Tutorials
Members can contribute with their own tutorials and how-tos. For instance, How to create a Google Spreadsheet to track your stocks.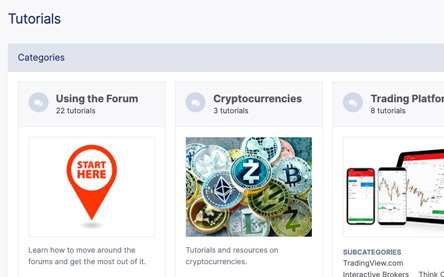 Ask questions and be corrected
Let us be clear…Reading the course is not enough… you must practice and be open to correction.
Review your trades
Share your analysis and receive feedback. When you have losses (and you will), learn from your mistakes by asking the community for a review of your trade.
Psychology and mindset
Any strategy will be rendered useless if you do not have the right mindset. We help you to control your emotions and change your mindset.
Webinars
Join monthly webinars where all your questions and doubts about specific scenarios will be answered.
Video Analysis Archive
Access years of weekly video analyses going on stocks, Forex and Indexes.
Valid trades archive
All valid trades are archived together with the original analysis—no hindsight trading. We plan the trades weeks and even months before the price pulls back.
Trade Vault
Trading Channels
Thousands of trading channels tracking all assets, from stocks and ETFs to cryptos and Forex cross pairs.
Hot Lists
Never get lost amidst thousands of assets. The hot lists will help you stay focused on the assets that you can trade now.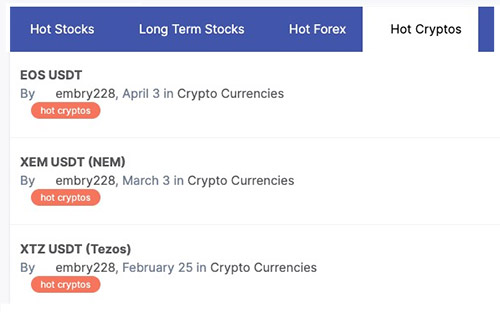 Discover new trades
Hundreds of eyes watching the markets can see more than two eyes alone. Keep track of the hottest opportunities with the help of other fellow traders.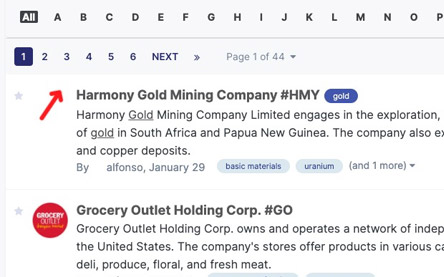 Long-term stocks and Cryptos
Ever wondered which stocks are suitable for a long-term portfolio? We can help you with our updated long term stocks and cryptos watchlists.
Diversify your portfolio
Discover new trading opportunities to diversify your portfolio. You should not put all your eggs in the same basket.
Filter stocks by sector & industry
Is gold bullish? What about trading gold-related stocks? Crude Oil is dropping. Buying oil-related companies is not a good idea.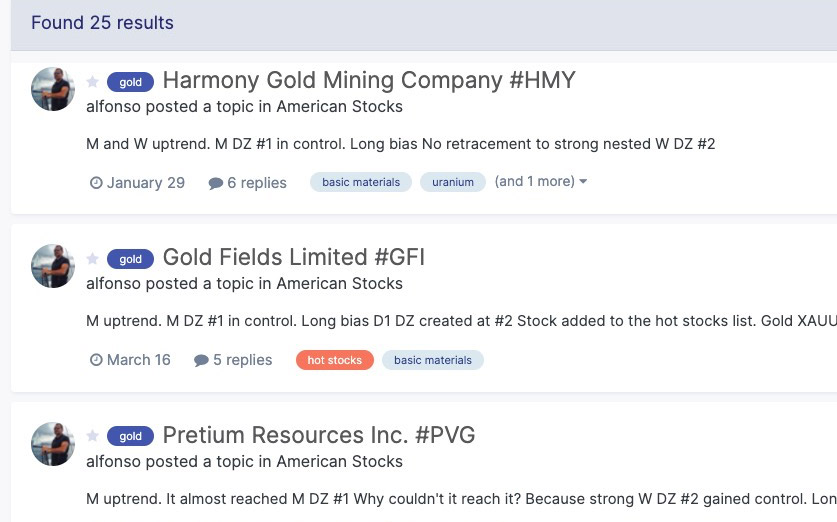 Comprehensive Searching
Full search engine included with precise controls for finding content and trading ideas.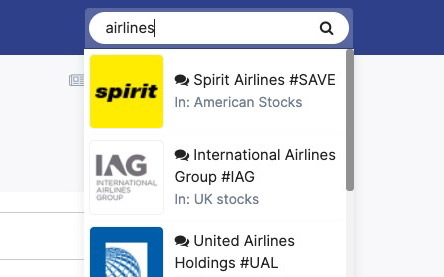 Community
Thousands of trade ideas
Multiply your odds of success by having access to trade opportunities shared by other fellow traders.
Connect from anywhere
Access the trading community from any device and anywhere in the world.
Learn by helping others
The best way to learn is by teaching others. It forces you to explain things from a different angle. Contribute to your understanding of the markets by helping others.
Share your trade ideas
Not sure about a trade? Share your top-down analysis, and you will get the feedback you need to make an educated trading decision.
Fight the loneliness
You no longer need to trade alone. You will have a community behind you every step of your journey.
Reactions and Sentiment
Express sentiment with your reactions throughout the community, with positive and negative reactions tying into your reputation.
Follow reputable members
Identify the most valuable and active traders and follow their analysis. You will learn and also take advantage of potential trading opportunities you might have missed.
Notifications & Digests
You can opt into email notifications – immediate, daily or weekly – so you're constantly receiving fresh content from our community.
Custom member feeds
You can create and save unlimited streams of your own, and set your own default view.
Trading made fun and engaging
Trading alone from home or your office can be boring. Trading can also be fun and engaging if you trade with others.
Connect with other traders
Discuss trading opportunities, and use our search system to find high probability trades.
Trading Strategy
A mechanical and objective set of rules
The trading strategy is mechanical and objective. Plan your trades and consistently beat the markets.
No fundamental analysis or indicators
You will not need to take GDP, earnings releases or interests rates into account. You won't need any indicators or oscillators to place a trade.
Set it and Forget it
Plan your trades regardless of what is happening in the markets. The strategy has withheld important events like Brexit and COVID-19 pandemic.
Ideal for full-time jobs
Having a full-time job is not a handicap but blessing. It will help you with your monthly expenses and will keep you away from the trading platform.
Location and context
Don't trade blindly without putting price action into context and the bigger picture trend.
Swing trading and long-term investing
Stay away from the noise of the smaller and faster timeframes. Focus on the bigger timeframes to multiply the odds of success and your earnings.
Trade with the trend until it ends
We keep you focused on trading with the long-term trend. We help you stay away from counter-trend and low probability scenarios.
Membership Plans. Become the exception. Become profitable
Choose the membership plan that fits your needs. Remember that you will not learn in a weeks. Be realistic! Being unrealistic is one the reasons most traders fail.
Access to the core trading strategy for 6 months
Access to community support for 6 months
Stocks, Crytocurrencies, Forex and Indexes Weekly Video Analysis
Weekly updates with potential high probability trades
LONG-TERM
---
then 75€ per month
Everything from the basic membership for a 12 months period
+
Monthly webinars
Access to high odds stock watchlists
Years of video analysis and trade setups to learn how to trade in all kind of scenarios
Free access to annual meetups
Everything from the standard plan with lifetime access to the core strategy material and support.

One time payment. No recurrent monthly fees.
One one one personalized coaching plans.
Supercharge your trading with a private trading coach.
Effective and practical coaching with Alfonso Moreno himself.
Two hours every week that will boost your trading better than any book, or video. It will change your life!.