I am going to explain the basics on what to look for to learn how to trade Nifty 50 Indian Index and locate turning points in the stock market.
Learn how to trade Nifty 50 Indian Index and locate turning points in the Indian stock market
There are many technical analysis trading strategies you could use to learn how to trade Nifty 50 futures and stocks within the Nifty 50 Indian index. In this video we are going to explain what you should be looking for on a chart, the basic characteristics of candlesticks patterns that will help you locate turning points in the market.
It's very important to trade these strong impulse in the context of a bigger picture trend and avoid trading counter trend scenarios. How can you buy Nifty 50 futures index or Nifty 50 related stocks in an uptrend? First of all you must look for impulses strong enough to create a series of wide candlestick bodies in the direction the of the long term trend. The chart attached shows a few impulses drawn on Nifty 50 futures weekly timeframe, that means that every candlestick represents a week if time.
Higher probability stock trading versus lower probability stock trading
The upper weekly demand level on Nifty 50 around 11407, even thought it's quite strong has lower probabilities than the demand level at the bottom around 10800. In this technical analysis we are only looking at the weekly timeframe, we need to have into account more than a single timeframe in order to place a trade and trade higher probability imbalances. This article only deals with the strength of the impulses, both weekly demand levels are very strong but if bigger timeframes are taking into consideration the odds are way better at the lower weekly demand imbalance around 10700. In you want to learn the exact reasons why the upper demand imbalance on Nifty 50 Index is lower odds even though it's pretty strong and it has an unfilled up, join our supply and demand trading course, you will learn all the rules that will teach you how to locate and trade high probability imbalances.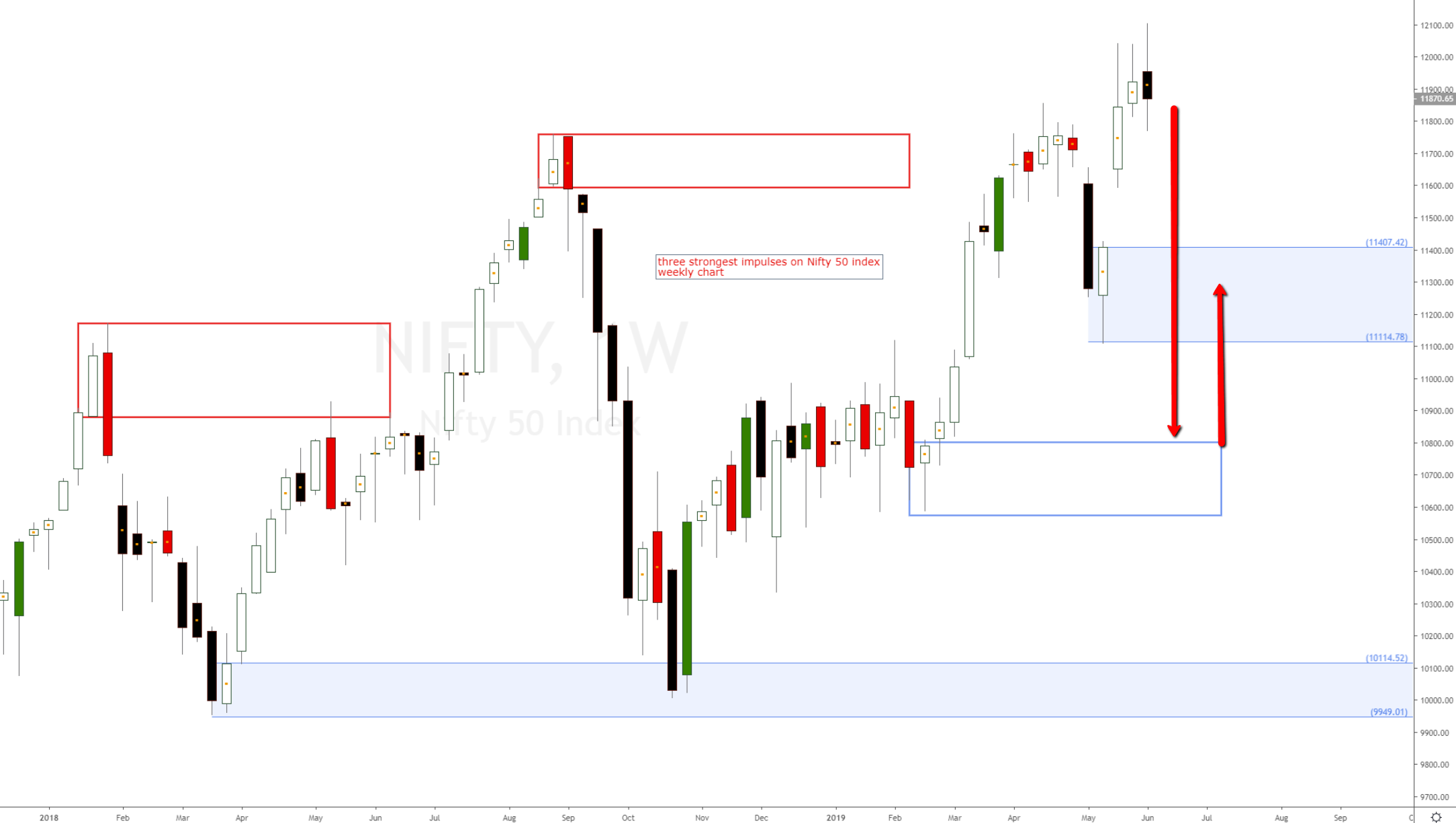 By simply comparing the strength of those moves you will be able to locate potential turning points in the Nifty 50 futures index and related Nifty 50 Indian stocks. Trading impulses against the trend is not the best strategy since you will be going against the long term bias of the underlying asset or stock. How to buy Nifty 50 futures index? Well, locate these impulses and do a top down technical analysis before making a decision to buy or sell at these impulses. A single timeframe technical analysis is not enough to make a trading decision.
Learning how to trade Indian stocks and Nifty 50 futures Index looks easy but it's not, if it was easy everyone could do it. If you are interested in how to trade Nifty 50 index and NSE Indian Stocks, join our stocks trading course and our supply and demand trading community.
More information about Nifty 50 Futures Index
The NIFTY 50 index is National Stock Exchange of India's benchmark broad based stock market index for the Indian equity market. Full form of NIFTY is National Stock Exchange Fifty . It represents the weighted average of 50 Indian company stocks in 12 sectors and is one of the two main stock indices used in India, the other being the BSE Sensex.[1]
Nifty is owned and managed by India Index Services and Products (IISL), which is a wholly owned subsidiary of the NSE Strategic Investment Corporation Limited. IISL had a marketing and licensing agreement with Standard & Poor's for co-branding equity indices until 2013. The Nifty 50 was launched 1 April 1996, and is one of the many stock indices of Nifty.
Trading Nifty 50 NSE futures index supply and demand imbalances is ideal for beginners and those with a full or half time job, you won't need to stay in front of the computer all day long trying to move Trading Nifty 50 NSE futures index price action with your mind.
As supply and demand traders, we do not need to pay attention to the news, fundamentals or any earnings reports. Once a big timeframe imbalance has gained control on Trading Nifty 50 NSE futures index , earnings do just the opposite and reacts strongly to those imbalances. Why is it that you see positive earnings and then the underlying stock drops like a rock, or a negative earnings announcement and the stock rallies like a rocket out of control? You are probably missing the fact that there are big imbalances gaining control.
Unless you are doing very short term trading on Trading Nifty 50 NSE futures index and scalping, you should not worry about fundamentals or earnings announcements.
You can use these imbalances to plan your trades on Trading Nifty 50 NSE futures index options in lower timeframes. Trading is just waiting for the right trigger points and scenarios to present themselves, this game has got a name and it's called the waiting game. We need to patiently wait for the correct scenarios on Bank Nifty Indian index and setups to happen and wait for price to pullback or dip into the Trading Nifty 50 NSE futures index price levels we want to trade, in our case these price levels are made of supply and demand imbalances.
There are several ways of buying stocks. When trading stocks, you can buy shares of the underlying stock or use Trading Nifty 50 NSE futures index options strategies to go long or short at these specific supply and demand levels on Trading Nifty 50 NSE futures index , long calls or long puts or spreads. You can even buy a CFD (contracts for difference) if you are in a country where it's allowed.