If you are looking to trade Gold SPDR Trust ETF (Exchange Traded Fund) or Gold XAUUSD cash market, the long term Gold GLD forecast is bullish. Gold ETF has been rallying for the last weeks creating new strong impulses on the weekly timeframe showing more strength on the bull side.
How to trade Gold SPRD Trust ETF #GLD
Currently we have a weekly supply imbalance in control around $126. As supply and demand beginner traders, we should not be trading against such an imbalance in control. Last time that imbalance was tested price dropped strongly for some weeks. We should be looking of long positions. There is a strong demand imbalance created lower around $121. Trading Gold ETFs like GLD SPDR trust is no different to trading any other precious metal. All precious metal futures follow the supply and demand principles that tell us we shouldn't be buying after a very strong rally or selling after a very strong drop. Trading is all about waiting for the right scenario before pulling the trigger blindly.
Gold XAUUSD forecast and technical analysis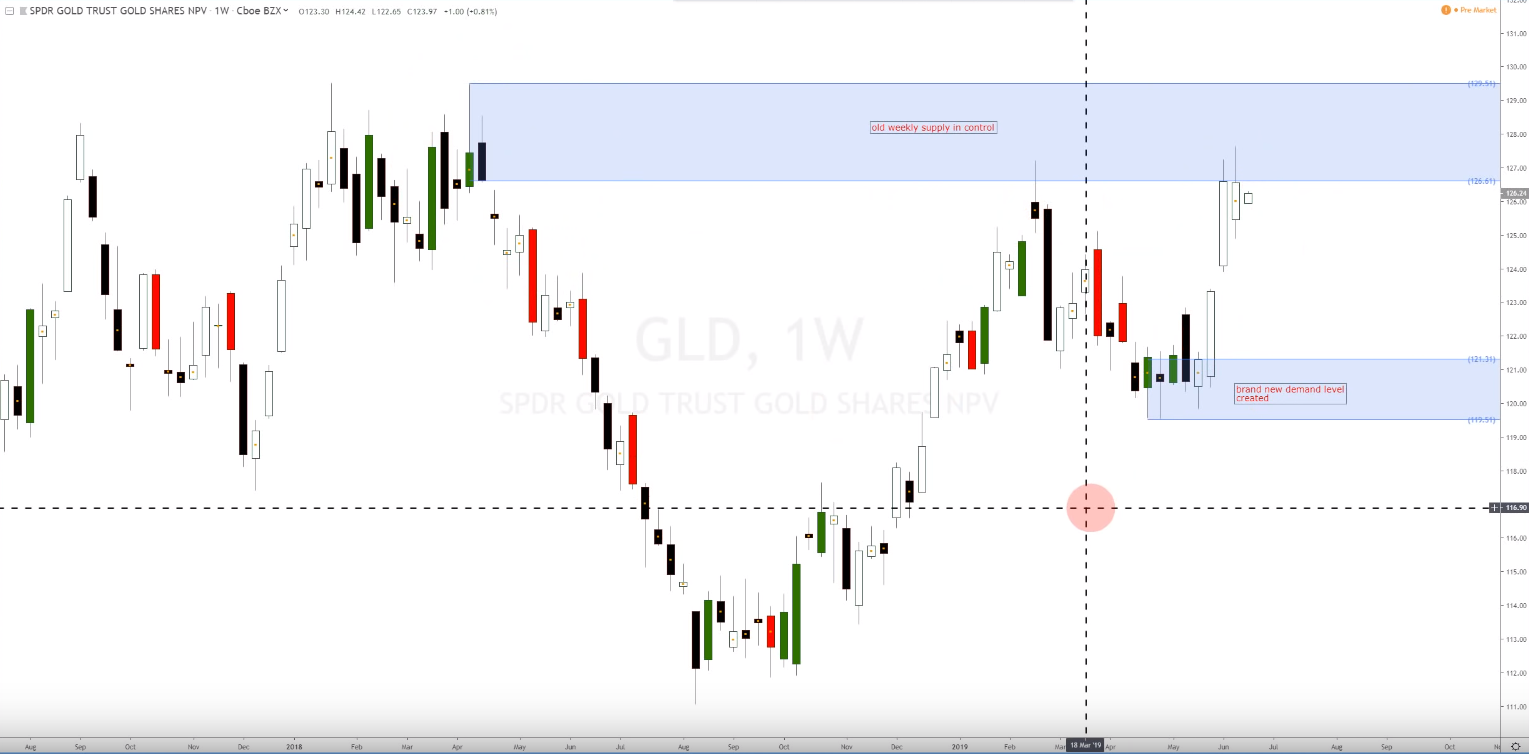 If you want to buy gold or any Gold related ETF fund, now it's not a good idea to do it. Price could continue to rally and get you some nice profits if you buy now, but that's not what we do as supply and demand traders. We will do a top down technical analysis as explained in our supply and demand trading course.
As a swing trader, you should not be looking to go long now on GLD SPDR trust or Gold XAUUSD. Watch GLD SPDR trust video analysis below for full details.
Watch Gold SPRD Trust ETF and Gold XAUUSD forecast and video technical analysis
Learn how to trade Gold
Learning how to trade Gold SPDR Trust Exchange fund looks easy but it's not, if it was easy everyone could do it. If you are interested in how to trade Gold ETF and Gold related stock, join our stocks trading course and our supply and demand trading community.
A bit of more information about SPDR Gold Shares
The investment seeks to reflect the performance of the price of gold bullion, less the expenses of the Trustas operations. The Trust holds gold bars and from time to time, issues Baskets in exchange for deposits of gold and distributes gold in connection with redemptions of Baskets. The investment objective of the Trust is for the Shares to reflect the performance of the price of gold bullion, less the Trustas expenses. The Sponsor believes that, for many investors, the Shares represent a cost-effective investment in gold.
---
As supply and demand traders, we do not need to pay attention to the news, fundamentals or any earnings reports. Once a big timeframe imbalance has gained control on SPDR Gold Shares ETF, earnings do just the opposite and reacts strongly to those imbalances. Why is it that you see positive earnings and then the underlying stock drops like a rock, or a negative earnings announcement and the stock rallies like a rocket out of control? You are probably missing the fact that there are big imbalances gaining control.
Unless you are doing very short term trading on SPDR Gold Shares ETF and scalping, you should not worry about fundamentals or earnings announcements.
You can use these imbalances to plan your trades on SPDR Gold Shares ETF options in lower timeframes. Trading is just waiting for the right trigger points and scenarios to present themselves, this game has got a name and it's called the waiting game. We need to patiently wait for the correct scenarios on SPDR Gold Shares ETF and setups to happen and wait for price to pullback or dip into the SPDR Gold Shares ETF price levels we want to trade, in our case these price levels are made of supply and demand imbalances.
There are several ways of buying stocks. When trading stocks, you can buy Gold related stocks of the underlying stock or use SPDR Gold Shares ETF options strategies to go long or short at these specific supply and demand levels on SPDR Gold Shares ETF or related Gold stocks, long calls or long puts or spreads. You can even buy a CFD (contracts for difference) if you are in a country where it's allowed.