USDCAD forex major cross pair hasn't been moving much for a few weeks since a very strong daily imbalance was reached last 27th March 2020. The demand imbalance around 1.3925 has been holding several attacks providing short term intraday and scalping opportunities for those trading the smaller timeframes using intraday levels and intraday forex strategies.
USD/CAD scenario short term
Take a look at USDCAD forex cross pair daily timeframe below to see the imbalance I am describing and how it's been holding price for a few weeks. This is the kind of scenario that a swing trader should not be thinking to trade. When the price does nothing for such a long period of time, it's better that we stay away from it and wait for a clear opportunity to avoid unnecessary losses.
USD CAD forex price analysis
This is a trading scenario we are not interested in, the buy opportunity on USDCAD already happened last 27th March 2020, we need to see a clear move again before we pull the trigger. In the meantime there are many other forex cross pairs and stocks providing us with way clearer swing trading opportunities. We are expecting USDCAD to drop further.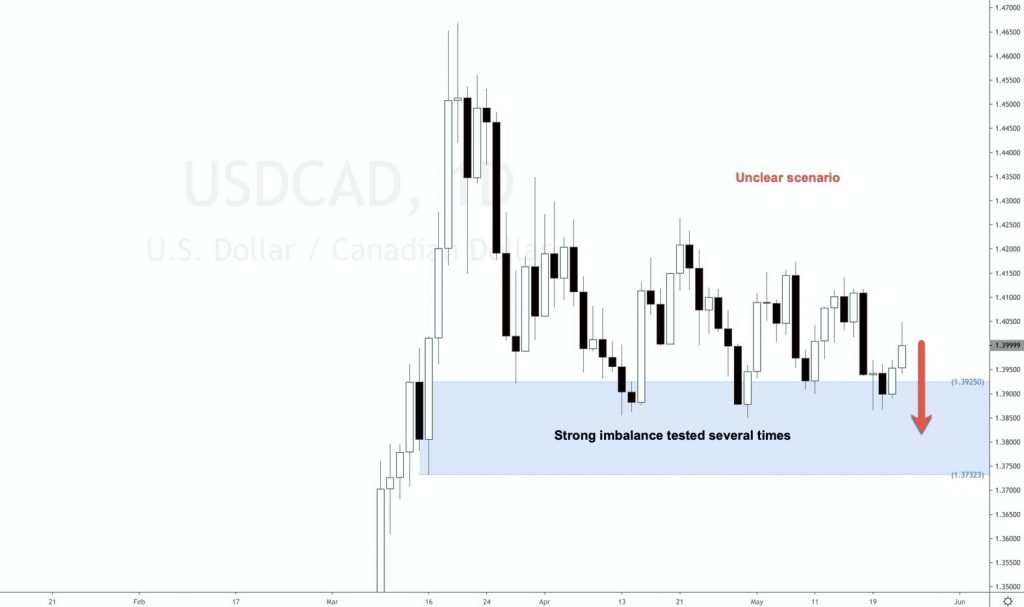 If you want to view more analysis like this you can visit our forex technical analysis page.