New Zealand Kiwi dollar is on the move again after a few weeks of bearish moves on the way down to…? A strong weekly demand imbalance located around 69.96. If you are looking at the smaller timeframes, trading intraday or scalping NZDJPY Forex cross pair you have probably loss in your short positions.
NZD JPY demand zone in control
Why? Because you are not aware of the strength of the demand imbalance that has now taken control of NZDJPY Forex cross pair. See screenshot below showing the weekly timeframe for New Zealand Dollar versus Japanese Yen, I believe it's self explanatory.
NZD JPY chart analysis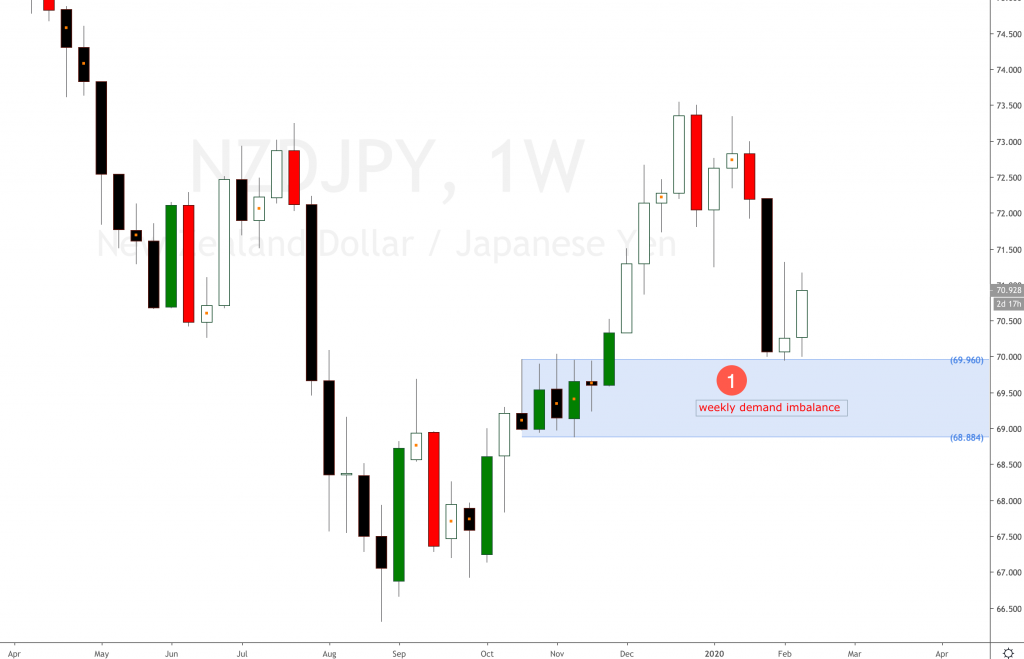 We don't need to follow the news in order to make a trading decision using supply and demand imbalances, but I decided to take a look at them this morning since TradingView.com is placing a list of the latest news for this Forex cross pair in a very visible area. So I took a look at it and this is what I got….
The Kiwi Dollar is on the move early as the RBNZ talks up the economy and downplays the likely effects of the coronavirus. Stats and Powell are in focus later.

It also said that earlier in the Day, it was a busy day on the Asian economic calendar. Key stats included the electronic credit card retail sales figures out of New Zealand and consumer confidence figures out of Australia,

On the monetary policy front, the RBNZ was also in action, delivering its first monetary policy decision of the year.
Did you get anything clear out of what you just read? I don't know about you, but I didn't 🙂 Why should we pay attention to news events and news data we don't even understand?
Weekly is uptrending, weekly demand has gained control, only longs are allowed. As simple as that.
USD JPY supply and demand strategy
This is the kind of price action technical analysis you will learn in our trading community. You will learn how to locate new supply and demand imbalances and trade without using any indicators, no news, no fundamental analysis, no earnings announcements, no volume or VSA analysis. Just supply and demand imbalances.
Trading supply and demand imbalances is ideal for beginners and those with a full or half time job, you won't need to stay in front of the computer all day long trying to move price action with your mind.
As supply and demand traders, we do not need to pay attention to the news, fundamentals or any earnings reports. Once a big timeframe imbalance has gained control, earnings do just the opposite and react strongly to those imbalances. Why is it that you see positive earnings and then the underlying stock drops like a rock, or a negative earnings announcement and the stock rallies like a rocket out of control? You are probably missing the fact that there are big imbalances gaining control.
Unless you are doing very short term trading and scalping, you should not worry about fundamentals or earnings announcements.