Ever wondered how to trade GBPUSD Forex currency pair using supply and demand imbalances? It is imperative to understand why and how currency pair moves for the development of each Forex trader. Typically, price moves owing to supply and demand imbalances; and which is why, it's essential for every trader (especially beginner) to grasp the concept first. We at Set & Forget can help you learn Forex trading step by step.
As explained in a previous GBPUSD Forex analysis posted in blog's trade ideas, we have been looking to go long on GBPUSD ever since monthly demand level gained control. You can read the original GBPUSD analysis and buy opportunities here. New updated analysis were posts after that one. New updates are done in the Set and Forget trading community every week.
GBPUSD monthly demand imbalance in control
Monthly demand level around is in control. Long term shorts are not allowed. We are expecting GBPUSD Forex cross to keep on rallying from that monthly demand imbalance around 1.2500. It was going to take some time for price to rally, it's been almost four months already. No matter how many bad or good news created with the Brexit problem, supply and demand imbalances rule and control the markets because they are created by institutions and professionals and not by retail traders. We expected a reversal from that GBPUSD Forex cross pair monthly demand and new weekly and demand demand imbalances on the way up. Long term long bias probably in a couple of months.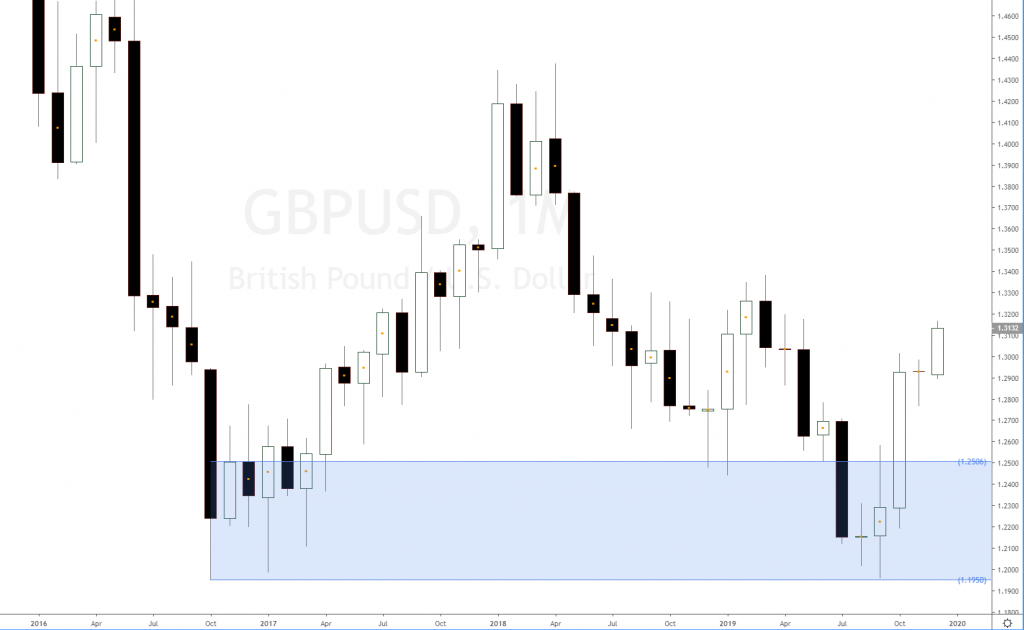 Price action is the only non-lagging indicator that exists
Price action is the only non-lagging indicator that exists. If GBPUSD monthly candlestick closes today at 1.2500, it just cannot un-close tomorrow at a different price, it's simply impossible. When using lagging indicators, such as moving averages, Bollinger bands, MACD and the like, they change their previous appearances depending on how strong or sharp previous moves have been.
GBPUSD video analysis
Price action goes hand in hand with supply and demand
Price action goes hand in hand with supply and demand, because every imbalance is made of price action and impulse. Your experience and screen time will help you locate these imbalances that have been created by professional investors. Retailers will usually be on the wrong side of the market, filling the order of the professional investors that know what to do in the markets. Their job is to make money. Most retailers will end up losing their money because they do not have a Forex trading strategy that combines price action and supply and demand. Supply and demand rules the markets and our lives. We are great supply and demand buyers and sellers in our lives when we purchase a new car or a new computer, but when it comes to the financial markets, we do exactly the opposite.
If you want to learn how to trade Forex currency pairs, make sure you are paying attention at the strength of the impulses and where these new imbalances are created. Do not ignore them.
It's not easy though, but not impossible to recognize the supply and demand imbalances while trading. Did you know that Forex is a high liquid market and there's nothing that influences it more than the market makers themselves. Join us and learn how supply and demand imbalances can be wisely utilized on markets, such as Stocks, Forex, Futures, ETFs, Commodities and Options. With us you can learn how to use supply and demand zones to locate the correct zone and plan your stock options.