EURGBP Forex cross supply and demand analysis on the monthly timeframe is showing as two strong imbalances located at [1] and [2]. Both imbalances are pretty strong, the one above is a strong monthly supply level made of a very strong bearish impulse, it's likely that price will react to it strongly once price retraces to it. However, it could take a while before price ever moves that high unless high volatility is created by a strong event like the one that might materialise at the end of this week, on the 31st January 2020, Brexit. We should stay away from GBP cross pairs this week just in case a severe change happens.
EURGBP Supply and demand analysis and price action
In the meantime, price has been dropping and trying to fill a void, still a lot of room to reach strong demand level at #3. Right now we should be only interested in selling EURGBP Forex cross pair, going against such a strong bearish impulse is not a good idea, unless we start eliminating lower timeframe supply zones on the weekly timeframe.
Price action analysis is telling us there is a very strong monthly bearish impulse ended up becoming a monthly supply imbalance around 0.9036 and there is a lot of room for price to keep on dropping on the way down to monthly demand imbalance around 0,7835 filling the void at [3]. However, that bearish impulse might not happen because weekly timeframe is losing steam now and a bigger retracement is expected after such a strong sell-off.
Price action analysis is telling us that those are the two strongest imbalances on the monthly timeframe for EURGBP Forex cross pair, where we expect price to react. Let's wait and see what happens at the end of this week, if the UK finally leaves the UK or there is another postponement.
You can use the smaller timeframes to trade on the way up to supply level or on the way down to demand level, but stay away from those imbalances because that's where EURGBP Forex cross pair is most likely to react strongly.
EURGBP chart analysis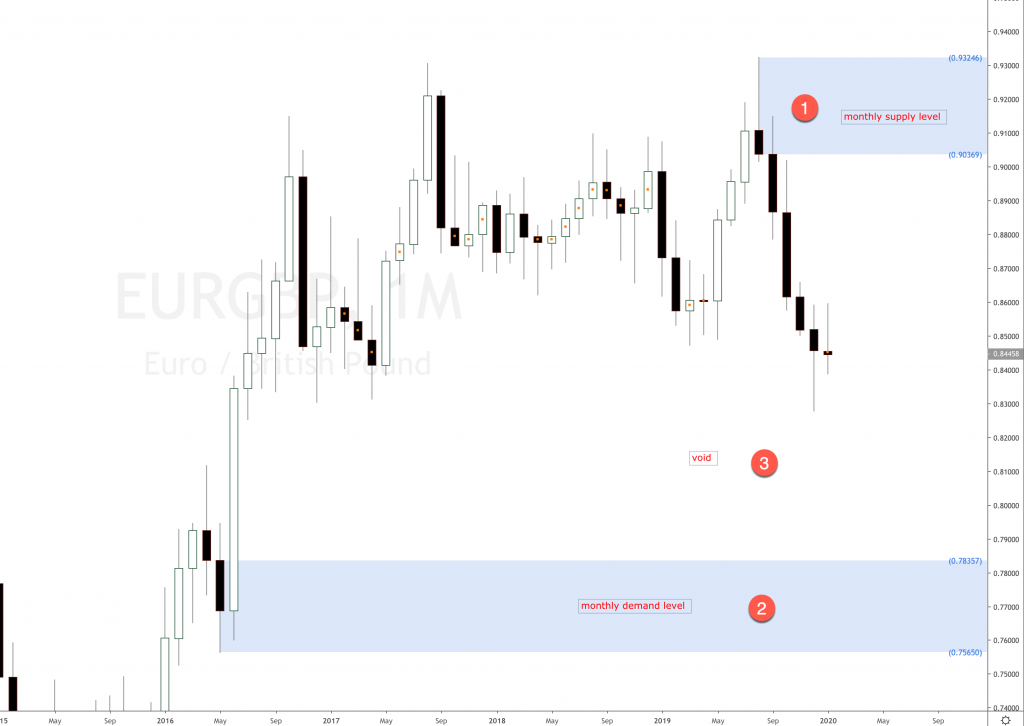 Planning your Forex trades based on supply and demand imbalances will place you on the right side of the equation more often than not. There are many Forex trading strategies, stick to one and master it.
This is the kind of price action technical analysis you will learn in our trading community. You will learn how to locate new supply and demand imbalances and trade without using any indicators, no news, no fundamental analysis, no earnings announcements, no volume or VSA analysis. Just supply and demand imbalances.
Trading supply and demand imbalances is ideal for beginners and those with a full or half time job, you won't need to stay in front of the computer all day long trying to move price action with your mind.
As supply and demand traders, we do not need to pay attention to the news, fundamentals or any earnings reports. Once a big timeframe imbalance has gained control, earnings do just the opposite and reacts strongly to those imbalances. Why is it that you see positive earnings and then the underlying stock drops like a rock, or a negative earnings announcement and the stock rallies like a rocket out of control? You are probably missing the fact that there are big imbalances gaining control.