The Compound token is an open-source, decentralized, blockchain-based protocol that facilitates peer-to-peer lending and borrowing of ERC20 tokens. Robert Leshner founded it in 2017. The platform aims to provide the best of both worlds to investors and traders by providing safety and liquidity for their coins.
Compound is a powerful financial technology that has been designed to make cryptocurrency safe, transparent, and fair. It offers users a simple way to invest in cryptocurrency and earn interest. Compound is a company that wants to make cryptocurrency more accessible for everybody. The company has focused on safety since they designed their custom security protocol. Compound aims to provide a decentralized, automated, and protocol-based solution that enables investors to keep their money working using smart contracts.
Compound Token Finance COMP Market Analysis
2021 was not a good year for Compound token finance. Since May 2021, Compound token has tanked almost 90%. Compound is presently trading around $110 after reaching a strong monthly demand imbalance located around $112. This imbalance was created a few months after the inception of compound token finance.
We are expecting a reaction from these price levels on Compound token.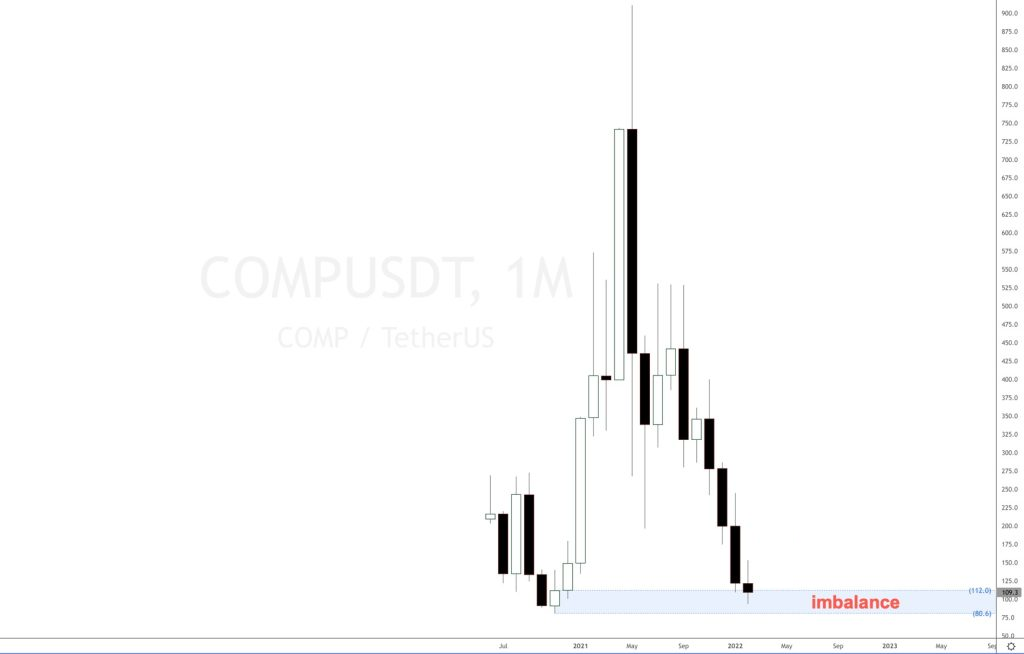 Compound Token Finance crypto analysis
As supply and demand traders, we do not need to pay attention to the DeFi news or fundamental analysis. Unless you are doing very short term trading and scalping, you should not worry about fundamentals for cryptocurrencies.
Trading is just waiting for the right trigger points and scenarios to present themselves, this game has a name, and it's called the waiting game. We need to patiently wait for the correct scenarios and setups to happen and wait for the price to pull back or dip into the price levels we want to trade. These price levels are made of supply and demand imbalances in our case. You can use these imbalances to plan your trades in lower timeframes.
Join our supply and demand online trading academy If you want to learn how to trade using our supply and demand trading strategy.