Our Supply and Demand Forex and Stocks PDF show you the simplicity and the strength of high odds imbalances. Being able to read price action correctly is critical. Therefore, it helps us to identify high quality imbalances on any price chart.
As a price action trader you must have a clear insight into the market. By using price action you will be able to understand much better the market behaviour. What traders are doing in real-time as price moves and new impulses unfold.
Supply and Demand with price action technical analysis will help you see beyond any indicator. The basic reason price moves is because of traders buying and selling. Strong buying and selling is usually seen in the creation of strong supply and demand levels.
Price does not move for any other reason. There are plenty of indirect reasons why price may move or reasons that may explain why a trader decides to trade the way they do.
The reason price moves is because of buying and selling and more importantly because of Supply and Demand.
How Supply and Demand trading strategy works
A single trader can move the markets just a single one with enough power to buy hundreds of thousands of shares and contracts. However traders thinking of placing large orders in the market won't get filled at the best price if they want to be filled instantly.
There won't possibly be enough sellers or buyers on the other side of the trade.
It is this push and pull between supply and demand that makes price go up and down. News events, earnings and fundamentals help price create those imbalances.
News may have an influence on what traders are thinking and what way they want trade. However, it does not directly change the supply and demand balance.
Emotions like fear and greed are two of the biggest drivers. Fear can force a trader to close their positions.
Greed can create a false perception of the potential of a trade and make you think that you can double or triple the risk to accommodate that perception.
These two emotions move the markets every single day.
Fear and greed regularly take price to levels that rationally and logically we would think price would not or should not go to.
You can see many example in our trading ideas page.
Supply and demand forex strategy pdf
Fear and greed are the reasons why market bubbles and crashes exist and the same reason why traders can make money and lose it, all in the same day.
Moreover when most traders keep on looking at the smaller timeframes where the long term direction cannot be seen and therefore negated.
We can see price go to extreme highs and lows in massive rallies and sell-offs because of fear and greed working in conjunction with the supply/demand equation.
When price is making a rally printing higher highs in a mature uptrend, the price will normally build from a base and as the demand builds the trend can pick up.
As more and more traders recognize this trend, more and more traders pile into this market looking to make money from the move higher.
This is the greed taking place without realizing that they are buying after a very strong rally. And the underlying asset is getting more and more expensive, less affordable and likely to correct any time soon.
The law of Supply and Demand Sam Seiden
No one wants to miss out any trading opportunity and the possibility of making money.
Price will continue moving higher and higher. And more traders will keep on riding the move. This is how the bubble is created.
Nobody wants to sell because they want to make as much profit as possible. This is again is more greed kicking in.
At some point the unsustainable bullish move will end and the bubble will burst.
At some point the demand will become weaker than the supply, since there will be few or no trader interested in buying a very expensive asset.
Teknik supply and demand ebook
All the traders who have bought into this market are sitting on unrealized profits, they will not have made a single dollar until they close their positions and realize profit.
Once traders start taking profit at the highs, this market can start to reverse back lower since closing a bullish position means there are sell orders being entered in the market.
Once that starts happening other traders can start to panic thinking that the market dynamics have changed.
Their emotions can quickly switch from "greed" mode to "fear" mode and this is when traders quickly start closing their positions.
This is also when a bubble can very quickly and abruptly burst.
Before you know it, the demand for the asset gets very weak. The market can go very quickly from a strong demand scenario in the clear uptrend to having a huge over-supply of traders wanting to sell with very low demand.
The underlying asset can quickly fall much lower. Reading price action can help you identify these scenarios and take advantage of them.
As one of the all-time great traders Warren Buffett says: "Be fearful when others are greedy and be greedy when others are fearful".
So What Really is Supply and Demand in trading?
We can Google it and find many definitions of supply and demand. The online dictionary at Dictionary.com gives us a very straight and simple definition of what supply and demand is.
What is Supply?
Economics, the quantity of a commodity that is in the market and available for purchase or that is available for purchase at a particular price.
See below an example of a supply level on GBPUSD Forex major cross pair.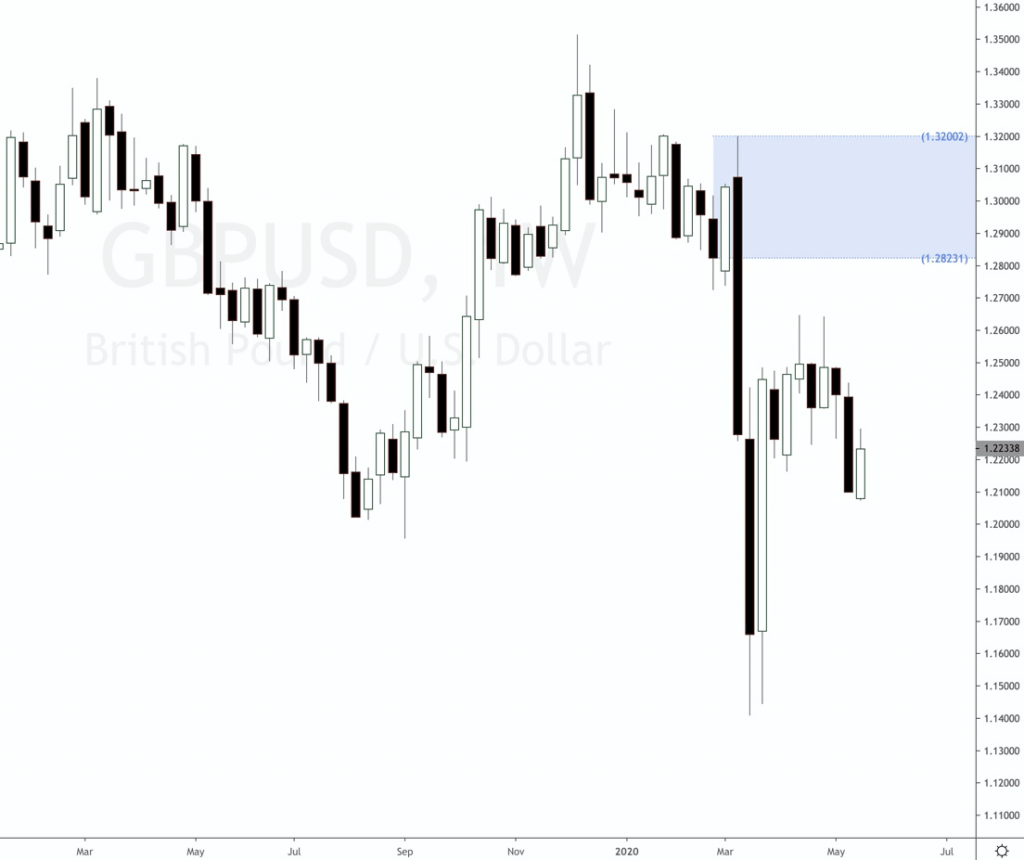 What is Demand?
Economics, the desire to purchase, coupled with the power to do so. The quantity of goods that buyers will take at a particular price.
In more basic terms supply is a quantity of something that a market has and it is freely available for being purchased in the marketplace.
And the demand is just how much of that something that the market wants to purchase.
Both sides of the equation are equally important because they play a massive role in all markets and on the price of any market, Forex and Equities included.
See below an example of a demand imbalance on Apple Inc. (NASDAQ: AAPL) american stock.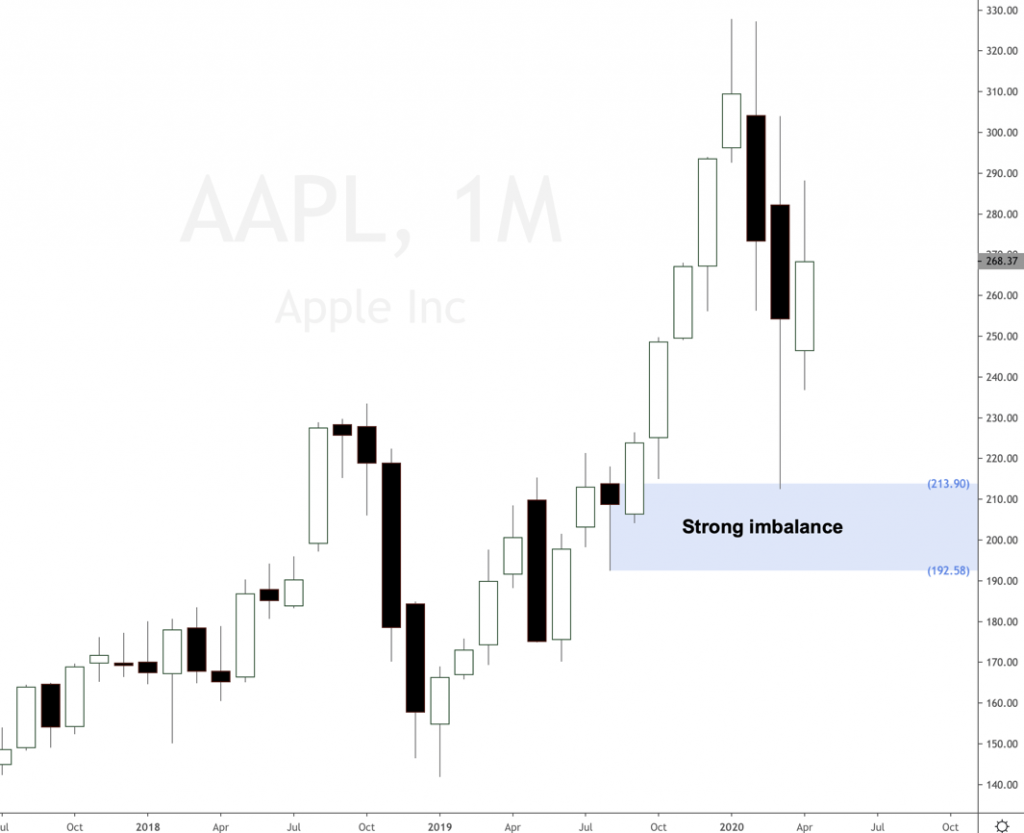 Supply and demand is a powerful force and it is at work in pretty much everything around us. From the price we pay for our groceries to how much we pay for our apples at the supermarket.
In the same way, this is why governments are so strict on making sure there is competition in all sectors.
Preventing a single large company from taking over any one product and then be able to control all of the supply and demand to have control over all the pricing.
Supply and demand Zone Trading ebook
Supply and demand zones can be traded in a very mechanical way. You need to learn how to identify and grade the quality of the zones and the impulses that create them.
It looks pretty easy from the outside. But since fear and greed usually take control of our trading decisions. If we don't know how to control them, it gets more and more difficult.
Supply and Demand PDF forex
We have written a small strategy PDF that introduces you to the basic supply a demand concepts. This basic guide is valid for Forex currency pairs and exotic cross pairs. The foreign exchange market can be traded using these imbalances without using any indicators or fundamental analysis.
Supply and Demand Stocks
The same supply and demand trading PDF book that can be used to trade stocks and equities. The stocks universe is huge and opportunities abound if you know what you are looking for.
Supply and Demand in all markets
Supply and demand works on all markets. These forces do not make any differentiation. The base their strength in the emotions that govern the markets. And the fact that money moves from retailers to professional traders. They know what price is most likely to move next.
High probability Swing and day trading with supply & demand
The supply and demand imbalances can be used to trade any timeframe or combination of timeframes because the imbalances are created on every timeframe.
It's up to you to decide what type of trader you are and how fast and how often you want to be trading.
The smaller and faster the timeframe like H1 or smaller charts for intraday trading, the more trade opportunities, the more noisy the market gets and the more losses you are going to have.
Intraday traders and swing traders can take advantage of supply and demand imbalances to trade their swing and day trading strategies.
Supply and demand can and should be traded alone without any indicators. It can definitely help you find new strong setups using these imbalances as a starting point to plan your trades.
The theory of demand and supply Charts Example
Supply levels and imbalances are always located above current price as we can see in GBPUSD forex major cross pair below.
A strong impulse does not necessarily mean there is a supply imbalance though.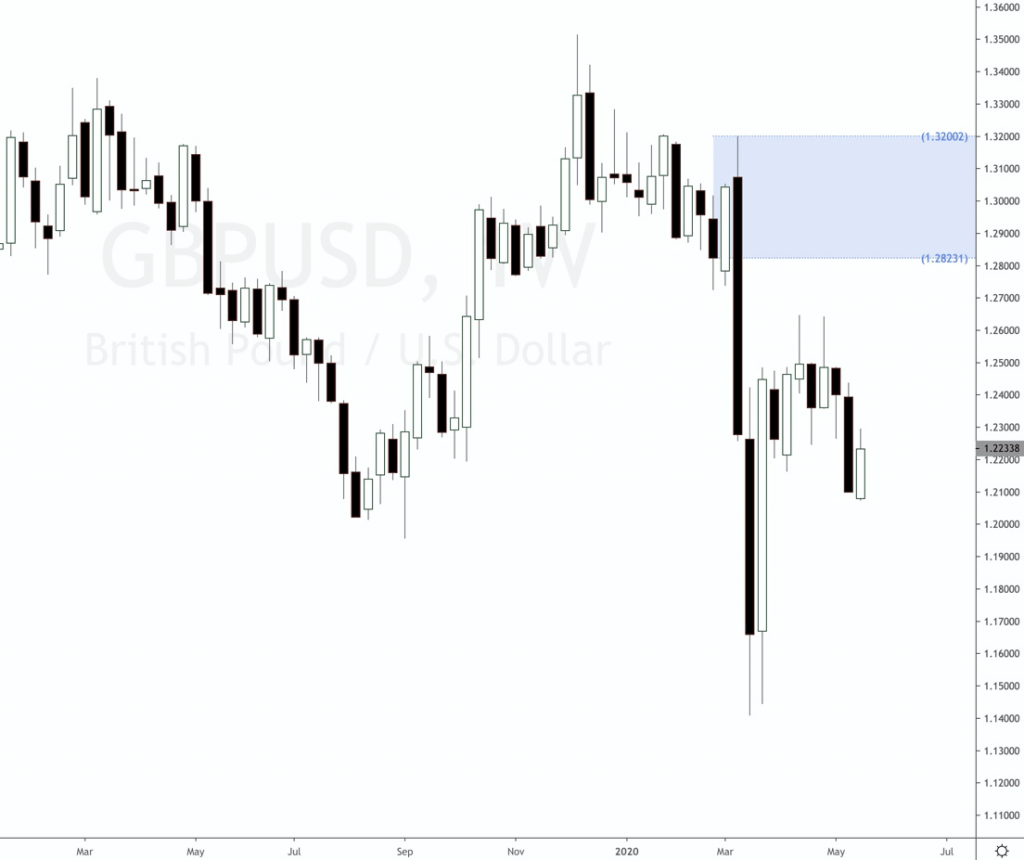 Using Supply and Demand in your trading
The first test of an imbalance is usually the strongest, the reason is very simple.
It is because when price breaks a key level moves away and then comes back to test it for the first time. It will normally have the strongest or biggest amount of unfilled orders waiting to be filled.
These levels do not necessarily need to hold every single time and retest. But that's what our supply and demand trading strategy can help you with. Price action patterns can tell us a lot about supply and demand levels.
It is your job as a trader to be a price action trader and look for price action patterns at these zones and gauge what the price action is doing, how it reacts to these levels, when and when not to trade them.
There are very specific rules for every single scenario in our professional trading course.
Traders looking to plan trades at key supply and demand levels can use high probability price action signals to place their trades.
Remember that price action is the only non-lagging indicator.
You can use any timeframe to locate high probability reversal patterns and imbalances. We highly recommend you to start with the daily timeframe and avoid going lower than H4. The smaller timeframes are noisy and much faster and only should be used by very experienced intraday traders.
See below the hourly timeframe for GBPUSD forex cross pair, it's a fast timeframe. The faster and smaller the timeframe it is, the more difficult it will be to trade it.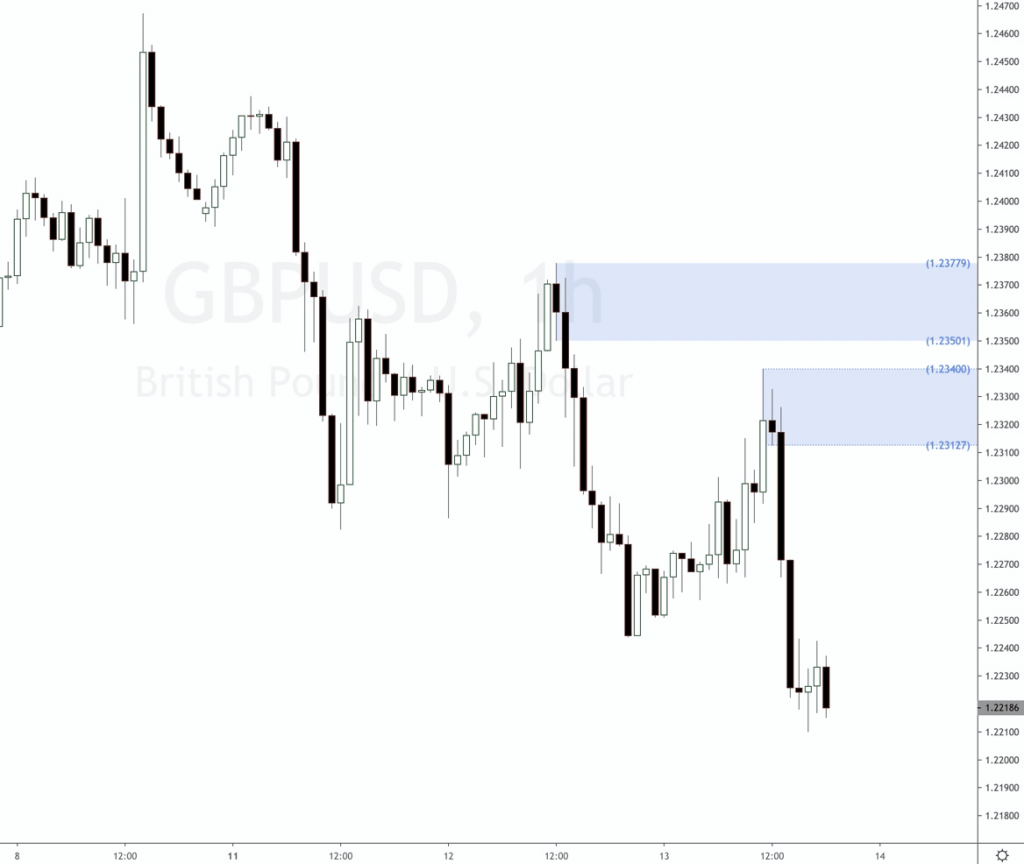 Don't make this Supply and Demand trading mistake
A big mistake that traders tend to easily fall into is planning reversal trades from the incorrect imbalances and price levels on the chart, both from the incorrect swing points and supply and demand levels.
Imbalances without the proper context are low probability setups. It is a very common mistake most traders make but easily fixed with the correct trading education and practice.
A counter-trend trade has inherently a lower probability than a trade placed in a trending market. There is no question or argumente about it.
You will understand what we are trying to say by looking at GBPUSD hourly chart again, see below please. There is a clear downtrend on GBPUSD forex cross pair, new supply levels to sell are being created. Trying to go long in this market against the trend is suicidal.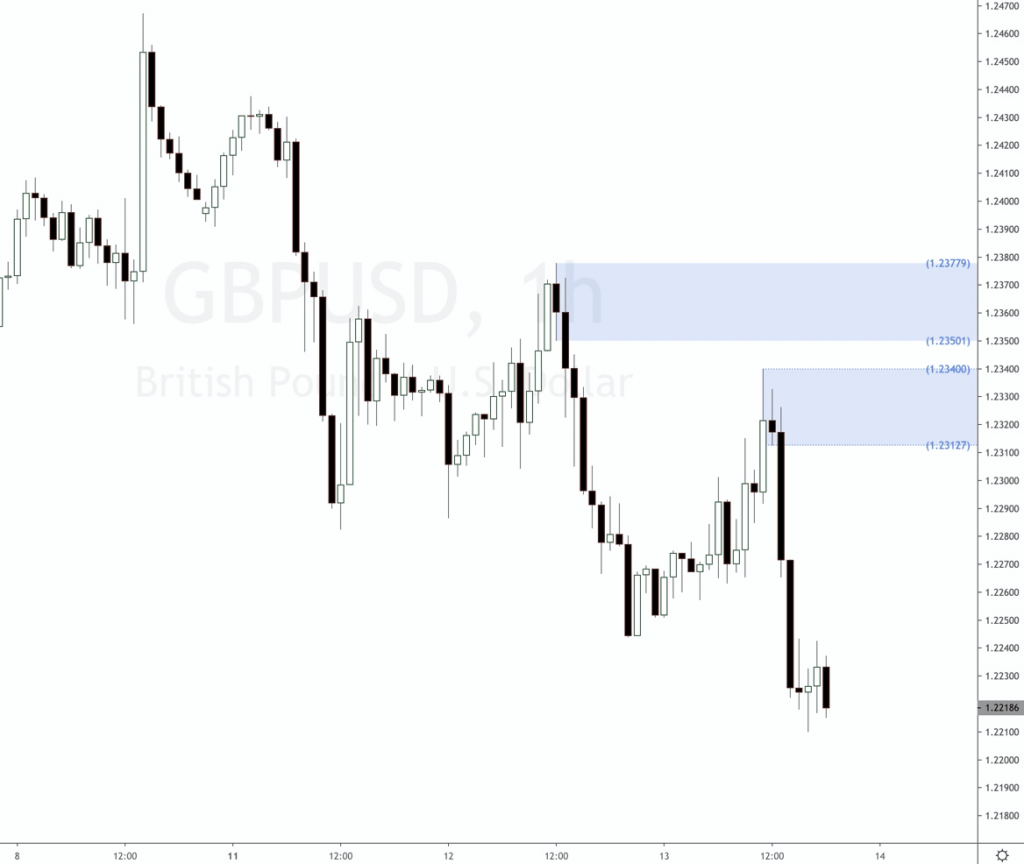 Supply, Demand and market equilibrium practice problems
New traders can often get confused and mix up supply and demand imbalances with support and resistance price levels. They are completely different, but still they get confused often. Locating the right imbalances is key to increasing the odds of success.
Market equilibrium is one of the biggest mistake traders do. They try to place trades in scenarios where the market is at equilibrium, when it's not out of balance. Lack of practice and reading price action for hundreds if not thousands of hours is another problem.
Active members of Set and Forget's online trading community can watch the weekly trade analysis. I post daily and weekly to see how this works in the live market each day.
It is very important to master the rules and locate the best looking imbalances in a clear trending market. These are the ones that work best. Avoid at all times buying after a very strong bullish move, or selling after a very strong sell-off or reversal.
Demand and Supply questions and answers
These are many fake price signals and weak imbalances created every single day, you need to learn how to distinguish bad looking levels from great looking price action structures.
You just can't trade every single impulse regardless of its quality.
After large moves, the big money will look to take some profit and this will cause the market to pause or pull back, sometimes creating price action patterns that will reveal exactly that.
It's not a good idea to enter a new position at this time when the professional money and traders are just getting out.
This is also the period when the underlying price will usually start retracing on the way to the closest supply and demand imbalance.
Once a strong imbalances is reached and profit taking has stopped the price will continue with the momentum. The price can go in the same direction that price was trading previously.
You can be seen in the strong Apple stock demand imbalance shared with you slightly higher. I pasted below for a faster reference.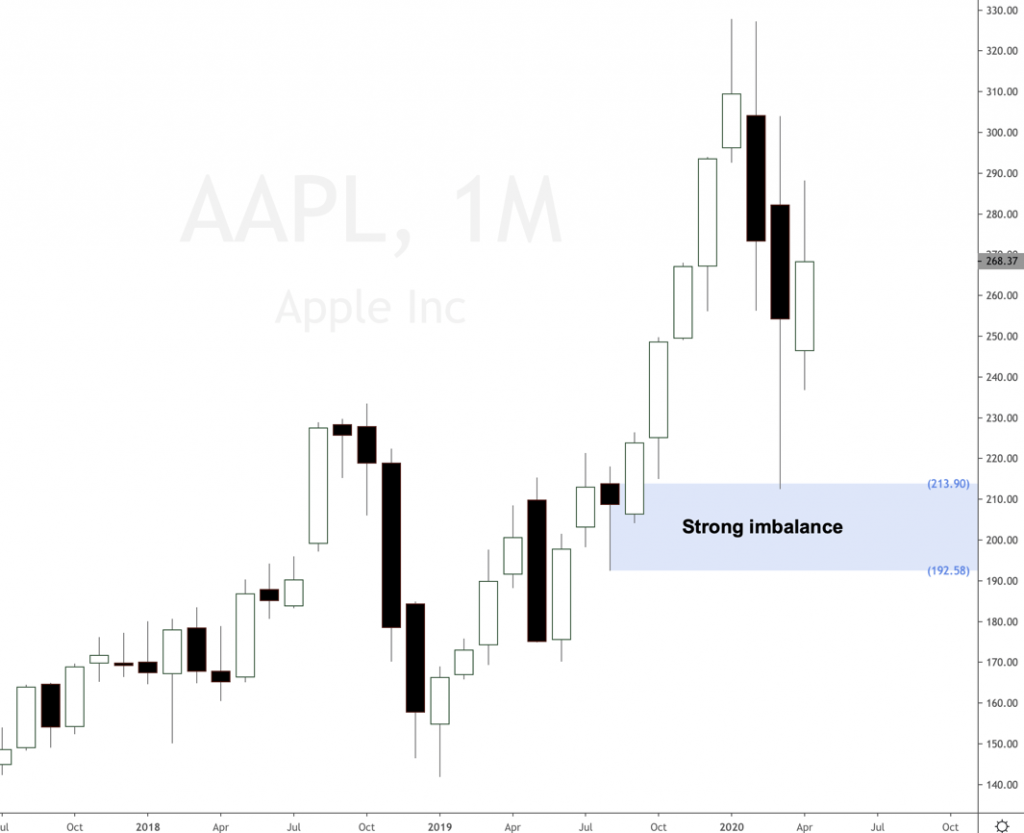 Supply and Demand conclusions
The Forex, Stocks, Cryptocurrencies and Futures markets are no different than any other market. Above all, Supply and demand plays a huge role in in any market really.
No matter how many financial analysts think or believe what a certain equity or Forex cross pair is going to do, it all comes down to who wins the supply and demand battle.
I really hope you have enjoyed this article and can use these ideas in your trading.
If you want to learn more about how the markets works with Set and Forget strategy you can visit our learn how to trade page.
What do you think about this post? You can write your comments below.
Supply and Demand trading ebook PDF
You can download now our Supply and Demand trading book PDF.