No need to be in front of your computer all day long like a zombie
Worried that you will not be able to learn how to trade or manage your trades because you have a full or part time job? That job is not a handicap, it is actually a blessing. Why? You only need 30 to 60 minutes a day to do your multiple timeframe analysis, set your trades and go to your work place, it is as simple as that. Having a job is a positive thing, it will help you to detach from the charts and let the trade breathe and play out. You do not need to spend hours a day analyzing the markets to become a profitable and successful trader.
The "Set and Forget" supply and demand trading strategy can be used on any timeframe combination and market. The type of trader you are is directly related to the timeframe sequence that you will choose to trade. It will determine the type of trades that you take, how long you will hold them and how you would manage them. Once you have decided which type of trader you are (by determining the timeframe sequence that you trade) and which timeframe sequence fits your personality, you should accept that and not deviate from it because otherwise you will always be second guessing your trade decisions which will lead to emotional distress. You will only take the trades that your chosen sequence allows you to take. You should not look at different sequences and worry about missing trades. You should ignore them as you will have enough trades per month with the sequence that you are trading.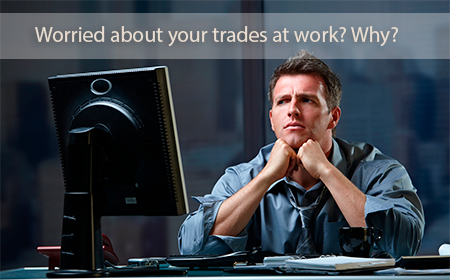 By leaning on the Daily supply and demand imbalances there will only be one new candle a day on every instrument that you trade. So your decision making process will be very quick, this will help you to finalize your daily analysis routine in about 30 to 60 minutes. It could be argued that there might not be enough trading opportunities if we must wait for days for our trade setups to be triggered. The truth is that out of a set of 50 trading instruments, there will be plenty of trades per month. Let us assume we only get one valid trade for half of the instruments that we are trading (25 trades). Do you think you can reach your 5 to 10% monthly target with 25 potential trades in a month where you are only risking 1% or less of your equity? I am sure you are smart enough to answer this question 😉
Why then should we spend hours a day analyzing the lower timeframes? If you are given the opportunity to trade 6-8 hours a day to reach 5-10% or 30 minutes a day to obtain the same result, which one would you choose? I know which one I would choose, in fact I made that choice a long time ago.