We plan trades way before they happen. No hindsight or after the fact trading.

Anyone can show you trades once price has been reacting to the entry and are in profit. Creating a trading strategy based on hindsight analyses is very easy, anyone can do it. In Set and Forget trading community, we plan Forex and Stocks trades before the fact, way before they actually happen, no after the fact trades.

We do more detailed multiple timeframe analysis on all Forex cross pairs and hundreds of stocks in the trading community. You are welcome to join the trading community and benefit from before the fact trade ideas updated on a daily and weekly basis.

See below a few of the free Forex and Stock analysis posted in the Trade Ideas section of the blog and most of the time sent by email every week to the newsletter subscribers. These trade setups were posted days, weeks and even months before price retraced. There are many other trade ideas where price has not retraced to the imbalance yet. Obviously, there will be losses as well, losses are part of the trading game.
22nd October 2021
BioNTech Stock Covid-19 Manufacturer Buy Opportunity. A strong weekly demand level has been reached as expected. BioNTech Stock price rallying as expected and mentioned in the set and forget trading community. BioNTech SE is a German biotechnology company based in Mainz that develops and manufactures active immunotherapies for patient-specific approaches to treating diseases. With Pfizer,
[…]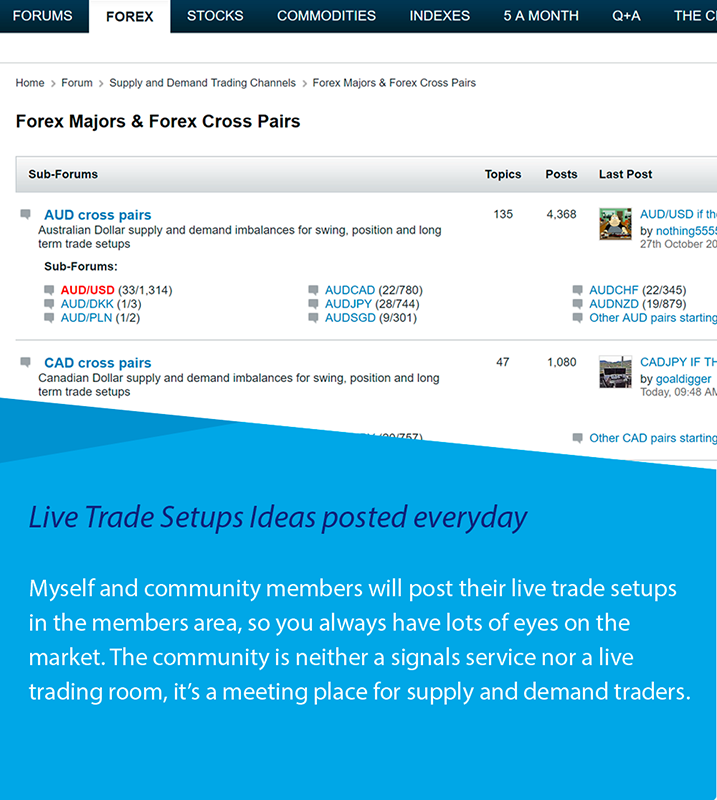 Live Trade Setups Ideas posted every day
We trade Forex, Stocks, Global Indexes, Commodities, Futures and CFDs; a wide range of instruments to help you spot specific trade setups every day. We don't believe in spending a few hours a day in a chat room talking about potential trade setups and banal things about life, resulting in no trading at all. Trading is boring, applying a rules set is boring. Trading is not a game, we must treat for what it is. It is a way of making a living, it is a business and should be treated as such.

As a member of the community you will benefit from daily setups posted by other community members, where you will see trade setups posted before they will actually happen. Where you will see actual trade set ups work and play out, "Real Time" just as the they were intended to do, following the strict rule set.

You can also use our Stocks analysis to trade options. Buying and selling options at supply and demand imbalances where professional traders and filling their orders and hedging their positions. Protect your investment with married puts and sleep well at night as stocks grows in the expected direction. You can't lose more than what is at risk.
Are you ready to Join now?
You can trade like a profesional trader if yow know the correct method and rules.